Looking at an Amazon.com (NASDAQ:AMZN) chart, you'd never guess it. After all, in the last 5 days Amazon.com is up a full 9.4%. But, adding to all the well-known troubles Amazon.com faces, with decreasing margins, decreasing earnings, decreasing estimates, impending sales tax collection, adverse selection and a changing paradigm in digital goods sales, there's a new looming problem: The kindle e-reader sales are probably imploding.
We already knew from Texas Instruments' (NASDAQ:TXN) earnings, that the Kindle fire was facing slower sales (due to OMAP SoCs underperforming). Also, Google's (NASDAQ:GOOG) soon to be launched 7 inch tablet should be the coup de grace for the Kindle fire. But the Kindle e-reader was supposed to be safe. Sure, some cannibalization could be expected, but this was still a market where Amazon.com was expected to remain dominant. And then something strange happened.
You see, the Kindle e-reader uses e-ink displays, and these are made by eink corporation. Now, eink publishes monthly statistics on its revenues, and this is what they look like (source: Digitimes)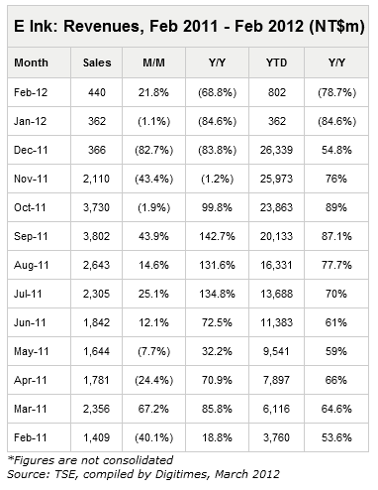 Holy mother! -84.6% and -78.7% drops in revenues year-on-year! E ink sells to customers other than Amazon, for instance towards Barnes and Noble's' (NYSE:BKS) Nook reader, but the Kindle was the market leader by far. This kind of implosion can only happen with it participating.
So, although Amazon.com does not report Kindle sales, we now know for certain that its Kindle e-reader sales are incredibly weak. There's also a good chance that Amazon.com will miss the Q1 revenue estimate consensus-- presently at $12.86 billion-- much like it already missed Q4's, since the Kindles (e-readers and Fire) are Amazon.com's best selling products and they're all doing poorly.
Conclusion
Amazingly, every piece of Amazon.com's business is seemingly under fire. Very little seems to be going right other than it selling a lot of electronics free of sales taxes, something that's increasingly threatened as well. Still, AMZN the trading token continues to do well in the stock market and displays its 158 forward 2012 P/E as if it were some kind of badge.
Now, even what seemed the strongest of Amazon.com's products-- its Kindle e-reader, has gone into a deep dive. Sooner or later, the stock will do the same.
Disclosure: I am short AMZN.