By: Brendan Gilmartin
Overview
Research In Motion (RIMM) will report 4Q 2012 earnings after the close of trading on Thursday, March 29. The results are typically available at 4:05 p.m. EST with a conference call to follow at 5:00 p.m. RIM shares have come under heavy selling pressure in recent months, due to intensifying competition in the smartphone market.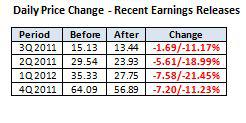 Outliers & Strategy
Back on December 15, RIM issued guidance for the 4Q 2012 and FY2012:
Earnings Per Share: RIM said earnings per share for the fourth quarter is expected to be in the range of $0.80-$0.95. The current consensus is $0.82 (Source: Yahoo! Finance).
Revenues: Revenue for the fourth quarter of fiscal 2012 is expected to be in the range of $4.6 billion to $4.9 billion. The Street estimate is below this range at $4.55 billion.
Gross Margin for the quarter is expected to decline to 37.9%.
Earnings Per Share & Revenue Guidance (2013): Look for Research In Motion to possibly update its outlook for 2013. The EPS estimate is $2.76 for FY2013 on revenue of $17.38 bln, down 7.5% from the year-ago period.
Also keep an eye on the Adjusted EPS & Revenue guidance for the 1Q 2013 period, given that the 4Q2012 numbers appear priced in. The estimates are $0.67 and $4.27 bln, respectively.
Recent News
03/27: Canaccord Genuity reiterated a Hold rating on RIM with a price target of $15, according to a report on Benzinga.com. The firm's cautious view is based on weak sales trends for the Blackberry 7 operating system, along with the Bold and Curve models. RIM also faces elevated competition from the iPhone and Android-based smartphones.
03/26: FBR Capital lowered its price target on RIM from $17 to $14, citing concerns over upcoming quarters, according to a report in Barron's. FBR reportedly believes the business may deteriorate as it competes with low-cost Android smartphones in international markets, while earnings power is weakening. The 4Q EPS estimate was lowered from $0.82 to $0.80.
03/23: RIM is reportedly planning to distribute prototypes of its BlackBerry 10 test models to developers in early May, according to a report on Bloomberg.com. The company is reportedly hoping the new device will help lift weakening sales.
03/22: Citigroup reiterated a Sell rating on RIM, based on several factors, according to Barron's, including competition, a lower growth rate, and product delays. The firm is guiding for EPS and revenues to fall shy of the guidance RIM provided in December.
02/22: RIM announced that it has unanimously named Thorsten Heins as President & CEO.
Technical Review
RIM shares are off about 4% YTD versus the roughly 15% advance in the broader market. Heading into the 4Q earnings, the 20-Day SMA near $13.00 is key near-term support. Should earnings disappoint yet again, that will be a key level, with downside risk to the multi-year low of $12.45 established on December 20. Conversely, if the results show some sign of improvement, look for initial resistance at the 50-Day SMA near $15.00, followed by the $16.00/$17.00 area. (Chart courtesy of StockCharts.com)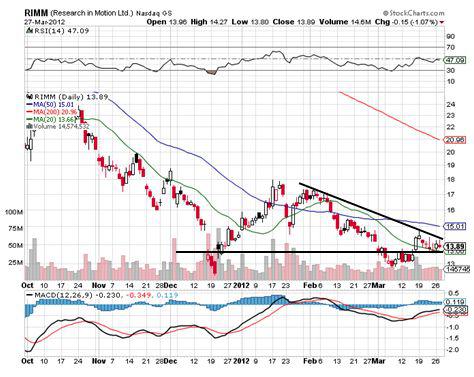 Summary
RIM shares are off more than 75% over the past year, weighed down by slower top-line growth resulting from increased competition in the smartphone market, tighter margins, product mishaps, and dwindling share in key international growth markets. But with valuation at such a depressed level, short interest at more than 12% of the float, overwhelming pessimism on the Street, and nearly $2.50 per share in cash on its books with no debt, RIM shares could recover so long as 4Q results match the Street's tempered expectations and guidance entering fiscal 2013 is in-line.
Disclaimer: By using this report, you acknowledge that Selerity, Inc. is in no way liable for losses or gains arising out of commentary, analysis, and or data in this report. Your investment decisions and recommendations are made entirely at your discretion. Selerity does not own securities in companies that they write about, is not an investment adviser, and the content contained herein is not an endorsement to buy or sell any securities. No content published as part of this report constitutes a recommendation that any particular investment, security, portfolio of securities, transaction or investment strategy is suitable for any specific person.
Disclosure: I have no positions in any stocks mentioned, and no plans to initiate any positions within the next 72 hours.