There is more excitement in the oil patch today than at any time in decades. Improving technology and high oil prices are driving significant domestic production increases. There is even talk about the United States achieving energy independence within a generation. Given low interest rates and increasing interest in energy producing acreage, I expect M&A to significantly pick up in the energy sector over the coming year.
One stock I like-- both because of rapidly increasing production and its potential as a buyout target-- is Crimson Exploration (NASDAQ:CXPO).
Crimson Exploration - "Crimson Exploration Inc., an independent energy company, engages in the acquisition, exploitation, exploration, and development of natural gas and crude oil properties primarily in south, southeast, and east Texas; Colorado; Louisiana; and Mississippi. As of December 31, 2011, its estimated proved reserves comprised 200.4 billion cubic feet equivalent, consisting of 162.7 billion cubic feet of natural gas; and 6.3 million barrels of crude oil, condensate, and natural gas liquids." (Business Description from Yahoo Finance)
7 reasons Crimson Exploration is a great speculative buy at just over $3 a share:
Insiders are making significant additional share buys and have added over 650,000 shares over the last eight months.
Projected revenue growth is impressive. Crimson Exploration booked just over $114mm in revenue in FY2011, and analysts have sales at $136mm in FY2012 and $184mm in FY2013.
The company is forecast to have sharply accelerating earnings. The company lost 14 cents a share in FY2011, is forecast to break even in FY2012, and analysts have it making $.24 a share in FY2013.
Despite losing money in FY2011, it had positive operating cash flow and is priced at just 87% of book value.
In FY2011, the company grew reserve replacement by over 300%, increased its oil & liquids production by 34%, and achieved a ratio of 40% for oils & liquids. It expects 50% of its production to come from oils & liquids by mid-2012.
Given its small market capitalization, growing production and core assets, the company seems like a prime buyout candidate.
Crimson traded as high as $18 a share prior to Lehman. The stock looks like it has bottomed, is showing increasing technical strength and recently crossed its 200 day moving average (See Chart)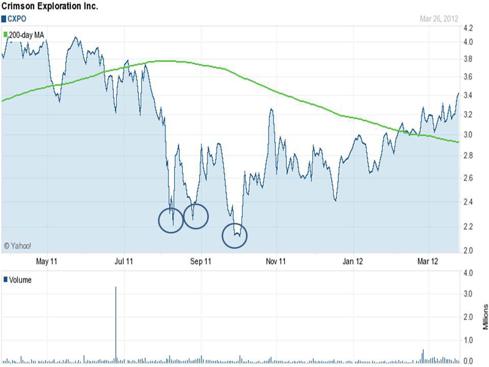 Disclosure: I am long CXPO.