Daily Data: Industrial Select Sector SPDR (NYSEARCA:XLI)
Industrial stocks have continued higher since I wrote about them on February 29th in Industrial Stocks for February-April. Now it's time to revisit these top 10 stocks listed in XLI and see if there is any seasonality that suggests trading from March-May:
Click to enlarge:

The table above shows the absolute best/worst returns of the top 10 holdings in XLI, which are General Electric (NYSE:GE), Caterpillar (NYSE:CAT), UPS (NYSE:UPS), United Tech (NYSE:UTX), 3M (NYSE:MMM), Union Pacific (NYSE:UNP), Boeing (NYSE:BA), Honeywell (NYSE:HON), Emerson (NYSE:EMR), and Deere (NYSE:DE). Based on the 10 year best/worst returns, I have estimated the maximum high/low price of each stock for May'18. This is not to be understood as to where I think the stock will go by May'18, but instead where I think the stock will not go by May'18. In order for any of these stocks to reach my estimated maximum high/low prices on May'18, investors would have to show an unprecedented amount of buying/selling to break the 10yr maximum return range.
To save you time, I added the average return to the worst return (highlighted below). This column will help you identify which stocks performed the best relative to their draw-downs during this period.
Click to enlarge: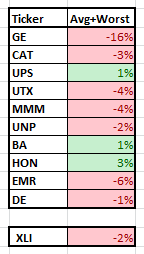 Technically, for trade ideas I would strongly suggest looking at the tickers in the green having positive Average+Worst return characteristics. As you may conclude, United Postal Service, Boeing, and Honeywell have historically been the best performing stock from March-May expiration in terms of average return to maximum draw-down.
Moving on to fundamentals, we see below that based on the P/E ratio minus the 5 year EPS growth rate, CAT is the best value right now. Notice how I have shaded the cells in (P/E - 5yr EPS) red or green based on whether P/E ratio is greater or less than the 5 year EPS growth rate. We want to see a negative number (P/E ratio below the 5 year EPS growth rate) shaded in green to show that the stock has value.
Click to enlarge: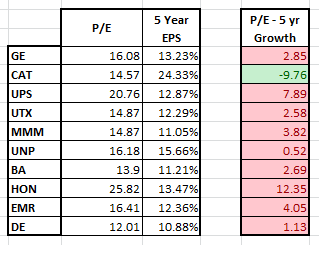 Caterpillar is the only stock listed above that is trading at a significant value relative to its 5 year EPS growth rate.
Suggested Trade: Caterpillar
Technical data above suggests that the average return for Caterpillar is only slightly below the largest draw-down for the past 10 years. Having the average return below the maximum draw-down is not good, but I favor Caterpillar because using its current P/E ratio, the stock seems to be significantly undervalued relative to its forward 5 year EPS growth rate. Additionally, relative to its estimated maximum down of $104.76, CAT is very attractive for entering new bull put spreads at or below the $105 level.
Click to enlarge: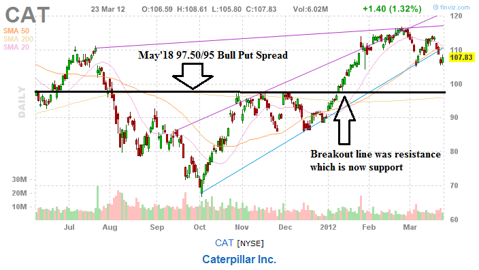 I favor the following trade because the $97.50 level stands as significant support from the December breakout line. Further, the 200 SMA adds additional support to the breakout line in case of a market pull back. This trade is very attractive and we may initiate it this week. Once again this position is not large (it's less than 10% the size of the portfolio), and the stop loss of 0.82 almost gives us a risk reward of 1 to 1.
Option Trade: CAT - Sell May'18 97.50/95 put spread (Bull Put Spread)
(Sell 97.50 Put/Buy 95 Put)

Size - 7% of Giorgio's Corner Portfolio Size = (3 spreads)

Entry: Sell Limit: 0.40

Stop Loss: 0.82

Exit Price: 0.00

Max Return: 19.04%
(Note: Return calculation does not include commission; Maximum Return is calculated as Return at Risk not Return on Margin)
Additional Trade Ideas:
The only other trades I would suggest besides CAT are the following:
May'18 BA 67.50/65 bull put spread for a sell limit of 0.25 with a stop loss of 0.55

May'18 HON 57.50/55 bull put spread for a sell limit of 0.50 with a stop loss of 1.10
Charts are from Finviz.com
Disclosure: I do not own any investments in GE, CAT, UPS, UTX, MMM, UNP, BA, HON, EMR, DE, or XLI. I own long shares of BIDU. I'm short shares of UVXY, GLL, GOOG and ZSL. I own bear call spreads on SPY, VXX, GLL, and ZSL.
Disclosure: I may initiate a long position in CAT, BA, HON over the next 72 hours.