Investors should look at several key metrics when comparing and analyzing mortgage REITs, including size (market cap), leverage profile, composition of investments (i.e., Agency vs. Non-Agency and Fixed vs. Floating Rates), and most importantly tenure and strength of the management team. All of these metrics can significantly affect the risk profile of a particular REIT.
Below is a detailed overview of the largest mortgage REITs and the metrics investors should keep in mind when analyzing the space [click to enlarge images].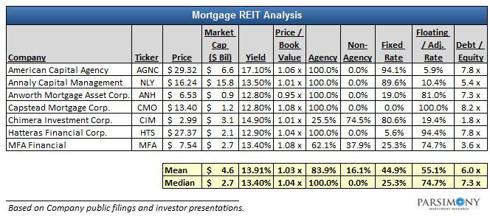 Agency mortgages are guaranteed by government sponsored entities (implying limited credit risk). Conversely, non-agency securities do not carry a similar implied guarantee, making them inherently more risky due to the higher relative credit risk. As such, hybrid mREITs typically deploy less leverage than agency-only mREITs.
mREITs with a high concentration of fixed rate securities will likely perform better if interest rates remain low, while a high floating rate concentration is best for investors concerned about rising interest rates in the near future.
Dividend Yield vs. Price-to-Book Value
As REITs are required to distribute a minimum of 90% of their taxable income to shareholders as dividends, there is a limitation on the company's ability to retain earnings because of the 90% distribution requirement. Thus REITs oftentimes issue new equity when the stock price trades above book. Investors should be mindful of investments at significant premiums to book value since new equity issuances are dilutive to current shareholders.
The chart below plots dividend yield and price-to-book value for each REIT.
Note: Marker sizes are based on market capitalization.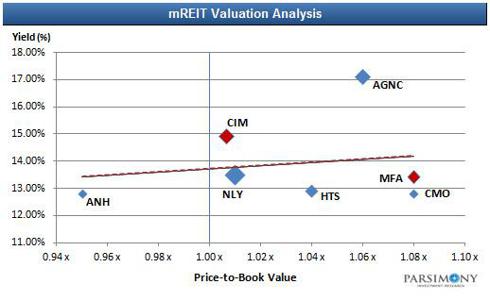 Historically, hybrid mREITs like Chimera Investment Corp. (CIM) and MFA Financial (MFA), have traded at a discount to their agency-focused peers due to their enhanced risk profile from their non-agency MBS exposure. However, hybrid mREITs have rallied to start the year driven by renewed hopes of a sustainable economic recovery (which would be positive for non-agency MBS).
Since CIM and MFA are now trading above book value, we feel that the risk with these hybrid mREITs is currently mispriced and we would tread with caution at current valuations.
Anworth Mortgage (ANH) currently appears to be the most undervalued mREIT, followed closely by Annaly Capital Management (NLY). While American Capital Agency (AGNC) continues to pay the highest dividend yield (17.1%), which we feel makes the stock very attractive despite trading at 1.06x book value.
Stick with Agency REITs
Generally speaking, we think agency REITs continue to offer investors the most compelling risk/reward profile due to:
limited credit risk,
a relatively steep yield curve,
slower expected prepayment speeds, and
an accommodative Fed that has a stated plan of maintaining short-term interest rates for nearly two more years (late-2014).
We are long-time holders of Annaly and American Capital Agency, which continue to be our two favorite mREITs in the space.