"A dividend would be nice, it's not going to happen and I agree with the company on this stance. The same reasons that have brought it to prominence will be ignored should the company go this route - and this is what many investors fail to understand."

- Cameron Kaine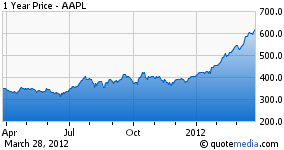 Well, how does one say that he was wrong except to come out and say it? Almost one month ago, I said the above quote in an article suggesting that Apple (NASDAQ:AAPL) investors were shamelessly greedy for the relentless demands made to the company for a dividend. It just seemed to me that investors were not appreciative of the fact that the company had done a remarkable job of returning value to shareholders solely by its dominant performance.
But I take solace in knowing that at least my concerns aligned with its brilliant founder and former CEO Steve Jobs who is likely looking at investors at the moment with a bit of contempt. He understood that a dividend would take away the company's competitive advantage and its willingness to take risks. My position on this however has not changed and I don't anticipate that it will for several more years.
Give the money back
As an investor, of course I will look forward to the dividend check that is said to start in the fourth quarter, but I would much prefer to give it back to the company (which is what I plan to do) and I hope that investors around the world do exactly the same. The reason is, if Apple indeed plans to take over the world, well let's just say that it is going to get pretty expensive to execute this plan. But please understand the context in which I speak. As much as investors will anticipate the dividend check, I can't help but also anticipate what there will likely be a possible side effect - which is slowing growth.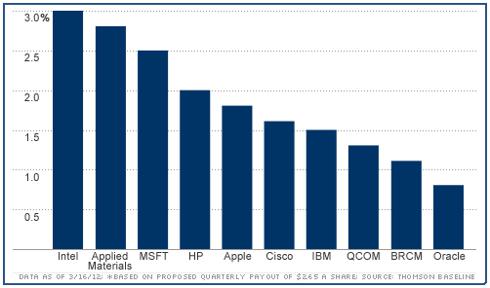 I understand that at the moment it is hard to imagine, but at one point neither investors in software giant Microsoft (NASDAQ:MSFT) nor network king Cisco (NASDAQ:CSCO) nor for that matter Intel (NASDAQ:INTC) were able to visualize such slowing growth either. But here we are today with Apple having amassed a market cap higher than Microsoft, Cisco and Intel combined. Interestingly, one can argue that the growth of the latter three companies also started when they first opted to issue a dividend.
While the news that the company will issue a dividend of $2.65 starting in the fourth quarter arrived with tremendous fanfare, it seems that investors are quick to dismiss some of the possible consequences to the extent that we have allowed our emotions to blind our investment awareness. Remarkably, even analysts have jumped in with trumpets blasting and hands extending to cheer the news. But to me, we are missing the big picture. Why are we willing to sacrifice a growing stock price for quarterly appeasement?
Apple has done a remarkable job of meeting ridiculous growth standards each quarter, sending its stock to levels unseen before. Why are we willing to sacrifice this organic growth for a "few dollars" every three months? It seems that investors have taken this for granted and should now consider that at some point its growth trajectory may begin to slow due to its lack of cash. I know right now that sounds egregiously absurd, but it is indeed something to consider. And for this reason investors should consider giving the money back as fast as it arrives.
Granted there are other ways to also look at this. Perhaps the company understands my concerns regarding potentially slowing growth and it has already devised a strategy to mitigate this. Maybe it has a plan already in place to offset its payout to the extent that it can even generate revenue at a rate commensurate to or greater than its yield. Who knows? Perhaps I should interpret the dividend as a sign of the company's confidence in its future, rather than the traditional interpretation of it being a mark of a company that was maturing with growth about to slow.
It seems with so many more markets to tackle, I continue to feel that succumbing to investor pressure was a bit premature. Its lead in technology (as great as it is) will not last forever as long as Google (NASDAQ:GOOG) and emerging technologies from Amazon (NASDAQ:AMZN) continue to evolve. Apple will now find it much more challenging to combat these threats with less cash on its books because the company will be less inclined to take the levels of risks to which it has become accustomed and thus has made it great.
Summary
How many more Research In Motion-like (RIMM) companies will it be able to dominate in the future? Think about this, RIM, the company that created the smart phone market, is now not even on the radar. This happened because Apple had the cash on hand to devote heavily into R&D. So with the bull's-eye now solely on its logo, Apple will need its cash even more if investors want its stock price to continue to rise. The only way this will happen is if investors give the money back and instead just be happy with its ridiculous growth.