When it comes to investing in biotechnology, investors face a unique set of risks and rewards. A single drug trial can mean the difference between massive profits and massive losses. As such, balancing risk and reward is crucial. And in Vertex Pharmaceuticals (NASDAQ:VRTX), there is just such a balance, if one digs deep enough to find it.
We first profiled Vertex on January 22, arguing that the market is misunderstanding the company's future potential. Since then, the stock has outperformed the S&P 500 (NYSEARCA:SPY), rising 12.77%, compared to the S&P 500's rise of 7.37%. We still believe that Vertex is a great investment.
click to enlarge

Shares of Vertex have lagged the market over the past year, to say nothing of its independent hepatitis C peers, Achillion (NASDAQ:ACHN) and Idenix (NASDAQ:IDIX).

Vertex has been battered by worries over its position in the hepatitis C sector. While there are valid concerns with Vertex's positioning in the HCV space, which we address below, we believe that recent developments in other areas are what truly matter. We will address those after discussing the HCV space.
HCV
In 2011, Vertex and Merck (NYSE:MRK), received FDA approval for the first new hepatitis C (HCV) therapies in a decade. Vertex's Incivek has so far held Victrelis at bay. While Merck is certainly a competitor, that is not what has concerned the market more. What has been more concerning is the presence of Gilead Sciences (NASDAQ:GILD).
As one of the Big 4 biotechnology companies, Gilead has both the technological capability and the financial strength to compete in virtually any market that it chooses. And although the company made its name in the HIV market, its $11 billion acquisition of Pharmasset positioned it as the perceived leader in the HCV market, thanks to GS-7977, the lead compound Gilead received in the Pharmasset deal. As a nucleotide, GS-7977 is a more effective treatment, for it is able to treat HCV without the use of interferon, thus freeing patients from its side effects. Incivek, while an improvement on existing treatments, must still be administered with interferon, and as such, GS-7977 is seen as a superior treatment. From a medicinal standpoint, there is no denying that Gilead has the superior drug. But, medical considerations do not necessarily mean that Vertex will fail. GS-7977 is in Phase III trials, and will likely not be approved until the first half of 2014. Until then, Incivek should post steady sales, for it has a proven lead against Victrelis, and until Gilead can get GS-7977 approved, Incivek is the best treatment option available for HCV. Merrill Lynch's forecasts for Incivek sales show how this will play out. The estimates have been steeply cut in early 2012 to reflect the medicinal potential of GS-7977.
| | | | | | | |
| --- | --- | --- | --- | --- | --- | --- |
| | 2012 | 2013 | 2014 | 2015 | 2016 | 2017 |
| Old Estimates | 2,249,037 | 2,551,456 | 2,672,820 | 2,936,256 | 2,995,879 | 2,952,115 |
| New Estimates | 1,918,855 | 1,716,938 | 1,530,719 | 1,278,359 | 1,018,230 | 719,717 |
Vertex is clearly under pressure from Gilead, but the firm is not sitting still in the HCV market. There are several drugs in the pipeline that will counter the effects of GS-7977, Vertex's main future competitor in the HCV space. And while Gilead's shares fell hard on
news of patient relapses
in its GS-7977 ELECTRON study, we believe the plunge was due more to the fact that Gilead was seen as overpaying for Pharmasset than a large weakening of the compound's efficacy.
Vertex is steadily advancing its own slate of new HCV treatments. On February 23, the firm announced good clinical results from Phase II trials of a combination treatment consisting of VX-222 and Incivek. In the third quarter of 2012, Vertex will commence Phase IIb trials of the combination in an interferon-free setting, matching GS-7977 in that regard. However, this is not the company's only HCV treatment in development. While the VX-222/Incivek combo is an incrimental positive, it does not solve Vertex's HCV issues on its own. Unlike GS-7977, it is not a nucleotide. Those are superior to polymerase inhibitors like VX-222. However, Vertex hedged its bets here. In a clever deal with Alios BioPharma, Vertex gained exclusive worldwide rights to 2 nucleotides, ALS-2200, and ALS-2158. Phase I data on these 2 compounds, which match GS-7977, will be available in the second quarter of 2012. We do not think investors need to be worried that these compounds are in Phase I trials. By the time GS-7977 comes to market, the HCV market is not the one that will define Vertex.
Before we continue, we must address news of a potential vaccine for HCV. 2 companies, Okairos and Profectus BioSciences, are working on vaccines that will fight off HCV before it can take hold. Okairos's vaccine works by stimulating the body's T-cells to fight off the HCV virus. Researchers have found that in clinical studies, 20% of patients who become infected with HCV spontaneously cleared themselves of the virus, with no treatment administered. As such, Okairos developed technology that delivers genetic material to T-cells in order to stimulate them. Profectus BioSciences is working on a vaccine that prevents HCV from advancing from the early-stage to the chronic stage. Could these vaccines be a threat to the market for HCV treatments? It is certainly possible, but more clinical data is needed. Either way, we do not think that these vaccines will be a threat to Vertex in the long run. If Incivek and HCV helped make Vertex profitable, it is Kalydeco and the company's cystic fibrosis treatments that will launch the company to even greater success.
Cystic Fibrosis (CF)
On January 31, Vertex received FDA approval for Kalydeco (developed as VX-770), the first drug to treat the underlying cause of CF. Specifically, Kalydeco is designed for patients that have a specific genetic mutation, known as G551D. Vertex's position in the CF market is drastically different than in the HCV market. Kalydeco costs $294,000 per year, as opposed to Incivek's $49,200 price tag for the course of treatment. In addition, Vertex has received orphan drug status for Kalydeco, given the rarity of the mutation it targets. About 1,200 people, or 4% of the CF population in the United States, has this mutation. The urgent need for this treatment was highlighted by the fact that the drug was approved in just three months by the FDA (the drug's approval in the EU is pending a review by the EMA, and should be approved by the third quarter of 2012). Aside from royalties owed to the Cystic Fibrosis Foundation, which helped fund the development of Kalydeco, Vertex retains full rights to Kalydeco. And the opportunity for the company is large. According to estimates from Credit Suisse, Kalydeco could see revenues of over $1.7 billion per year by 2016.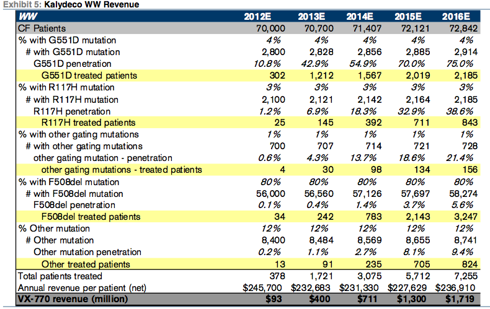 However, just like in the HCV market, Vertex is not sitting still. The company is continuing on its incremental strategy, and has several CF drugs in the pipeline designed continue where Kalydeco left off. VX-809 and VX-661 are 2 CFTR correctors in Phase II trials, and VX-809 has received orphan drug status & a fast track review by the FDA.
Vertex is currently testing Kalydeco in combination with VX-661, and Phase II data should be available in late 2012. This combination targets the patients who have 2 copies of the F508del genetic mutaion, something that is present in 48% of the CF population in the United States. Phase II data from the Kalydeco/VX-809 combination will be available in mid-2012. Vertex is just beginning to realize the full potential of its CF drugs. They meet an urgent medical need, and Kalydeco is free of competition.
Other Pipeline Developments
While Vertex has devoted the bulk of its energy to the HCV and CF markets, it is important to note that they are not the only diseases the company is targeting. Vertex has three other compounds in development: VX-509 for rheumatoid arthritis, VX-765 for epilepsy, and VX-787 for influenza. We believe investors should view these three compounds as call options. If these are successful, than that is great news And if not, Vertex will survive. For the moment, there is more than enough profitability in Kalydeco and Incivek to ensure Vertex's continued ability to research new compounds. Phase IIa results for VX-509 were positive, and Vertex is currently developing Phase IIb studies. A Phase IIa study for VX-787 is underway,and VX-765 needs more data after posting positive results in a Phase II study.
Takeover?
Inevitably, when discussing biotechnology companies, the question of takeovers is brought up. And when the company in question is a major player in the HCV space, takeover speculation is even higher than normal. Both Johnson & Johnson (NYSE:JNJ) and Abbot Labs (NYSE:ABT) have been named as potential buyers of Vertex. As Vertex's partner in Incivek, J&J is a natural buyer, and Abbot is looking to expand its own HCV portfolio. Is a takeover of Vertex possible? Certainly? But with a market capitalization of almost $9 billion, a deal for Vertex would be tough to digest. Investors looking to speculate on takeovers in the HCV space would be better off investing in either Achillion or Idenix (we have positions in both). Our thesis on Vertex is not built on a belief that the company will be bought.
Financials & Valuation
Vertex became profitable in 2011, as Incivek sales exceeded expectations. For the fourth quarter of 2011, Vertex posted EPS of 74 cents a share, and EPS of 14 cents a share for all of 2011, reflecting the losses it generated in the first half of the year, before Incivek was approved. Vertex has a strong balance sheet, with almost $569 million in net cash.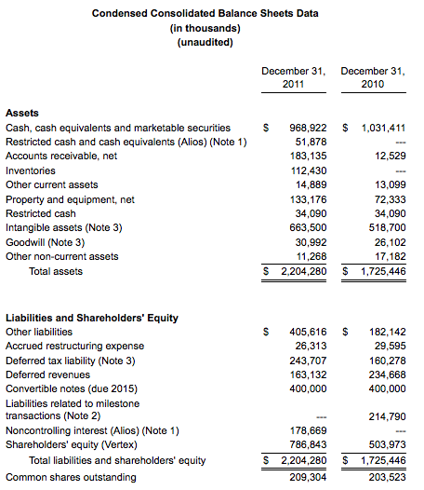 Vertex is expected to earn $3.27 per share in 2012 on revenue of $2.1 billion, based on Reuters consensus estimates. It is true that those estimates have fallen in the past few months, as analysts cut Incivek sales estimates. However, we believe that Vertex will be able to beat those numbers, for Incivek sales should not fall as rapidly as some of the more skeptical analysts believe. At 12.52 times 2012 earnings, we think that Vertex shares are still inexpensive relative to the potential of the company.
Conclusions
We continue to believe that shares of Vertex are undervalued at current levels. The company will overcome the issues it faces in the hepatitis C market, and the opportunities in the cystic fibrosis market are great. Vertex is financially strong and has the resources needed to continue its research & development of new medicines. Investors seeking overnight gains in biotechnology should look elsewhere. We see Vertex as a long-term investment, but one that will greatly reward investors who see the potential that this company has.
Disclosure: I am long VRTX, IDIX, ACHN, MRK, JNJ, GILD.
Additional disclosure: We are long shares of MRK and JNJ via the SPDR Dow Jones Industrial Average ETF. We are long shares of GILD via the First Trust NYSE Arca Biotechnology Index Fund