Before I start here, I'd like to quote two of my last articles about Sirius XM (NASDAQ:SIRI).
From Sunday, where I asked readers to guess what Sirius XM would do next, according to the current chart :
"If you answered "dip" you would be correct. Based on technicals? This appears to be the next step, with the share price quite possibly dropping a few cents on Monday and Tuesday. I believe the stock is a great buy at current levels, and may offer an even better entry point on Monday if the stock drops a few pennies to $2.23. Consider that after "dip" in the pattern comes "up."
Monday's activity showed a dip to $2.23, and prompted me to write the next article where I said :
"Monday is done, and we dipped to $2.23, as expected. Tuesday still awaits and I would not be surprised to see us drop once more to $2.20. This is certainly not a guarantee, though, and my point of reference for purchase was the $2.23 hit Monday. If you were looking to go long, I believe this was the time, although Tuesday could offer similar opportunity."
What did we hit today? Well, technically a trade went through for a very small block of shares at $2.19, but beyond that the low of the day was $2.21. Not as bad as the $2.20 possibility. Closing price? Up, a half a penny on almost double average volume at 75 million shares traded. Stark contrast from volumes last week under 20 million shares, and that one day under 10 million shares traded.
Remember from the first article linked above? The one which illustrated Up, Sideways, Dip, Up? I believe we are effectively done with our dip. And I believe that we are going up, soon. By soon I mean the end of the week.
Two things I would like to point out here. First, is money flow into the stock. If you monitor money flow for Sirius XM, you will notice that over 75 million flowed into the stock from both regular and block trades on Monday and Tuesday both. Activity was skewed so high into buying of the ask (versus selling of the bid) on Tuesday that the bought / sold ratio approached 3.0 for large trades. It has only been higher than this twice in recent history. Once on February 3rd and once on January 26th. This is very bullish activity, and because of the large trades involved, should be looked at closely.
If I were a betting man, I'd put money on these trades being mainly short covers from the larger short interest reported by Nasdaq on Monday from way back on March 12th. This is one of the things I mean when I say this data can be taken as bullish. By the time it is disseminated, it is old, and if you pay attention you can see if those shorts have covered, or if current pricing serves to allow them to cover soon. 307 million short? I'd guess that if we had a data sample from today's close, that we would find that number to be far less. We will find out in a few weeks when the new number is released if this assumption is true.
The second thing I would like to point out is that we are three trading days away from knowing auto numbers. Each month this year we have risen on the last few trading days of the month in anticipation of these numbers being released, and they have not disappointed. We are also at our dip point from the chart pattern which has continually played out since the beginning of the year. Also, due to the past two days of volatility which this dip has introduced, the bollinger bands are now set to widen.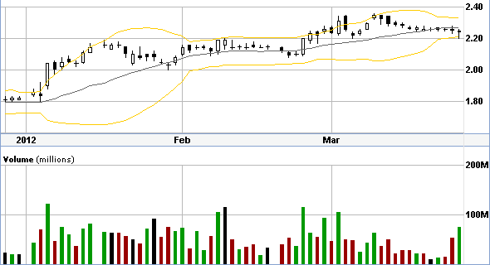 Click to enlarge
(Click to enlarge)
This can allow for a run up, or a run down. What investors need to do right now is consider all of the data. Look at the big picture. Decide what you see when looking at the charts, the volumes, the closing prices, and the activity surrounding all of these bits of data. Now consider the company itself. What do you see happening over the next month or two, or even through the end of the year?
Me? I'm bullish, and I see us going up because of the positives which I have stated many times:
Auto sales at recent record highs and projected to continue this trend.
Nominal price increase this year which should bolster income considerably.
Additional penetration into the used auto market.
Conservative guidance which virtually ensures a "no miss" situation.
Gradual transition to the Satellite Radio 2.0 platform.
Limited additional competition in 2012 beyond terrestrial radio which has been there since day 1.
Among many other factors which can be found in my other articles.
Are you bullish on Sirius XM? Then I would make your preparations for the next run up to at least $2.35 again, and possibly higher.
Are you bearish on Sirius XM? Then I would make your preparations for a possible run down to the $2.10 level.
Regardless of your stance, I believe the time is now to get ready for the next move.
Disclosure: I am long SIRI. I am long SIRI April and June $2 call options.