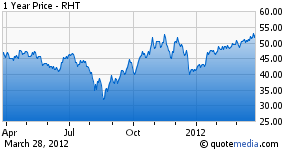 Just because it's open source doesn't mean it's free.
If there is one sentence which best explains the success of Red Hat (NYSE:RHT), the Raleigh-based company whose earnings (due out today) are expected to be the first in the history of open source to top $1 billion, it's that.
You can see the source code of Red Hat Enterprise Linux, which means you can fix it, you can share fixes, you can contribute code back, and you can become part of its community of developers. But you pay to get in. Red Hat sponsors a free Linux, called Fedora, but the money is in the enterprise product.
Code for show but support for dough, you might say.
But Red Hat would not be what it is had CEO Jim Whitehurst not decided to "bet the company" a few years ago on cloud computing. Its Open Shift infrastructure and (now) its Red Hat Storage Appliance, based on an open source project called Glusters acquired last year, have given it the patina of cloud leadership, and the valuation which goes with it.
Since the start of the year RHT's stock performance has tracked that of such cloud stalwarts as VMWare (NYSE:VMW), Rackspace (NYSE:RAX) and Amazon.com (NASDAQ:AMZN), outperforming the last one.
With a current trailing PE of 71, it's pretty fully valued. It usually brings about 15% of revenue to the operating income line, with revenues marching ahead about 20% each year, and it remains conservatively managed. Its next balance sheet will likely show it holding about $1 billion in cash, on a market cap of $10 billion.
But the reason you should look most seriously at Red Hat is the possibility of a takeout. At some point this company is going to become irresistible to competitors, as cloud and Linux consolidate. IBM (NYSE:IBM) is usually talked about as the most likely buyer - the ethos of the two are compatible with Red Hat disdaining a move from North Carolina - but any purchase is likely to follow an unwanted offer from someone like Oracle (NASDAQ:ORCL) or even Microsoft (NASDAQ:MSFT).
While you wait for your payday you have a well-managed, smart software company that just happens to be built on open source, and is in the sweet spot of both where enterprises are and where they're headed.
Disclosure: I am long IBM.
Additional disclosure: Why don't I own Red Hat? Because at my last job, at ZDNet, owning a company on my beat would have been a conflict of interest, and I can't bring myself to take the journalism hat off.