INTRODUCTION:
When I was a kid, there was a guy in our class who believed that he could fly. He had been dreaming about it, you see, and one day he told all of us that he was sure that he could do it.
I told him that he was out of his mind, but he didn't listen. Instead, he went to a deck about 10 feet off the ground, spread his arms out in front of him, and leapt into space. The crowd of kids gasped as he took flight and for a brief moment it appeared that Albert Delgato was actually going to fly.
As he crashed to earth in a heap, however, we all walked away and I muttered under my breath--"I knew he couldn't do it."
THIS TROUBLES ME:
I'm not sure what it is about human nature that seems to make it so hard for us to accept an alternative point of view to something that we believe in. I do know that whenever a person realizes that his position on something really isn't very logical, the first response is to go to the "yes, but ... " defense, by completely changing the thrust of the discussion and veering off into a tangent. But, I guess it is what it is.
WHAT I KNOW:
As a Dividend Growth investor, I look for stocks that meet a very specific criteria. First, I want to buy stocks that pay a dividend and have done so for a long period of time. Second, I want those dividends to have been increasing annually for at least 5 years. Third, I want those dividend increases to be greater than the rate of inflation, whenever possible. Fourth, I want to own companies with the earnings power to continue raising those dividends moving forward.
Why? Because my investment strategy is to create a stream of income that grows every year. I want to eventually live off that income stream and have it growing at a rate that is greater than inflation, so that every year, instead of tightening my belt a little tighter, I will actually be getting a raise. I don't ever want to have to sell a stock position. In fact, I would love to leave my portfolio to my kids and have them reinvest the dividends until they need the income that is produced for their own retirements. In effect, a generational wealth building machine.
WHAT DOES IT ALL MEAN?
But getting back to the issue. As a Dividend Growth investor, I don't want to own a company that does not increase its dividend on an annual basis. Why not? Because I am not a "fixed income" investor and that would be precisely what I would be doing when I purchase a dividend stock that does not grow the dividend.
A stock cannot be a dividend growth stock if the dividend doesn't grow. No matter how much we want it to be a dividend growth stock, our wanting it doesn't change it any more than Albert Delgato wanting to fly meant that he could.
LET'S TAKE A LOOK AT UTILITY STOCKS:
Give you an example of what I mean. There is a very well known utility stock. It's called Exelon (NYSE:EXC). I have nothing against this company. In fact, I used to own it until it failed to raise the dividend after 12 months.
Exelon is a company that is highly regarded by market analysts. Argus Research has rated it a Buy for two years now. They, Argus, believes that this company is worth $50 a share vs. the $39 dollars a share that it is currently selling for.
But what concerns me about Exelon is that the company has stopped raising their dividend and they have not increased their dividend for 14 Quarters. That's over three years with no increase in the dividend.
The good news is that at the current dividend of $2.10 a share and at the current price, Exelon is yielding 5.4%. The bad news is that it has been yielding $2.10 per share for over three years, with no raise in sight
SOMETHING TO CONSIDER:
On the other hand there are a number of utilities that are yielding 4% or more right now and there are a number of them that are part of the Dividend Champions, Contenders and Challengers. Here is a list of those utilities that are dividend growth stocks: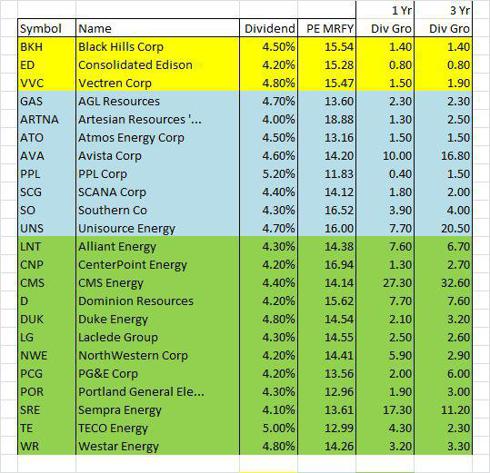 Click to enlarge
(Click to enlarge)
The stocks highlighted in yellow are Dividend Champions; the stock highlighted in blue are Dividend Contenders; and the stocks highlighted in green are Dividend Challengers.
CONCLUSION:
While yield changes, relative to the stock's price on a given day and the amount of the dividend, there are a number of utility stocks that are yielding 3.8%-3.9% as of today, but could very easily step over the 4% mark with a small pull-back in their price. Those didn't make this list, but you can check them out here.
My question to you is this. If you are attempting to increase your income stream with your stock portfolio, why would you invest in a utility stock or any dividend stock for that matter, that is not growing its dividend?
If the dividend is not increasing, then your income stream for that particular stock is not increasing. At least not in the same way that it would be with the stocks on this list.