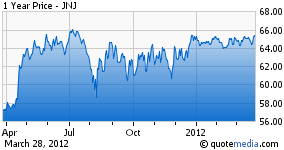 Amid the controversy surrounding many of Johnson & Johnson's products due to claims that Johnson & Johnson (NYSE:JNJ) has produced numerous products not compliant with U.S. regulations, it would be easy to label the consumer product manufacturing giant as a stock that investors should avoid in 2012.
Beyond its alleged faulty product development, controversy that is rife with negative repercussions in the public's eye has arisen regarding Johnson & Johnson's popular baby shampoo. This shampoo was recently reported to contain small amounts of carcinogen ingredients known to cause cancer. This added PR nightmare has placed Johnson & Johnson in an increasingly volatile relationship with the United States consumer.
However, despite all of the negative publicity, law suits and reductions in domestic consumer demand, Johnson & Johnson has still been able to withstand the tide of public opinion to show consistent growth in 2011. This growth, amid the sea of bad PR, will in my opinion allow Johnson & Johnson to make significant gains on its $65 share price. This outlook makes its current discount value an increasingly attractive buy for long and short term investors.
The news in 2011 was not good for Johnson & Johnson amid numerous lawsuits that included a $158 million settlement in Texas due to its alleged false promotion of its anti-psychotic Risperal. Prosecutors alleged in their lawsuit that Johnson & Johnson issued false reports on the benefits of Risperal in an attempt to defraud the State Medicaid system. However, despite the significant settlement, many medical and legal experts claimed the settlement as a victory for Johnson & Johnson. This opinion was in large part due to the initial demand that the State of Texas issued to Johnson & Johnson to pay over $1 billion in fines and reimbursements.
One could assume that a company who has expended a vast amount of resources in marketing products as being safe and effective for consumers of all ages would suffer a severe decrease in consumer confidence due to these lawsuits. However, despite all that has gone wrong for Johnson & Johnson, its share price has not fallen below its 52 week low of $59 that it experienced in April, 2011. In fact, amid all that could have gone wrong, Johnson & Johnson was still able to muster a respectable $16.3 billion in sales for the fourth quarter of 2011, a 3.9% increase from 2010. This profit included a 10.2% rise in foreign sales and, amid the United States public outcry, a relatively minor 3.4% decrease in domestic sales.
More positive news is on the horizon for Johnson & Johnson as market trends support a substantial growth in the cosmeceutical market that has reported an anticipated 5.8% annual growth to the $6.5 billion U.S. market through 2015. It is safe to assume that Johnson & Johnson will benefit significantly from this rise due to the reported 24% of overall revenue it generates in the Consumer Health Care field.
What is encouraging further for Johnson & Johnson is the growth of anti skin aging products. Due to the aging of the baby boomer nation, it has been that anti-aging products will generate a reported $114 billion in sales by 2015.
On the pharmaceutical front Johnson & Johnson's release of Zytiga, a prostate cancer drug that studies have show was highly effective in pre-chemo stages, will bolster the profitability of this drug that had previously only been used when chemotherapy was deemed ineffective.
As the market has indicated, even a reported potential for increase in this effective drug will result in share price increases. This was recently evinced in the 1% increase in Johnson & Johnson share price that occurred when pre-chemotherapy benefits of Zytiga were released.
Given that there were reportedly 241,740 new cases of prostate cancer in 2011 and 28,170 deaths, it has been estimated that Zytiga sales could double based on its expanded market base for both pre-chemo and post-chemo patients. In my opinion this increase in sales will allow Johnson & Johnson to increase its 2011 pharmaceutical sales that generated $24.4 billion in total revenue.
The broadening use of Zytiga could potentially effect several of Johnson and Johnson's competitors in its attempts to corner the market for prostate cancer treatment. Denderon (NASDAQ:DNDN), a company that developed Provenge, a treatment that has been proven to attack colon cancer prior to chemotherapy, could see their market share diminish due to Zytiga's ability to cater to patients both before and after chemotherapy. Also, due to Provenge's cost of $93,000 per treatment, the use of Zytiga could prove to be a more cost effective treatment approach. As a result of the news, Denderon experienced a 7% drop in share price the day that news was released of Zyitga's enhanced capabilities.
The news of Zytiga's performance in clinical trials could also affect the financial outlook of Medivation (NASDAQ:MDVN). Medivation developed MDV3100, a treatment that was shown in clinical tests to lengthen survival times of patients with prostate cancer. Medivation, which has not been granted FDA approval, could miss out on the wave of momentum generated by Zyitga and, as a result, could lose significant market share to its rival.
By all accounts Johnson & Johnson has survived a tumultuous year that if anything, indicated how strong the company is. By showing a consistent rise in share price from their April 2011 lows, Johnson & Johnson has reinforced its massive command on the domestic and international market. In my opinion, the financial outlook for Johnson & Johnson weighs heavily to the favorable side for 2012, which will result in a high end dividend payout for its investors when the 2012 fiscal year results are released.
Disclosure: I have no positions in any stocks mentioned, and no plans to initiate any positions within the next 72 hours.