In a letter of intent released on Tuesday morning, Commerce Planet [CPNE.OB] announced its intention to acquire Iventa, an online web builder that is based in the United States, which also has a 30-person web services staff in India. The announcement was long on strategy, and short on details. The company said:
The acquisition of Iventa's Dashboard System [TM] platform will rapidly accelerate Commerce Planet's expansion into the B2B business sector by leveraging Iventa's existing customer base which consists of leading companies, and brands in many industries including entertainment, publishing and media. In addition, Commerce Planet will be able to immediately offer Iventa's software to its customers that are currently using its top producing consumer direct product, Online Supplier.
Unfortunately, the terms of the deal were not disclosed, and it is critical that the company did not say the deal will be accretive (which means it probably won't be).
Global Aircraft [GACF.OB] announced that its CEO would remain at the company and would assign his interest in Global Aircraft Leasing Partners to the company, eliminating a serious conflict of interest. Also, Global Aircraft is almost done untangling the mess from its dealings with BCI. It received the sixth aircraft pursuant to its settlement agreement, and will receive $1.6 million in funds recovered from the Delta (NYSE:DAL) bankruptcy.
Gold has made a major move in the past few days, reversing a false breakdown from a multi-month coil.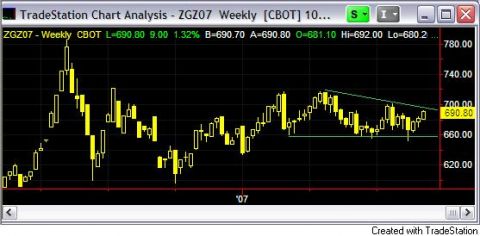 Now, judging by the December futures, gold is approaching the top of the coil with a head of steam. The declining trendline could prove to be resistance again, but I suspect we may be near a major breakout.
I remain heavily long junior gold miners like Goldenstar Resources (NYSEMKT:GSS), and Western Goldfields [WGDFF.OB].
DISCLOSURE: The author has no position in GACF.OB, but is long CPNE.OB, GSS, WGDFF.OB.