Speculation circulating around Vera Bradley's (VRA) Q1 2013 guidance on March 15th has sent the stock tumbling 20% to its current price of $29.54. The smart money share a price target of $45, so why such a large sell-off? The management's subdued Q1 confidence in future earnings could be to blame but many VRA bulls see this as just another buying opportunity. It is quite common for management to under-promise on earnings to later champion better-than-expected results.
Despite short-term Q1 FY13 EPS outlook defying analysts by a 1 or 2 cents, ($0.27 -$0.29) compared to the $0.30 expected, Q4 FY12 and Fisccal 2012 successfully met revenue and margin expectations. Since when does Q1 guidance bear so much weight for the retail sector?
Vera Bradley, Inc. (Vera Bradley) is a designer, producer, marketer, and retailer of accessories for women. The company's products include offerings of handbags, accessories, and travel and leisure items. Still not sure what this company is? Ask your wife.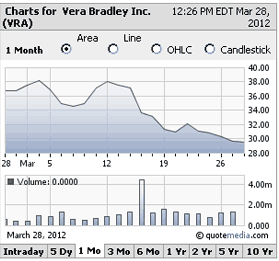 Source: Zacks.com.
Bulls & Bears View on Growth
With enough research and investigation one can find many uncertainties that plague companies. Some of the key uncertainties that plague Vera Bradley include the cannibalization of sales, unpopular pattern designs, and consumer spending.
The Bear Sees Cannibalization
As VRA matures into direct distribution of their fashion products they will be cannibalizing their indirect sales partners. Management's answer to this may come with the relationship they have established with Dillard's department stores. Larger volume and sales through a larger indirect distributor could curtail any meaningful losses from the smaller indirect stores.
While this all plays out, VRA must keep a tight leash on their indirect credit and risk involved. Also worth mentioning, management does not provide guidance for indirect sales without Dillards. This seems all too convenient and leaves one to speculate. Overall, one can view the Dillards partnership as an earnings cushion between its transformation from indirect to direct sales. If this is the case bear's seem less than confident on how much true growth is left after VRA is done competing with itself.
The Bull Sees Transformation
The Bull's view is not one of cannibalization but one of transformation. This transformation has given Vera the opportunity to leverage their trendy designs into more categories and styles. They are in full control of their product line which gives them versatility and flexibility that indirect partners could not offer. VRA believes the US market can support 300 Vera Bradley full-price stores. Currently, 48 retail and 8 outlets are operating with plans to open another 16 to 18 stores in FY13 and 14 to 20 new stores annually during each of the following 4 fiscals year.
New Full-price stores are expected to generate net revenues of $1.1 to $1.3 million in first 12 months and approximately cost $400k to open. Return on investment is expected within 18 months and each store could generate an additional EPS of $0.03 to VRA's business.
With the successful execution and facilitation of these stores, VRA's profit margins, brand recognition, and bottom line will grow larger than through indirect sales. This path is by no means an uncommon one, VRAs goal is to have the same success as Coach (COH) has had since spinning off from Sara Lee. Bulls believe Vera's price points, trendy fashion patterns, and management can accomplish this.
Pattern Design and Product Assortment
Trendy designs and styles are the deciding factor on VRAs ultimate success and profitability. If the designs do not resonate well within their market, the company will suffer. It will also be very important to watch inventory growth and management. They have done a great job with keeping their inventories in line by growing inventories with net revenue growth. A cautionary factor will be the percentage of unpopular pattern designs versus break-out designs inventories. This is another line item that management does not provide guidance or transparency but has communicated that inventory is being handled appropriately. Unpopular inventories are being cost to market yearly and used in their outlet channels and liquidation events where higher margins are made.
Short run reception on Spring pattern assortments have been positive with no issues foreseen. Although there has not been a break-out pattern there has been a distinguishable winner in the line. Break-out patterns are to be viewed as rare with only a handful present in Vera's history. Management contends that an absolute asset of Vera's brand is its ability to bring popular patterns out of "retirement" and introduce them into new styles and categories.
Consumer Spending
Conservative consumer spending and recessionary economics should be an advantage for Vera Bradley. They offer trendy fashion products at lower prices than competitor Coach. Many consumers see Vera as alternative to high priced luxury items and also an affordable way to 'spice' up boring travel items such as rolling luggage and duffel bags. Currently there are no plans to raise retail prices although Chinese manufacturing and cotton costs have increased.
Valuation
Using the market close of $ 29.54, the investor is paying a reasonable price for growth; VRA fetches a P/E ratio of 20.68 from $1.43 EPS and forward P/E of 17 from forecast $1.74 EPS. My price target is $38 by next year. VRA appears to have a lot of room to grow in the U.S. market, while its international expansion is just beginning with Japan. Positive reception and results in the Japan could boost the stock price and growth expectations.
Discrepancies and Cautionary Flags
Seeking Alpha is an incredible way to share views and insights. That being said, I am hoping for participation on some unsolved mysteries I find along the way. Income Statement analysis shows a Tax Expense % for FY2011 of only 10%, even less in FY2010 (Vs. 35%). I would like to receive some more clarification on this.
Disclosure: I am long VRA.