Whether opportunistic or fair, a hostile takeover bid puts an acquisition target at a peculiar place - either find another buyer that will pay more, or give in to the offer.
On February 3, Panoramic Resources Limited (OTCPK:PANRF), an Australian based nickel-gold miner, announced it is proceeding with a hostile takeover bid for Magma Metals Limited (OTC:MMTDF), a junior resource company with assets in Canada and Australia. Under the offer, Magma shareholders will receive two Panoramic shares for every 17 Magma shares. The offer represented around 87 percent premium to the prior closing price of Magma shares, however, was it fair or opportunistic?
The offer is subject to conditions of which one is key: a minimum acceptance of the offer by 90 percent of shareholders (Panoramic already owned 9.34 percent of the company prior to the bid) of Magma Metals.
(Click charts to enlarge)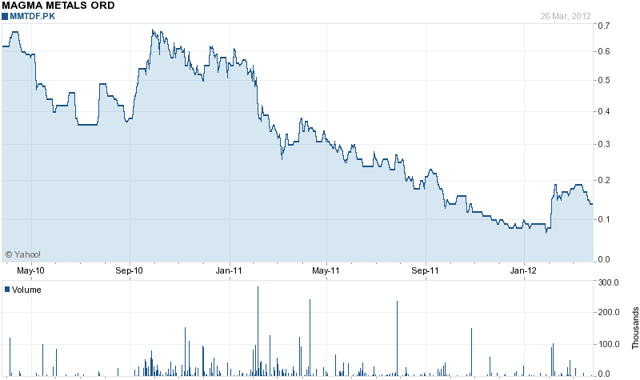 According to Panoramic Resources filing of Form 604 dated March 1, 2012, only 3.73 percent of shareholders accepted the current offer, thereby raising Panoramic's interest in Magma from 9.34 to 13.07 percent. The extremely low acceptance rate indicates the majority of shareholders believe the offer is opportunistic and inadequate.
Another indication that the bid is insufficient is the recent activity by Anglo Pacific Group PLC, a London-based natural resource royalty streaming company. Prior to the bid, Anglo's interest in Magma amounted to about 13.5 percent. However, as illustrated below, once the Panoramic bid was announced, the company quickly turned to the public markets, purchasing about 9.36 million shares of Magma and thereby increasing its interest in the company to about 16.98 percent.
Anglo Pacific Group PLC Acquisition of Shares in the Public Markets: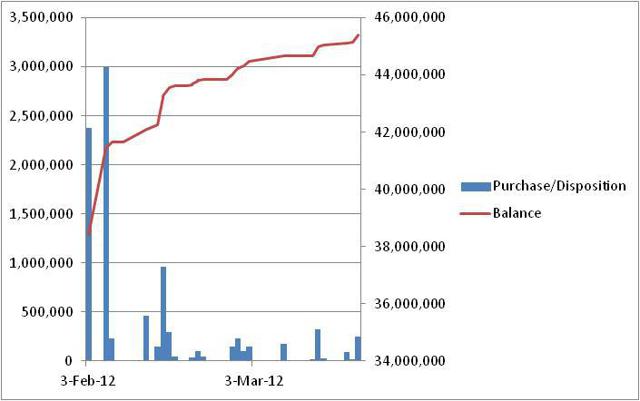 In fact, according to regulatory filings, Anglo Pacific Group purchased around 30.475 million shares since December 18, 2009, for an average cost of about $0.338 per share. The Panoramic offer is less than half of Anglo's average cost and is therefore, not likely to be accepted by the company.
In addition, Magma Metals board of directors rejected Panoramic's opportunistic offer as neither fair nor reasonable and well below the preferred value of $0.37 per share. Given Magma Metals has about 4.78 cents (or 34 percent of the offer) per share in cash and receivables, the board's rejection of the offer and request of $0.37 per share is reasonable.
| | |
| --- | --- |
| Cash and cash equivalents | 12,413,090 |
| Trade and other receivables | 388,381 |
| Other | 2,114,628 |
| TOTAL ASSETS | 14,916,099 |
| TOTAL LIABILITIES | 1,896,389 |
On March 21 Panoramic Resources announced it has extended the offer to April 19, 2012.
Disclosure: I am long Magma Metals Limited on the TSX
Disclosure: I/we have no positions in any stocks mentioned, and no plans to initiate any positions within the next 72 hours.
I wrote this article myself, and it expresses my own opinions. I am not receiving compensation for it (other than from Seeking Alpha). I have no business relationship with any company whose stock is mentioned in this article.