MACRO AND HOUSING
Commercial Real Estate Could Drop 15% -- Bloomberg
Prices of U.S. commercial real estate could fall up to 15% in what would be the worst decline since the 2001 recession, Bloomberg reported Wednesday. "People aren't willing to do deals right now," said Howard Michaels, chairman of Carlton Advisory Services. "The expectation is that prices will come down." In July, investors bought the fewest commercial properties in almost a year and apartment building purchases were down 50% from June. Last month, the Archstone-Smith Trust postponed its $13.5 billion sale to a group led by Tishman Speyer Properties until October. Mission West, which owns commercial properties in Silicon Valley, said two weeks ago that its $1.8 billion sale might collapse because a bank has withdrawn funding. "There are so many deals falling apart," said David Lichtenstein, CEO of commercial property owner Lightstone Group. "People who can get out are getting out." Morgan Stanley industry analyst Matthew Ostrower forecast that average prices for commercial properties could fall 5-15% in the next two years. The cost of commercial mortgages, which have risen in tandem with rising defaults in the subprime sector, has stopped a record-breaking rally in commercial real estate. "No one's going to want to sell in this environment, because you're not going to get your price," said James Corl, CIO for real estate securities at Cohen & Steers Inc.
Sources: Bloomberg
Commentary: Commercial Real Estate Could Be Next Victim of Credit Market Woes • Equity REITs Not Yet At Fair Value • Investing in Commercial Real Estate • Tishman & Lehman Near Agreement to Acquire Archstone-Smith REIT for Over $20 Billion
Stocks/ETFs to watch: ASN, REG, DDR, KIM, WRI. ETFs: RTL, VNQ, FTY
Manufacturing Slows in August; Tech and Energy Stocks Rally
Manufacturing growth slowed in August on a fall-off in new orders and construction spending unexpectedly dropped in July, according to data released Tuesday by the Institute for Supply Management [ISM]. The ISM's index of national factory activity retreated to 52.9 in August, its lowest in five months and down from 53.8 in July. The fall slightly exceeded economists' expectations of 53.0, though any reading above 50 constitutes growth. The result is "not a collapse by any means, but it does imply some slowing," said UBS Securities senior economist James O'Sullivan. The new orders index dropped to 55.3 from 57.5, while prices paid fell to 63.0 from 65.0, suggesting that slower growth is reining in inflation somewhat. Stocks ended higher after the report, with particular strength seen in the technology and energy sectors (which the WSJ notes are perceived to be relatively insulated from credit-market problems). The employment index rose to 51.3% from 50.2%. "Markets have been on edge for negative growth news, so this morning's numbers came as a little bit of relief," said John Shin, senior economist at Lehman Brothers. The Commerce Department, meanwhile, reported that construction spending fell 0.4% in July to an annual rate of $1.17 trillion, its largest drop since January. The fall was led by a 1.4% drop in spending on private residential projects. Economists were expecting construction spending to be flat in July from June.
Sources: Bloomberg, Wall Street Journal, MarketWatch I, II, Reuters
Commentary: Economic Report Summary: Consumer Spending Pullback, Manufacturing Rebound Out Of Steam? • Economic Report Summary: Slow Housing Stats, Continued Rebound In Manufacturing • ISM Index: Factory Sector Posts Strong June
Stocks/ETFs to watch: INTC, HPQ, AAPL, YHOO, XOM, COP, CVX, SLB, SPY, DIA, IVV
Regulators to Lenders: Act Now to Prevent Foreclosures
U.S. bank regulators, including the Federal Reserve, have asked mortgage lenders to take steps to identify at-risk borrowers and prevent foreclosures. The regulators advised lenders to find ways to refinance loans and even recommended that banks consider reducing the principal owed before foreclosing. "Keeping families in their homes is a matter of great importance to the Federal Reserve," said Fed Governor Randall Kroszner. Gilbert Schwartz, a former associate general counsel at the Fed, said it is "extraordinarily unprecedented" for the regulators to offer such a recommendation in public. "This essentially is a signal to financial institutions that we won't criticize you if you incur expenses or losses for providing assistance to borrowers," he said. The recommendations follow last week's announcement by President Bush that the Federal Housing Administration will assist some borrowers whose mortgage payments are rising. The number of homes being foreclosed upon in July was almost twice last year's figure. Senate Banking Committee Chairman Christopher Dodd calls the regulators' recommendations late and inadequate. "Subprime homeowners deserve loans that are affordable in the long term," he said. "We cannot tolerate short-term modifications that put off the day of reckoning until a time when the press' attention is turned elsewhere."
Sources: MarketWatch I, II, Bloomberg, Reuters
Commentary: Did the Bush-Bernanke Offense Do Anything for the Economy? • But Is Subprime Really the Issue?
Stocks/ETFs to watch: LEND, FMT, CFC. ETFs: KBE
Home Depot's Tender Offer Disappoints; Shares Fall
Home Depot shares shed 5% Tuesday to close at $36.36, their steepest drop in almost a month, after the company announced it will buy back $10.7 billion of stock at $37 a share, 3.4% below last Friday's close. About 289.6 million shares, or approximately 14.6% of the total outstanding, were tendered before the company's offer expired on August 31. When the buyback was first announced, the company said it would pay $39-44 per share, but cut that estimate to $37-42 in early August after the planned sale of its HD Supply unit began to run aground. (The sale eventually went through, but the price of the unit was reduced to $8.5 billion from $10.3

billion.) "It's funny, kind of a Catch-22," said Walter Todd, a principal at Greenwood Capital Associates. "Current shareholders get screwed a little bit, but presumably the company gets a great deal on its stock, which if you believe what management says, should create value in the future." On August 16, Home Depot shares hit a 52-week low of $31.85, and the shares have been trading below the tender offer price range for much of the past three weeks. Home Depot is financing the buyback through the proceeds of the HD Supply sale and a $10 billion credit line.
Sources: Forbes, Dow Jones, Bloomberg
Commentary: Home Depot: This Buyback Was Destined To Fail • Home Depot/Lowe's Pair Trade - Hedged Opportunity For Housing Despair • Home Depot's Financial Glaucoma
Stocks/ETFs to watch: HD. Competitors: LOW. ETFs: RTH, XHB, VCR
Earnings call transcript: The Home Depot Q2 2007
TECHNOLOGY
Apple Jumps on Strong iPhone Reports
Apple shares are up more than 3% after a research note predicted September iPhone sales would beat Apple's goal, and an industry report said iPhone outsold all Smart Phones in July. Market researcher iSuppli said in a sales survey released Tuesday Apple's iPhone, which began selling June 29, was July's best-selling smartphone, and said its sales equalled those of the LG Chocolate, the leading 'feature phone.' Its online 'U.S.

Consumer Panel Survey' said the iPhone's two models outsold all smartphones, including the Blackberry series, all of Palm's phones, and any individual Motorola, Nokia, Samsung smartphone model. "This is a remarkable accomplishment for Apple, considering that July marked the first full month of sales for the iPhone," iSuppli said in a statement. It forecasted total 2007 sales at an aggressive 4.5 million units, and said the phone and its later iterations would hit 30 million in annual sales by 2011. One quarter of those who purchased iPhones switched over to AT&T, the survey said. Separately, Piper Jaffray research analyst Gene Munster wrote in a note to clients Apple will likely hit its goal of selling 730,000 iPhones in the September quarter, and could sell as many as 804,000. He also wrote that initial checks imply 2 million Macs will be sold in the quarter, better than the previous estimate of 1.9 million. It is widely believed Apple will launch new video and WiFi enabled versions of the iPod at an announced product launch Wednesday (full story).
Sources: Reuters, PC Magazine
Commentary: Early iPhone Adopters Extremely Satisfied • Apple's iPhone Has Boosted Stock of Rival Handset Producers • iPhone: Top ten apps [PCMag]
Stocks/ETFs to watch: AAPL, T. Competitors: MOT, NOK, PALM, RIMM
Earnings call transcript: Apple F3Q07
Yahoo Could Fetch $53B from Microsoft -- Bear Analyst
Yahoo! Inc. was named a 'Top Pick' by Bear Stearns internet analyst Robert Peck Tuesday morning. Peck said Microsoft may still be interested in acquiring Yahoo, and that its shares could be worth $40/share in a buyout, a 76% premium over Yahoo's previous close of $22.73. The acquisition price stems from previous valuations in tech buyouts, including Microsoft's purchase of aQuantitive, in which Microsoft paid an 85% premium over the presale stock price. He noted, "Yahoo remains an attractive acquisition candidate for either traditional media companies seeking to deepen their exposure to the Internet or for technology companies like Microsoft." On Aug. 20, Microsoft CEO Steve Ballmer said Yahoo would be "an expensive acquisition for anyone to do," adding that Microsoft already works with Yahoo, and would seek additional ways to collaborate. Peck noted that Yahoo could create

greater revenue with new partners, citing a June 20 report that Yahoo was in talks with Rupert Murdoch to trade a 25% stake in Yahoo for the social networking site MySpace.com. Yahoo also owns a 40% stake in its Chinese operator, Alibaba.com, and is expected to get a jump in earnings when Alibaba.com takes its wholesale e-commerce unit public. Peck said Yahoo's share price has been too deeply discounted over concerns over its online display advertising, online search and paid content. He forecasted $30/share for the end of 2008 and maintained his "outperform" rating for the company. Yahoo traded up 6% to $24.10 during midday trading on Tuesday.
Sources: MarketWatch, InformationWeek, Bloomberg
Commentary: Yahoo Reorganization Continues • Microsoft's Ballmer Starting Own Yahoo-Buying Rumor?
Stocks/ETFs to watch: YHOO, MSFT . Competitors: GOOG. ETFs: FDN, HHH
Microsoft's Open Office Setback: GOOG, IBM and SUNW to Benefit?
Despite speculation to the contrary, Microsoft's closely watched bid to make its Open Office XML file format an international standard failed as 26% of countries voting rejected the software giant's proposal. The company also received just 53% of the votes from 37 countries representing the International Organization for Standardization and The International Electrotechnical Commission, short of the two-thirds requirement. Conditions also stipulated that the open document format not be opposed by more than 25% of all voting countries. At the heart of the issue are concerns about

Microsoft's market domination, but there also are worries over who controls the digital codes used to store billions of documents. Open XML is used to exchange information between incompatible programs and systems without having to translate them first. Microsoft believes, however, that it will have the needed votes in the next stage of the process when the final vote is taken -- likely in March 2008. The British standards authority, which opposed the bid, said its review panel "identified a number of technical issues in the document which need to be addressed before the U.K. can approve" Open XML. This is just one of several challenges the company faces in Europe. A court will rule on September 17 on the company's appeal of a 2004 EU anti-trust order. Competitor IBM received ISO certification for its OpenDocument format last year. Sun and Google, which distribute and promote the free Open Office suite, may also benefit.
Sources: Bloomberg, Wall Street Journal
Commentary: Microsoft's Office Open XML Set to Become International Standard • Microsoft to Dispute FCC's Rejection of White Space Proposal -- Washington Post
Stocks/ETFs to watch: MSFT, SWH, PSJ. Competitors: IBM, ORCL
Earnings call transcript: Microsoft F4Q07 (Qtr End 6/30/07)
MetroPCS Bids for Rival Leap Wireless
Discount wireless provider MetroPCS Communications made an unsolicited bid to buy rival Leap Wireless for about $5.5 billion in stock Tuesday. MetroPCS proposes to exchange 2.75 shares of its stock for each share of Leap. Based on Friday's close, that makes the bid worth $75.04/share -- a 3.5% premium. MetroPCS would also absorb $2 billion of Leap's debt. Both firms offer prepaid phone plans and share overlapping markets. If the

deal goes through, the combined company would have 6.2 million subscribers, and "create a new national wireless carrier," said Roger Linquist, MetroPCS CEO. "The shareholders of both companies will have the opportunity to participate in the upside potential" and will "benefit from being a part of a larger, more diversified organization." Combined synergies between the two companies are forecasted at about $2.5 billion over an unspecified time frame, and both companies will have an easier time retaining customers since they will cover all markets. Leap shares were up 15% to $83.47, while MetroPCS shares increased 5% to $28.65 during Tuesday's session. Leap's closing price was greater than MetroPCS's announced bid, signifying investors think there may still be higher bids.
Sources: Press Release, Reuters, AP
Commentary: Metro PCS Communications: The Bull Case • How Does MetroPCS Compare With the Wireless Titans?
Stocks/ETFs to watch: LEAP, PCS. Competitors: S, VZ. ETFs: WMH, PRFQ
INTERNET
Yahoo to Acquire Targeted Ad Vendor BlueLithium for $300M
Yahoo said late Tuesday it will acquire online-advertising network BlueLithium, the fifth-largest such network, for $300 million in cash, in an effort to gain greater presence in the market for behaviorally targeted advertising. BlueLithium's technology delivers internet surfers relevant ads by tracking the way they move from site to site. Yahoo already uses behavioral targeting on some parts of its site, including its database of 250 million Yahoo Mail users. Yahoo said "the combination of BlueLithium's assets and relationships with Yahoo's overall ad

network will give advertisers access to powerful data analytics, advanced targeting and innovative direct-response buying strategies." In July, Yahoo acquired the remaining stake in online-ad exchange Right Media Inc. for $680 million; it said BlueLithium's behaviorally targeted ads will become an active participant in the ad exchange. The deal is expected to close in Q4 2007.
Sources: Press release, MarketWatch, New York Times
Commentary: Google: Focused on Better Targeted Advertising • Two Logical Paths To Targeted Marketing: Google And Yahoo
Stocks/ETFs to watch: YHOO. Competitors: GOOG, MSFT
RETAIL
Guess Boosts Outlook After Strong Quarter
Guess? Inc. raised its 2008 outlook after second-quarter earnings breezed past expectations, but shares of the clothing and accessories retailers slid 6.4% to $49.97 AH as investors worried the view wasn't bullish enough. Guess? said it now sees earnings of $1.79-$1.84/share for the year, up from its previous estimate of $1.75-$1.80 while forecasting revenue in the range of $1.56B to $1.6B and operating margin of about 17.5%. Analysts, on average, expect earnings of $1.83/share and revenue of $1.57B for the year. "As we have seen in the past, the guidance provided will prove conservative. The company will beat these numbers," said one analyst. For the second quarter, Guess? said it earned $37.5M ($0.40/share) on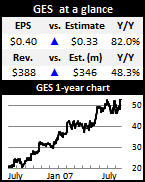 revenue of $388.3M, up from $20.6M ($0.22/share) on revenue of $261.9M in the year ago period. Analysts had expected earnings of $0.33/share on revenue of $345.6M, on average. Strong performance across all product lines in the North American retail business led to a 16.2% increase in same store sales. The company also raised its quarterly dividend 33% to $0.08, payable October 5 to holders of record September 19.
Sources: Press release, Reuters
Commentary: Companies With 100% Earnings Beat Rates Over Last Few Years • Investor Guessing Games at Guess Jeans
Stocks/ETFs to watch: GES, RTH, XRT, PMR. Competitors: GPS, LTD, ANF
Earnings call transcript: Guess? F1Q08
Mattel Announces Third Toy Recall
World-leading toy manufacturer Mattel has announced its third major recall in five weeks. The company determined that approximately 848,000 Chinese-made Barbie and Fisher-Price products are made with paint that could contain unsafe levels of lead. The products recalled include Barbie kitchen and furniture accessories, Fisher-Price train toys and Bongo Band drums. (No Barbie dolls were recalled.) The latest recall was prompted by the discovery that three

Chinese vendors had outsourced the painting of the toys to subcontractors who used tainted paint as a cost-control measure. It follows a recall of about 1.5 million toys on August 1 for lead contamination and a recall of more than 18 million toys later in August on concerns over small magnets that can be fatal if swallowed. The recalls are occurring as Mattel approaches the holiday buying season, which accounted for 69% of sales last year. "We apologize again to everyone affected and promise that we will continue to focus on ensuring the safety and quality of our toys," said Mattel CEO Robert Eckert. In addition to the toy recalls, Chinese seafood, toothpaste and pet food have been recalled on suspicion of contamination. "News of unsafe products infiltrating the American marketplace is becoming all too familiar," said Representative Edward Markey (D-Mass). "It's clear that our consumer product safety net has a hole in it the size of China."
Sources: Reuters, Wall Street Journal, International Herald Tribune, Bloomberg
Commentary: Mattel Could Be Hit With Lawsuits on Recalls • What's Behind the Current Epidemic of Safety Recalls? • Despite Mattel Recall, I Remain Bullish
Stocks/ETFs to watch: MAT. Competitors: HAS, JAKK. ETFs: FXI, PGJ
Earnings call transcript: Mattel, Inc. Q2 2007
FINANCIAL
Merrill Cuts Estimates on Banks, Says 60% Chance of Recession
Merrill Lynch analysts dropped their earnings estimates Tuesday for 12 large-cap regional U.S. banks -- including Bank of America, Wachovia and Wells Fargo -- over concerns relating to current economic conditions in the U.S. Wachovia's EPS target was lowered to $4.90 from $5.05, Bank of America's was reduced to $5.10 from $5.25, and Wells Fargo's estimate was cut to $2.95 from $3.00 (the other banks appear below in Stocks/ETFs to watch). Merrill analysts Edward Najarian, Brian Bedell and Dwain Carryl said the probability of a U.S. recession is now 65%. The Fed will cut its Fed Funds rate by 50 basis points at the upcoming FOMC meeting on September 18, and a total of 100bps by year-end, yet unemployment will rise from a current 4.6% to 4.9%, they said. "Employment at employment agencies is a leading indicator at best, a confirmation signal at worst, and is -3.3% year-over-year as of July. This only happens in or around recessionary economic phases." GDP growth will slow to just 0.5% in the first half of 2008, due to slackening consumer spending. The analysts said they expect the current credit quality turmoil to peak in 2008. During the past two credit quality deteriorations (1991/2 and 2001/2), banks rallied for 1-2 months on initial Fed Funds cuts, only to decline further after the markets realized a 'profound' credit crisis would not be avoided, a scenario they expect will repeat itself during the current cycle.
Commentary: As Mortgage Brokers Flounder, Consider Investing in Regional Banks • It's Too Late To Short The Financial Sector • Bank of America and Wells Fargo Are Buys At Current Levels
Stocks/ETFs to watch: BAC, WB, WFC, BBT, FITB, KEY, MTB, NCC, PNC, RF, STI, USB, MER. ETFs: IAT, KBE, KBW, RKH
Bernstein Drops Estimates on I-Banks
Bernstein analyst Brad Hintz lowered his Q3 profit estimates for four of the top five U.S. investment banks Tuesday, saying the bond underwriting and merger advisory businesses did even worse than expected in August. Bear Stearns and Lehman received the biggest cuts, down 17% and 6% respectively. Hintz lowered his profit estimates on Goldman Sachs and Morgan Stanley by a milder 3%. Lehman and Bear Stearns, the top two underwriters of mortgage bonds, have lost 28.7% and 31.9% respectively YTD, as rising home-loan defaults have decimated the market for mortgage-backed securities. Hintz believes mortgage bonds, asset-backed securities, and credit products and derivatives were 'sharply weaker' during Q3. Bear is the most vulnerable to credit market woes: It generates 44% of its revenue from fixed-income, Bernstein says, and has the least exposure to less-troubled international markets. Hintz estimates fixed-income revenues will plummet 30-50% from Q2. Investment-banking revenue, he said, will drop 25-30% from Q2. Last week Lehman dropped its Q3 estimate for Bear Stearns from $3.28/share to $1.45 (full story). One looming question is the issue of I-Bank write-downs on mortgage-related assets and leveraged loan commitments. Goldman "has the largest dollar exposure to possible markdowns on leveraged loan commitments," CreditSights research told clients, while Merill and Morgan Stanley "have more diversity embedded in their franchises and have more manageable exposures." Merrill and Morgan Stanley bought subprime mortgage originators at a premium in 2006, and there is speculation they may have to write down the value of their investments.
Sources: Bloomberg, Financial Times I, II
Commentary: Merrill Cuts Estimates on Banks, Says 60% Chance of Recession • Moody's: I-Banks Are Safe. Standard & Poor's: Not Necessarily • Parallel's in Post '29 Crash Banking Issues
Stocks/ETFs to watch: BSC, LEH, GS, MS, MER. ETFs: KCE, IAI
NovaStar Cancels Preferred Offering, Cuts Jobs
NovaStar Financial announced it has canceled a $101 million convertible preferred stock offering after its auditor, Deloitte & Touche, would not agree to the plan unless specific parts were changed to reflect the increase in risk since the credit crunch began. Deloitte would not approve NovaStar's original plan, and insisted the mortgage lender reissue its 2006 financial report and include a "going concern" clause, a phrase that is seen as a warning to investors about the company's financial stability. "They're having trouble with cash flows to keep it operational," said Christopher Brendler, an analyst at Stifel Nicolaus on NovaStar. The company was leaning on the deal to survive the recent downturn. "They had this

financing deal, it's fallen through and that's put more pressure on liquidity," added Brendler. With the deal canceled, the company announced it would close 12 offices and cut about 275 jobs in the retail lending area. CEO Scott Hartman talked about the restructuring: "The secondary market has deteriorated substantially, so we are modifying our business model and further reducing costs." The lender has laid off 83% of its workforce since 2004. NovaStar stock was down 18% to $6.96 in early-afternoon trading on Tuesday.
Sources: Press release, TheStreet.com, Bloomberg
Commentary: NovaStar Shares Rally on Resumption of Originations • NovaStar's Dividend Woes • Novastar Financial Up 22%: Why Doesn't Anyone Care?
Stocks/ETFs to watch: NFI. Competitors: CFC, BAC. ETFs: KBE
MUST-READS ON SEEKING ALPHA TODAY
Have Wall Street Breakfast emailed to you every morning before the market opens.