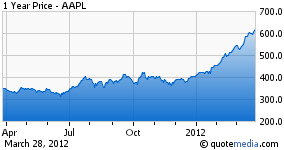 Apple (NASDAQ:AAPL) CEO Tim Cook was recently spotted in Beijing visiting an Apple store there. The sighting prompted rumors that "Cook is there to discuss Apple's next iPhone with China Unicom and China Telecom, Apple's two wireless service providers in that country. He may also be there to talk to China Mobile, a third carrier, according to the report," according to Mashable.
"Apple's China manufacturing has become a big issue for Apple of late as criticism has mounted that the company has mistreated workers at manufacturing partner Foxconn," reported Mashable. "China, however, is also a huge emerging market for Apple. At least one analyst, Morgan Stanley's Katy Huberty, believes Apple could sell as many as 40 million iPhones in that country this year." And, that is just the beginning.
Apple, while once eschewed in favor of Microsoft (NASDAQ:MSFT) products, is very popular in the Chinese market today. It is well-known that Chinese people are very concerned about their "face," or in other words reputation. They want to impress other people, and therefore they want to own expensive products that will distinguish them. Chinese people also pay close attention to building and maintaining their relationships with others. With this in mind, they often exchange gifts and Apple's products are usually given as presents to good friends. As the Chinese economy continues to grow, there will be an increasing number of people with disposable income who tend to show their status by owning Apple's products.
For the fiscal year ended September 24, 2011, Apple's net sales in China were $12.5 billion, about 11.6% of the company's total revenue. Technology products, like the iPod, iPhone and iPad, attracted customers in China, just as elsewhere - but in China the increased interest is comparatively larger. Right now, there are only four Apple Stores in China, which is less than 2% of the total number of Apple retail stores all over the world, yet Apple's sales in China accounted for more than 10% of its total sales globally.
Apple's products are relatively expensive for most Chinese consumers, but the company has not reduced its prices to promote sales. Instead, Apple preserved its value. It chose instead to wait until the Chinese people's incomes increase to a level where Apple becomes affordable. It was a play that worked well. Apple is now considered a symbol of dignity and trendiness in China and as the company has gained such great profits from its investments in China, this is really just the beginning of Apple in China.
Overall, we like Apple's business in China. In the next few years, we believe Apple will continue to enjoy strong growth in China and, in turn, expand its market share there. We also think Apple's business in China will be one of the main drivers of its future earnings growth.
Apple is the most popular stock among the 350-plus hedge funds we track. As of December 31, 2011, over one-third of the hedge funds we track reported positions in Apple. In total, they owned over $16 billion worth of this $545 billion market cap stock. Well-known hedge fund managers who are bullish about Apple include Rob Citrone, Stephen Mandel, Chase Coleman, David Einhorn, Andreas Halvorsen, Jim Simons, Lee Ainslie, Eric Mindich and Bill Miller (see billionaire. Jim Simons' top stocks). Each of these managers' funds had $200 million to $1 billion invested in Apple at the end of last year.
We totally agree with these hedge funds and are just as bullish about Apple. We have been recommending this stock in our previous articles, such as this article about Bill Miller's latest holdings. It has attractive valuation levels (with P/E ratio of about 17) and very strong growth potential (earnings are expected to grow at about 20% per year).
Disclosure: I am long MSFT.