Gallup has been tracking Economic Confidence Index since January 2008. When the index started to be tracked for the first time, its score was -24. Toward the end of the year, it bottomed out at -65 and finished 2008 at -51. In 2009, it climbed all the way up to -22, spent 2010 flat, and fell down to -54 last summer when the market was panicking about European debt issues. The index has been rising since last October and currently it sits at -17, the highest since Gallup started tracking it.
(Click chart to enlarge)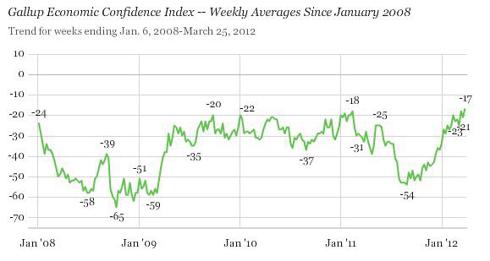 Click to enlarge
Gallup's Economic Confidence Index is an average of two items: 1) respondents' opinions of current economic conditions 2) respondents' predictions of near future economic conditions. For item one, the percentage of people who believe that economic conditions are currently poor is subtracted from the percentage of people who believe that economic conditions are excellent or good. For example, if 30% of the people believe that economy's current situation is is excellent or good and 40% of them believe that the it is is poor, this item's score will be -10. For item two, percentage of respondents who think the economy is getting worse is subtracted from percentage of those who believe that economy is getting better. If 30% of respondents believe that economy is getting better and 50% believe that it is getting worse, this item's score will be -20. Given that the first item's score was -10, the average index score will be -15.
What does this mean? While Americans' confidence of the economy is increasing, those who have high confidence of the economy's current and future situation are still in the minority. In fact, those who are optimist about the economy never outnumbered those who are pessimistic about it in Gallup's surveys since early 2008. This shows that economic confidence is still fragile.
For investors, this may mean multiple things. Better confidence in the economy leads to higher economic activity, which in return raises the confidence further and helps the recovery of the economy. I continue to suggest investors design a well diversified portfolio with significant exposure to defensive stocks such as Exxon (NYSE:XOM), BP, P&G (NYSE:PG), Pfizer (NYSE:PFE) and Coca Cola (NYSE:KO). While the recent rally might have encouraged many investors to go all-growth stocks, it is easy to get carried away and get caught off guard like many did last summer. I would wait until at least the economic confidence is solid before reducing my exposure to defensive stocks in favor of increasing my exposure to growth stocks.