Sector Rotation 101:
One very useful and visual stock market tool I have used over the years is the graphic derived from Sam Stovall's Sector Rotation model. This picture developed by Stockcharts summarizes Stovall's sector rotation theory by illustrating two curves: One for the Market cycle and the other for the Economic cycle. This can help investors approximate where we are in a cycle and possibly the next market phase. This is useful for intermediate to long term investing and can be a general road-map and give clues to where the next major sector shifts may be in typical market and economic cycles.
This model was developed by writings from Sam Stovall of Standard and Poor's from his classic "Standard & Poor's Sector Investing: How to Buy The Right Stock in The Right Industry at The Right Time". This book, now out of print, explains sector performance and the big picture relationships for market and economic cycles. Now any investor can view major S&P sectors mapped out with their market and business cycles with the corresponding ETFs on a special Stockchart chart page. This Stockcharts page has all the sectors preloaded as well as the Stovall inspired sector rotation graphic.
click to enlarge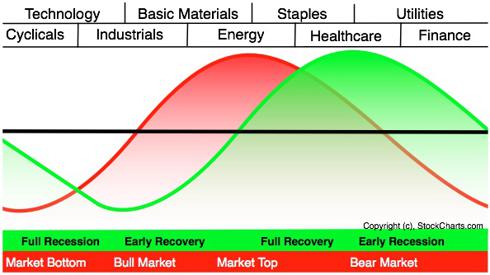 Source: Stockcharts.com
If you ever wondered as to why major market fund players you see on TV make their sector calls this simple visual tool can explain the general sector outperformance and underperformance in a typical economic and stock market business cycle. Bearish market calls generally favor certain sectors as do Bullish market calls. Note again that the market (the red) leads the economic cycle (green). This is by design because as most of us know, the stock market is the ultimate future discounting mechanism.
Where were we - where are we now - and where are we headed in the cycle?
Let's examine the ten S&P sectors for year to date (about 3 months) and at 6 months for our market time-frames.
S&P 500 Sector Returns

Ticker

Name

YTD

6 Mos.

(NYSEARCA:SPY)

S&P 500 Spyder

13.30%

26.1%

(NYSEARCA:XLY)

U.S. Consumer Discretionary Sector SPDR

16.60%

28.1%

(NYSEARCA:XLK)

U.S. Technology Sector SPDR

20.00%

27.8%

(NYSEARCA:XLI)

U.S. Industrials Sector SPDR

12.30%

30.1%

(NYSEARCA:XLB)

U.S Basic Material Sector SPDR

12.00%

25.0%

(NYSEARCA:XLE)

U.S. Energy Sector SPDR

5.70%

25.0%

(NYSEARCA:XLP)

U.S. Consumer Staples Sector SPDR

5.20%

16.9%

(NYSEARCA:XLV)

U.S. Healthcare Sector SPDR

8.00%

19.6%

(NYSEARCA:XLU)

U.S. Utilities Sector SPDR

-2.30%

6.4%

(NYSEARCA:XLF)

U.S. Financials Sector SPDR

23.30%

38.1%

as of March 26, 2012

Source: ETF Replay.com
Looking at the data we can see that the traditional "safe" sector havens of Healthcare, Utilities and Consumer Staples have underperformed YTD as well as for the last six months. This is not entirely surprising as the 2011 correction bottomed at about October 3rd. Surging early cycle sectors outperformed including Technology , Financials , and Consumer Discretionary.
From Stovall's Model we could conclude that we are in the "Early Recovery" phase. We can now look at potential sectors for outperformance in the next phases of the cycle (Full Recovery) as this bull market progresses. This could be Energy, Industrials, and perhaps Basic Materials as the next outperforming sectors. As the bull market ages, eventually the safety trade for recession worries with the before mentioned sectors like Utilities, Consumer Staples, and Healthcare will be in vogue.
I don't think this model is perfect as every business cycle is a bit different, but we can take clues from the performance and market action of all the sectors and look at the "big picture" to help us in our future investing decisions.
Disclosure: I have no positions in any stocks mentioned, and no plans to initiate any positions within the next 72 hours.