Lockheed Martin Corp (LMT) is one of the world's largest defense contractors (at least by revenue). It is involved in research, development and manufacturing of technological systems and services for customers which are almost always governments. Its two largest segments are (Aeronautics 29% of sales) and (Electronic Systems 31% of sales) as these two combine for 60% of sales for the whole company.
In the beginning of March, RBC Capital Corp upgraded Lockheed from underperform clear up to outperform while at the same time lifting its price target to $98.00. The key feature that set Lockheed apart was its dividend payment that still towers 25% above its nearest competitor. If investors are looking at companies in the Aerospace/Defense Industry, this is the company. With a dividend yield of 4.50%, its nearest competitor in the industry is 3.30% by both Raytheon and Elbit Systems.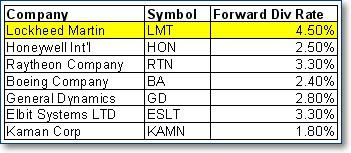 Like all companies in this industry, Lockheed is facing the challenge of a budget crunch by the U.S. Defense Budget. This year alone, 2012 has been a break from a decade of growth. Clear back in 2011 when the budget for 2012 came out, there were calls for additional cuts in spending by the defense department.
This puts the company (as well as its competitors) at a challenging place. Lockheed must focus upon affordability now. The days of U.S. DoD throwing money at projects no longer exists. Companies are going to have to work smarter when it comes to the challenges of DoD contracts.
As an example, Lockheed Martin's F-35 Joint Strike Fighter has been threatened to be cut if costs continue to rise. The reasoning? USAF secretary Michael Donley told the US Senate Armed Services Committee on 20 March:
We have told the contractor and the programme office that there is no more money.
The DoD continues to work on reducing costs and companies in the aerospace/defense industry are going to have continue to work on reducing costs themselves.
If you are looking for a stock in this industry, Lockheed Martin Corp is the one we would choose. It is a solid company, but more importantly, its dividends are far ahead of everyone else' in the industry. They make a great income stock