After starting off the week on a high note, stocks floundered through the next two trading sessions, as investors are fearful that major indexes may slip into negative territory for the second consecutive week. Yesterday's dip in durable goods did not bode well for the U.S. economy, as Wall Street seems to put more and more pressure on each new data point as the recovery has steamed along. Though the Fed has made no official mention, many speculate that a third round of quantitative easing is on the way which could help boost markets into new highs, as we look to breach pre-recession levels.
Today will see a very important economic indicator released in the U.S., as revised GDP for the fourth quarter of 2011 is announced. While this report does not carry the weight of an initial GDP result, revisions often come attached with important commentary that guides markets. For instance, many are hoping that tomorrow the Fed will have additional commentary on the issue of QE, and what proactive steps they will be taking to keep the economy chugging along at its current pace. Although not everyone agreed with that sentiment, as Jamie Coleman writes "the Fed will look long and hard at incoming data, not focus on what happened almost 6 months ago."
This final revision of GDP is expected to hold at 3.0%, but any changes to the figure will have significant ramifications for major indexes like the S&P 500. The S&P just recently touched a four year high and is up over 3% in March; if it can hold on to its wins through out the remainder of the week it will mark the fourth consecutive monthly gain for the index, the longest winning streak in roughly three years.
(Click to enlarge)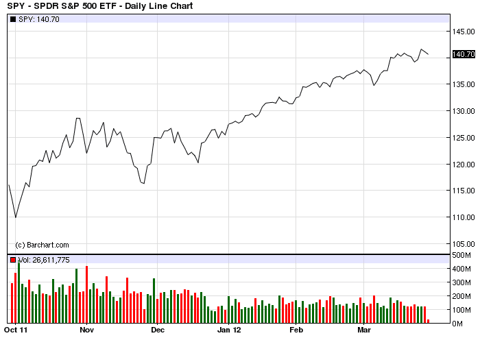 In light of this report, today's ETF to watch will be the SPDR S&P 500 (SPY). The king of ETFs is home to over $100 billion in assets and a massive daily trading volume that averages out to about 139 million. SPY, which maintains a nice dividend yield of 1.82%, has jumped around 12% on the year, and looks to hold those gains as we close out the first quarter of 2012. If GDP is revised upward or commentary is encouraging, look for the fund to make gains, but a negative report or weak outlook could put more pressure on SPY.
Disclosure: No positions at time of writing.
Disclaimer: ETF Database is not an investment advisor, and any content published by ETF Database does not constitute individual investment advice. The opinions offered herein are not personalized recommendations to buy, sell or hold securities. From time to time, issuers of exchange-traded products mentioned herein may place paid advertisements with ETF Database. All content on ETF Database is produced independently of any advertising relationships.