Alliance Resource Partners LP (NASDAQ:ARLP) engages in the production and marketing of coal primarily to utilities and industrial users in the US. It operates 10 underground mining complexes in the Illinois Basin, Central Appalachian, and Northern Appalachian regions. The company also leases land, and it operates a coal loading terminal. It purchases and resells coal. (Yahoo Finance).
This normally seems a great business model. Alliance sells to big, steady customers such as utilities and big industrial companies. It leases land to other companies that need to mine coal. The coal supply contracts and the land leases are generally long term. This business tends to be very steady.
Unfortunately the steadiness of this company has been adversely affected. Coal prices are far down from just a year ago. Central Appalachian coal futures for May 2012 are now at $56.90/ton. They had been roughly $20 higher a year ago. Lower prices put pressure on any new contracts. On top of that, natural gas prices have fallen to new long term lows. (From near $5/mmBTU last summer to $2.27/mmBTU today.) This puts coal and natural gas roughly on a par with regard to cost per BTU. Yet natural gas produces 45% less carbon dioxide than burning coal. It's almost twice as "clean". Apparently the EPA could not help noticing this. On March 27, 2012 the EPA proposed limits on emissions of greenhouse gases from new power plants. These rules set limits for all new power plants' greenhouse gases at the level established for natural gas power plants. Effectively, this means that no new coal power plants will be built in the US. State, local governments, and environmental groups have already acted to close some coal plants. More are scheduled for closing (not due to the EPA rules). The share of coal in US electricity generation dipped below 40% in 2011 for the first time since 1978. With these newly proposed EPA rules the amount of coal use in the US stands to go slowly downward.
What does this mean for Alliance? It means that companies will be hesitant to sign very long term contracts. They will be understandably more afraid that the EPA will again change the rules to impact the levels of greenhouse gases allowed by current burners of coal. Many will want shorter term contracts at the now much lower coal prices. This will impact margins. There is such a thing as "clean coal technology", but how many coal users will want to pay to upgrade to clean coal technology, if even those cleaner levels may not be enough to pass rules tightened to levels typically put out by natural gas users. This extra hesitancy will put further pressure on coal prices and business margins. This puts a serious crimp in Alliance's business model, which depends on long term, profitable contracts. The coming EU recession and a slowing world economy make the outlook even darker.
Alliance pays a $3.96 (6.08%) dividend. This usually is a good reason to hold onto this stock. However, the very negative current situation (described above) calls into question whether ARLP will be able to maintain this great dividend over the longer term. With the coming EU recession, a slowing of the US economy coming (the ECRI has even predicted a recession for the US), and a possible hard landing in China, there is no longer a strong reason to bet on the long term prospects of ARLP. In other words, it is more appropriate at this time to sell in the face of a increasingly troubled world (and likely US) economy, which may push stock prices down (especially those of troubled commodities).
Commodities stocks are highly cyclical. They move with economies. If ARLP moves further downward, which is likely, the logic of collecting the dividend during the downward cycle until a recovery occurs may not work. Instead the stock may go down. Then it may have a hard time rising again. Plus the severely troubled nature of US coal may ultimately lead to a lower dividend. The stable payment the investor wants to think justifies holding a falling stock may slowly disappear (or lessen greatly). That dividend and the long term contracts have already artificially held the price of ARLP up as most US coal stocks have fallen. With the added negative uncertainty inherent in the EPA's newly proposed rules, both are weaker reasons to hold ARLP. A smart investor should take profits now, before the stock possibly falls dramatically. An aggressive trader might consider shorting ARLP for a 6-9 month period. An even shorter term trader might consider a shorter term short. In this vein, the last ex-dividend date was Feb. 3, 2012. This means the next ex-dividend date will be approximately May 3, 2012. You will not want to pay this if you are a short term shorter.
Reinforcing the above thoughts, the average analysts' EPS estimates for FY2012 and FY2013 had already moved significantly downward in the last three months. The FY2012 EPS estimate moved from $8.25 down to $7.42. The FY2013 EPS estimate moved from $8.30 down to $7.82. The newly proposed rules from the EPA will likely cause these estimates to move still farther downward. This should provide further impetus for the price of ARLP to fall.
The two year price chart of Alpha Natural Resources Inc. (ANR) provides a good example of a typical non-MLP, US coal stock's recent price behavior.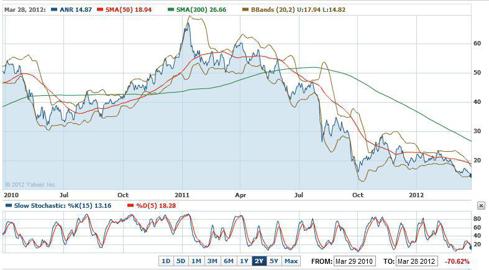 Click to enlarge
As you can clearly see the trend is strongly downward. Most other US non-MLP coal stocks have similar charts. If you look at the two year chart of ARLP (below), you can see that ARLP's price has held up far better than ANR's price in this period of coal price weakness.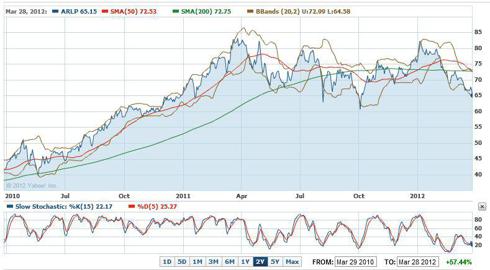 Click to enlarge
ARLP looks as if it might have been about to break through its near term support at approximately $65 before the EPA announcement. The recent new rules proposed by the EPA governing the "cleanliness" of power generation plants may have just ensured that ARLP will break through support. The next major support level for ARLP is at approximately $50. Selling now may be an astute investing move. Shorting now could prove profitable.
The increasingly published troubles in Spain and Portugal may soon bring EU problems back into focus for world markets. This could pressure markets downward. There is a nationwide strike schedule in Spain for March 29, 2012. Regardless the US markets are over due for a pull back. If nothing else earnings guidance, which is likely to be more conservative due to the EU troubles, will pressure the markets downward. Further David Zion of Credit Suisse says that 114 of the S&P500 companies will have to spend more than 10% of their operating margins in 2012 for pension funding shortfalls. This will make growing earnings more difficult in 2012. The US Trade Deficit for Jan. 2012 of -$52.6B indicates many of the goods being bought in Jan. of Q1 came from other countries. I could go on, but the bottom line is that even the great liquidity in this market is not likely to stop a near term pull back. This means there are strong reasons to sell (or short) ARLP near term.
Other similar US coal MLPs for which the same reasoning may apply are: Natural Resource Partners (NYSE:NRP), Alliance Holdings (NASDAQ:AHGP), Oxford Resource Partners (OXF), and Rhino Resource Partners (NYSE:RNO).
Good Luck Trading.
Disclosure: I have no positions in any stocks mentioned, but may initiate a short position in ARLP over the next 72 hours.