With an estimated 1.7 million Americans already afflicted with the wet form of age-related macular degeneration [AMD], and about 200,000 new cases being diagnosed each year, it's no surprise that numerous large and small pharmaceutical companies in are now trying to develop new and better treatments for this serious and sight-robbing disease.
The opportunity is great. As the huge baby boomer cohort ages, the number of individuals with wet AMD will continue to increase, with some experts predicting as many as 6 million cases in the United States by 2030. As of now, Genentech (DNA) dominates the marketplace for wet AMD treatments with Lucentis, which was approved by the FDA in June 2006 and should account for more than $800 million in sales this year.
Lucentis is an antiangiogenic agent that eliminates the unwanted and proliferating blood vessels in the eye that cause vision loss. It is closely related to Genentech's cancer drug Avastin, which has been successfully used "off label" to treat AMD and related retinal diseases.
While Lucentis is a legitimate "wonder drug" as the first approved therapy that actually improves the vision of those afflicted with the wet form of AMD, it does have some drawbacks that open the door to potential competitors. One of the major drawbacks is the necessity of monthly patient visits. During these visits, disease progression is evaluated through an advanced imaging technique. If disease shows signs of progression, an injection of Lucentis into the eye is given. If the disease shows no signs of progression, the patient is spared the injection and told to come back in a month. Through this process, patients on average receive about five or six Lucetis injections a year to maintain vision improvement.
Regeneron's (REGN) therapy for wet AMD, known as VEGF Trap-Eye, is now being evaluated directly against Lucentis in a recently initiated Phase 3 trial that will eventually involve 1,200 patients. While VEGF Trap-Eye may not prove to be quite as efficacious as Lucentis, preliminary data recently released from the phase 2 study of the drug indicates that it may require fewer maintenance injections than Lucentis.
If VEGF Trap-Eye proves to be almost as efficacious as Lucentis but requires fewer patient visits and injections, it has a good chance of gaining favor with both retina specialists and patients, thus obtaining a solid foothold as a treatment for wet AMD and related retinal diseases. Regeneron is partnering with Bayer on VEGF Trap-Eye and recently recieved a $20 million milestone payment from Bayer for initiating the phas 3 trial of the drug.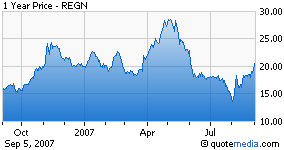 Disclosure: none