One of my favorite metrics to screen stocks is free cash flow/enterprise value. Free cash flow represents the cash that a company is able to generate after outlays for expenditures required to maintain or expand its business. It is typically calculated as after-tax operating income + non-cash depreciation and amortization expenses less changes in net working capital and less capital expenditures. FCF = EBIT * (1-Tax Rate) + D&A - Chg. NWC - Capex. Enterprise value is an economic measure reflecting the market value of the entire business, and includes the market value of the claims of both equity holders and the debt holders. Including debt in the capital structure provides for more appropriate inter-company comparisons given differing leverage ratios than solely a market capitalization approach.
In August 2010, the Quantitative Strategy group at Bank of America/Merrill Lynch authored a piece entitled "Free Cash Flow is King." The group determined that over the past twenty-five years stocks with high free cash flow/enterprise value multiples generated higher average annual returns than stocks screening high based on other valuation strategies.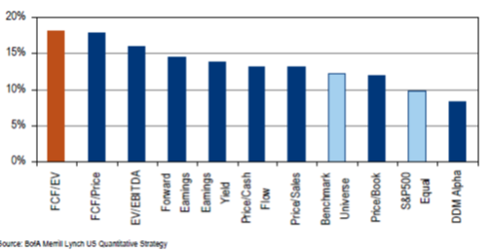 The BAML piece also demonstrated that this valuation method has also produced lower probability of loss historically.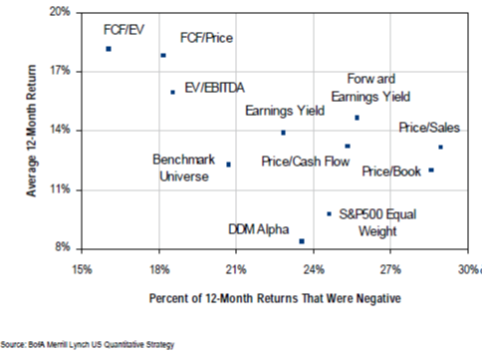 Any strategy that can produce higher risk-adjusted returns over a long horizon warrants further examination. Below is a list of S&P 500 constituents with the highest trailing twelve month free cash flow relative to their current enterprise value.
Gamestop (GME)
GameStop is the world's largest video game retailer operating nearly 6,700 stores in 17 countries. I recently profiled the company in an article about potential short squeeze plays given that Gamestop is the most shorted company in the S&P 500. The high short interest and the low multiple of trailing twelve month free cash flow are due to the uncertain prospective business profile of the firm given the rapid transition of the medium to digital distribution. If a company like Zynga is the way of the future in gaming, then the retail footprint of Gamestop could make less business sense.
The company utilized its robust free cash flow generation to buy back $45mm in stock in the last quarter while also retiring $125mm in senior debt. Currently, it has only an undrawn revolver, and is completely debt free. The company recently announced its first ever quarterly dividend of $0.15 per share. Returning capital to shareholders could aid multiple expansion if the company can successfully communicate their vision for the business to investors. GME remains profitable, even growing top-line sales by 2% in 2011 absent meaningful new console launches.
With nearly a billion of cash on the balance sheet, strong free cash flow generation and no debt, do not be surprised to see a private equity firm take a stab at purchasing the company with the intent of pulling out enough cash in the form of special dividends over the next several years to offset the price tag. This approach would give the acquirer a "free option" to see whether the firm can navigate the digitization of its industry. The upside of merger and acquisition activity to companies with high free cash flow relative to the enterprise value of the firm is likely a strong reason this metric has been strongly linked to risk-adjusted returns historically.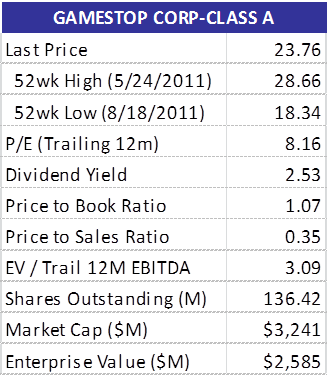 *These charts were constructured from Bloomberg data as of close of trading on 3/27.
Best Buy (BBY)
Best Buy is a global retailer of consumer electronics and technology products and services. The low multiple is a function of declining gross margins driven by the competition in its product channel from both online alternatives like Amazon and preferred consumer destinations like the Apple stores. Questions surrounding whether the big box, labor-intensive model is sustainable given that consumers are increasingly shopping online or via the phones Best Buy is selling them will continue to dog the company in out periods.
While the near-term outlook remains cloudy, and the company will have some noisy restructuring of its domestic store count and its international footprint along the way, good things can happen at this type of valuation. The company will likely end 2012 with little to no net debt, and will still be generating healthy free cash flow. With capital expenditures on its retail stores likely declining given presumed closings, the company can focus on returning some cash to shareholders through an increased dividend or share repurchases. Perhaps, declining unemployment domestically could drive a cyclical upturn that mutes some of the secular weakening in the company's operating results, putting pressure on the short interest in the stock. With a strong balance sheet, the company has time to restructure its operations, build a strong e-commerce offering, and figure out the appropriate balance between ballyhooed customer support at the store level and its margins.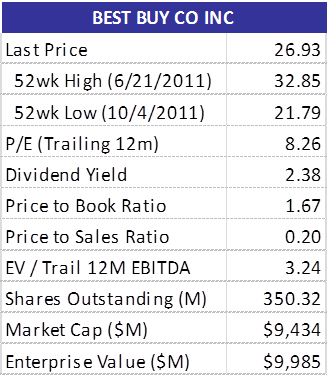 Humana (HUM)
Based out of Louisville, Kentucky, Humana is a leading provider of insurance products and health and wellness services. Neither Humana, nor the next company on the list Wellpoint, can be mentioned without referencing the current uncertainty surrounding the implementation of healthcare legislation. If healthcare reform is less onerous than expected and the company continues its 10% top-line growth and meet its target margin in its Medicare business, then the company could see multiple expansion. Currently, the company is trading at a 30% lower multiple than at the end of 2010 despite generating higher 2011 margins and returns on capital.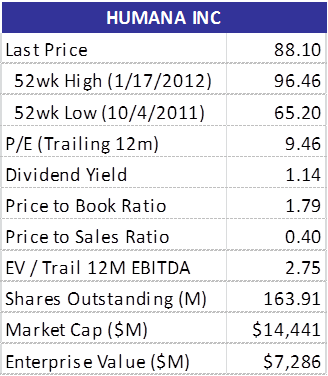 Wellpoint (WLP)
Located two hours up Interstate 65 from Humana is managed care competitor and Indianapolis-headquartered Wellpoint. As the largest Blue Cross Blue Shield company in the country with around 35 million members, Wellpoint has the top market share in the majority of state plans in which it operates. The current discount in the stock is attributable to uncertainty surrounding healthcare legislation, adverse selection in its Medicare Advantage business, and the sweeping senior management changes in recent years. Those issues aside, this is still a dominant franchise, with a strong balance sheet, and substantial liquidity and cash flow generation that could be used to reward shareholders prospectively. The enterprise value of WLP trades at roughly 4.54x trailing twelve month free cash flow while close competitor UNH trades at 8.86x. WLP also trades at under 9x forward earnings while UNH trades at 11.3x.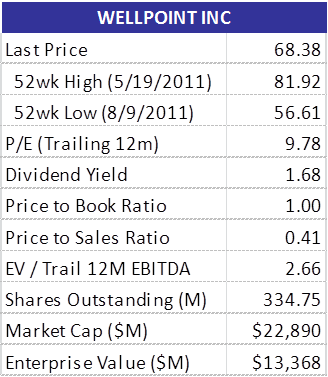 Forest Laboratories (FRX)
Based in New York City, Forest Laboratories is a pharmaceutical company with franchises in therapeutic areas related to the central nervous and cardiovascular systems. Trailing free cash flow numbers are of less value to this company due to the expiration of exclusivity on blockbuster Lexapro, a drug used to treat depression and anxiety disorders that recently came off patent protection. While research reports indicate that the company has a solid pipeline and several late stage clinical offerings, predicting the future marketability of these compounds is far from my specialty. If FRX can prove the efficacy of these pipeline drugs, it could be an acquisition target given the wall of patent expiries facing the cash-rich pharma majors. Discounting this probability is outside of my realm, so it is difficult for me to allude to whether this company is correctly valued at its current multiples.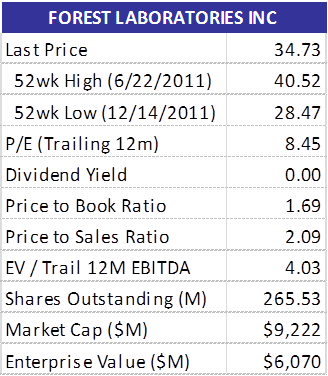 Dell (DELL)
Round Rock, Texas-based Dell is the world's third largest personal computer manufacturer. In recent years, Dell has used the free cash flow it has generated to acquire a litany of business in the software and services field in an attempt to diversify away from its hardware focus. These acquisitions have included Perot Systems, an information technology services provider, Software-as-a-Service integration leader Boomi, and AppAssure, a backup and disaster recovery software provider. This focus on services was reflected in 4Q numbers as the company grew revenues in this segment 12% year-over-year, and announced a healthy $15.5bn backlog. Management indicated that it plans to use 10-30% of its free cash flow for further share repurchases. With cash equal to roughly half the market capitalization, the company certainly has some dry powder to return cash to shareholders or continue to diversify its business model with a bent towards higher margin services. As the largest company by market capitalization on this list, it also has the necessary scale and balance sheet flexibility to continue to transform the business into one that commands higher multiples.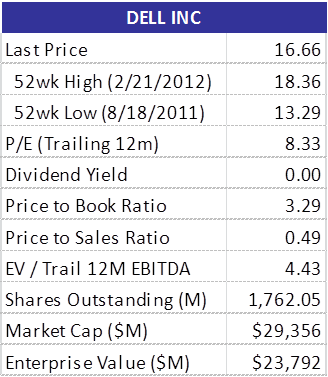 Pitney Bowes (PBI)
Pitney Bowes is one of the highest dividend payers in the S&P 500, but the company on this list in which I would least likely invest. One of the original 500 members of S&P's benchmark index, Connecticut-based Pitney Bowes manufactures hardware and software related to mailing and shipping. With "snail mail" increasingly giving way to electronic mail and transactions, PBI is seeing declining earnings prospects.
At its most recent earnings release, the company cut guidance for revenues and earnings to forecast negative growth. Every business unit showed either flat or negative revenue and margin growth in the reporting period. The dividend now looks to consume upward of two-thirds of analyst projections for 2012 earnings.
At an enterprise value of 6.9x its 2011 EBITDA, PBI is probably overvalued given its declining business prospects, and we will likely see its history of consistent dividend growth snapped in the intermediate term.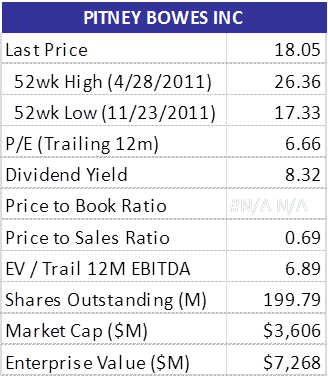 AmerisourceBergen (ABC)
AmerisourceBergen is one of the world's largest pharmaceutical services companies, handling roughly one-fifth of all pharmaceuticals sold and distributed in the United Sates. It is the largest full-service wholesale distributor of pharma products and related healthcare services in the United States. Shares of the company have lagged the market and industry competitors due to a surprise CFO departure and concerns over potential contract losses. At 7.1x EV/EBITDA the company is only modestly cheap to its historical multiple and now fairly valued to industry peers. The company has made some recent successful and accretive bolt-on acquisitions, which may be the future source of its ample liquidity.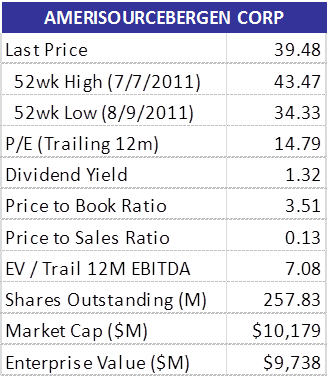 BMC Software (BMC)
Headquartered in Houston, Texas, BMC Software is a global provider of software used to manage business-aligned information technology services. The company trades at a depressed multiple given linked period declines in its ESM license bookings, the high growth part of a business that also includes a mature and low growth mainframe division. While the company does have stable cash flow streams given its recurring maintenance revenue, the company already distributes all of its free cash flow to shareholders. There is unlikely to be multiple expansion attributable to shareholder-friendly capital allocation. Like FRX and the pharma sector, software is a cash-rich industry and BMX could prove to be an acquisition target.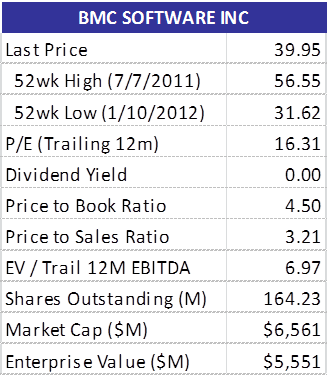 Western Digital (WDC)
Western Digital is one of the world's largest computer hard disk drive manufacturers. Aforementioned personal computer manufacturer Dell is a large customer, accounting for over ten percent of net revenues as recently as fiscal 2009.
Following a year-long regulatory process where the company gained anti-trust approvals from Chinese, European, and U.S. regulators, Western Digital recently completed the acquisition of rival HGST (Hitachi's hard drive business). With the purchase price roughly 40% of current market cap, this is a transformative acquisition for Western Digital. The merged entity has a favorable post-acquisition liquidity position, and will continue to generate meaningful free cash flow, which is expected to drive share repurchases over the intermediate term. The ability to boost competitiveness given increased scale, and find synergies that lower run-rate operating expenses could help WDC drive margins prospectively. While analysts recognize that the acquisition is likely to be highly accretive, the company still trades at low multiples relative to its earnings and cash flow generation ability. The company's low multiples are a function of what some market participants view as the secular risk of rising tablet demand (no disk drive), which could encroach on WDC's traditional PC market. WDC is another company on this list with a very strong balance sheet, a negative net debt position, and the ability to return cash to shareholders or repurchase a meaningful portion of the company over the next several years.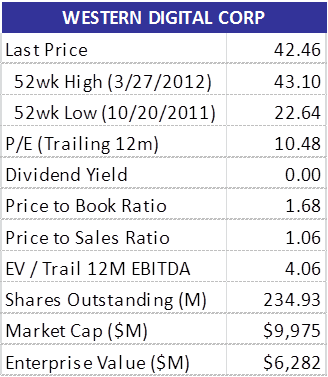 Businesses that generate high levels of free cash flow relative to their enterprise value provide management with flexibility to shift the business focus if needed. Free cash flow generation also gives the company the ability to provide a backstop bid if the share price sinks. Coupling these factors with favorable upside from M&A at these low valuations are why high FCF/EV companies has generated substantial outperformance over the last 25 years. While not all of these companies will prove to be good investments, as a diversified subset of your portfolio they could in total provide higher risk-adjusted returns in the future.
Author's Footnote:
In October 2011, I was sitting on the balcony of my hotel room in Bangkok, Thailand, fifty-six stories above the Chao Phraya River, watching the water rise to the edge of its banks amidst heavy storms. One week later, to spare central Bangkok from the brunt of the flooding, the Thai government would order the flooding of some of its industrial estates to the north. A single factory in Bang Pa-In, owned by Western Digital, produced one-quarter of the world's "sliders," an integral part of disk drives. As news of the factory's flooding spread, the stocks of Western Digital and Dell fell by 15% and 9% respectively in the next week, wiping out $4.5bn of market capitalization. Idiosyncratic risk like a flood halfway around the world can sink the results of a Texas-based computer company. While I believe several of the companies listed above can generate market outperformance, a position in any of these companies must be part of a well diversified portfolio.
Disclosure: I have no positions in any stocks mentioned, and no plans to initiate any positions within the next 72 hours.