By Scott Martin
U.S. cell phone users are used to having the right to keep their numbers when they switch networks. As the practice of making account information "portable" spreads, competition for subscribers in emerging markets is already getting more intense - and profit margins are feeling the strain.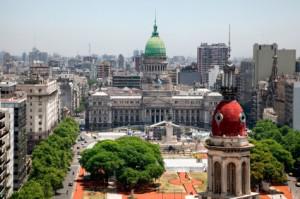 From a consumer's perspective, the appeal of cellular portability is so clear that in Argentina, populist president Cristina Kirchner herself seized on the issue as yet another way to make voters happy and investors nervous.
And given the accelerated time frame Argentine cell phone providers have had to roll out portability, this looks like an official crowd-pleasing mandate. They only started testing the system two weeks ago, and now Kirchner is announcing that it will be a reality by Friday.
Naturally, what is great for the consumers is often ominous for the carriers.
Updating friends, family and co-workers to a new number is inconvenient even under the best of circumstances. But since people in emerging markets tend to rely more heavily on their cell phone number to double as their email address, web login and even credit card, the nuisance factor can be more severe - and the motivation to remain on a less-than-optimal network is stronger.
As it is, the typical Argentinian has roughly 1.4 active cell phone accounts, simply to keep an established number alive while taking advantage of better pricing and service elsewhere.
Once it becomes less disruptive to move that established number to a better platform, the proliferation of "utility" accounts may slow or even reverse, putting a harder limit on the number of active accounts that Argentine carriers can compete over.
Analysts at regional banks like Itau already expect portability to knock a full 3.5 percentage points off the EBITDA margins of carriers like Telecom Argentina (NYSE:TEO), the second-largest of the country's four major network operators.
That compression would reflect increased advertising costs - Argentine media are already blaring with desperate attempts to woo customers and maintain net market share - and higher outright subsidies on more expensive phones.
Even if market share remains constant, increased subscriber churn could cost TEO $40 million a quarter, Itau suspects.
And this is not a one-quarter risk factor to digest and forget but a structural change weighing on all Argentine carriers for the foreseeable future.
The impact on earnings is not the worst concern for TEO, which is the only Argentina-based carrier in the country and so the only one subject to long-term questions about whether foreign investors can even transfer their dividend payments out of the country.
Granted, TEO has been beaten down to the point where its already tempting yield is now a mind-melting 12%, but even if Kirchner lets that money leave Argentina, the company is also the only carrier in the country that pays out in rapidly depreciating Argentine pesos.
Claro, currently the nominal leader in the market with about 35% of all accounts, is a unit of America Movil (NYSE:AMX), which pays out its 1.1% yield in Mexican currency that is not only easily converted but on the rise.
The Mexican peso (NYSEARCA:FXM) has appreciated a full 11% against the dollar since bottoming out around the end of 2011, while its Argentine competitor keeps plunging to low after low.
Telefonica (NYSE:TEF) is the third player in the Argentine phone market with roughly a 30% share. As a leading proxy on the Spanish economy, its shares have been abused to the point where its annualized yield is 9.8% - and that dividend is paid in euros, for better or worse.
Trailing the pack, Nextel Argentina - a unit of NII Holdings (NIHD, quote) - has captured barely 3% of the market and pays its dividend in dollars.
With little to lose, Nextel (NYSE:S) may be able to exploit portability and increased Argentine subscriber churn to gain net share. On the other hand, if costs climb, NII may decide that it is simply time to cut its losses and exit the country entirely.
Back to TEO, traders who want to avoid this stock's exposure to the portability story can feel fairly secure about the battered Argentine ETF (NYSEARCA:ARGT), which only has about 5% of its portfolio allocated to TEO shares.
Trivia: ARGT claims a weighting of 14% to the telecommunications sector, even though TEO is the only publicly traded Argentine stock.
This is because fund sponsor Global X lumps e-commerce company MercadoLibre (NASDAQ:MELI) - "the eBay (NASDAQ:EBAY) of Latin America" - in with the phone industry. Proof that the mobile phone is the e-commerce platform of the emerging world!