"Everything goes through cycles, to a degree." - Herb Brooks
On February 22nd, I put out a piece here on (the always great) Seeking Alpha titled "Gold Miners Set to Lead Strongly Again?" (here) in which I took a look at the price ratio of gold miners relative to the S&P 500. I noted in that writing that "it's entirely possible that miners now stage strength in a catch-up move relative to other areas of the stock market" because the ratio at the time was at it's three year support level.
Below is an updated chart of that price ratio. As a reminder, a rising price ratio means the numerator/GDX is outperforming (up more/down less) the denominator/IVV.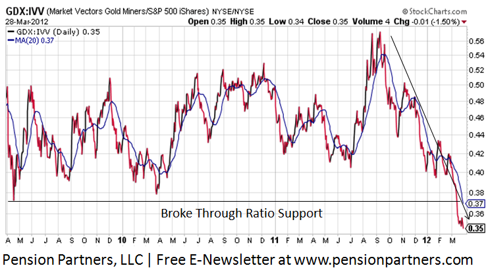 We can see that the GDX/IVV ratio completely broke through its support level which I thought would hold in my prior writing. Gold (GLD) itself has also seen continued weakness relative to stocks, which I've noted many times before I believed was likely to continue. I may have underestimated the impact weakening gold would have on the stock side of the equation.
The question now becomes what happens next, particularly if the Spring Switch idea following the Summer Crash, Fall Melt-Up and Winter Resolution out of risk-free and into risk begins in earnest by investors. On the one hand (yes, I now sound like an economist) one could argue miners have further weakness to come given that the ratio support was broken. On the other hand, miners have underperformed for such a long period of time now that strength could kick in sooner rather than later. If investors perceive gold miners as an aggressive play on reflation, then its entirely possible leadership returns. At this point, I think its important to wait on a definitive change in trend and leadership before jumping in too aggressively.
Additional disclosure: This writing is for informational purposes only and does not constitute an offer to sell, a solicitation to buy, or a recommendation regarding any securities transaction, or as an offer to provide advisory or other services by Pension Partners, LLC in any jurisdiction in which such offer, solicitation, purchase or sale would be unlawful under the securities laws of such jurisdiction. The information contained in this writing should not be construed as financial or investment advice on any subject matter. Pension Partners, LLC expressly disclaims all liability in respect to actions taken based on any or all of the information on this writing.