A protected covered call or collar search performed using PowerOptions tools seeking to find the highest returning position with a maximum potential loss of 8% for a profitable company with a stock price in an upward trend produced the network product and services company F5 Networks (NASDAQ:FFIV) as shown below:
(Click to enlarge)

The protected covered call position found for F5 Networks has a potential return of 3% (45.5% annualized) with a maximum potential loss of 7.4%, even if the price of the stock goes to zero. A protected covered call may be entered by selling a call option against a stock and using some of the proceeds to purchase a protective put option. The 8% maximum loss parameter was selected, as a loss of 8% or less can typically be recovered using income generating investment strategies. Profitable companies were included by searching for a Price-to-Earnings (P/E) ratio of greater than zero. Companies with stock prices in an upward trend were found by searching for a 100-day moving average greater than the 200-day moving average.
Following closely behind F5 Networks in the table above are the fertilizer company CF Industries (NYSE:CF), the virtualization company Vmware (NYSE:VMW) and the computer, iPhone, iPad, etc. company Apple (NASDAQ:AAPL).
F5 Networks is currently listed as #28 for Investor's Business Daily IBD 50. Today's internet applications and data networks are so complex that businesses need a consummately skillful traffic cop to direct travel, avoid gridlock, ensure safety and reduce the need for more infrastructure just to cope with the rush hour. Enter F5 Networks and its Traffic Management Operating System (TMOS) software suite, an application delivery networking technology that inspects and manages traffic flows to and from servers and supports an array of functions to improve application security, performance and availability.
F5 Network's products have become crucial as more and more organizations replace older data center architectures and enterprise applications with internet-protocol based systems. Additionally, globalization and increasingly mobile workforces depend on access to corporate applications and data from remote locations, using devices such as smartphones, tablets and laptops. Virtualization, external cloud resources and data center consolidation are the heroes in a tight economy, reducing both capital and operating costs, but they rely heavily on products like those offered by F5, to effectively stand in front of web and application servers and manage, secure and reconfigure them efficiently.
The company's strategy is to offer an integrated suite of products with a broad array of network management functions that competitors struggle to match, as well as corresponding services including consulting, training, installation, maintenance and other technical support. Investment in R&D allows F5 to develop new software solutions together with corresponding hardware, while looking for opportunities to broaden the scope of its product offerings through carefully planned complementary acquisitions. In addition, strategic partnerships with enterprise software vendors, including Microsoft (NASDAQ:MSFT), Oracle (NASDAQ:ORCL), VMware and SAP (NYSE:SAP), lead to the incorporation of easily-integrated F5 networking software into these vendors' products as well as recommendations of F5 products to their clients.
Similar leveraging is applied through DevCentral, an F5-hosted online community of 87,500 registered network architects and developers who use the company's embedded iRules scripting language to solve problems and create network improvements. Product sales are effected through four internal sales teams based in the Americas, in the Europe/Middle East/Africa region, in Japan and in Asia Pacific, as well as through external distributors, value-added resellers and systems integrators like Dell Services (NASDAQ:DELL), HP Enterprise Services (NYSE:HPQ) and IBM Global Services (NYSE:IBM). Two worldwide distributors, Avnet (NYSE:AVT) and Ingram Micro (NYSE:IM), accounted for almost 30% of F5's FY 2011 revenue, a theoretically risky situation since the distribution agreements can be terminated at 30 days notice. The manufacture of F5's hardware products is outsourced to Flextronics (NASDAQ:FLEX) and Sanmina-SCI (NASDAQ:SANM).
F5 believes its key differentiation from its competitors includes the features and high performance levels of its products, its customer support reputation and brand recognition, and the scope of its distribution and sales channels. It expects that these factors will continue to combine to mitigate the effects of aggressive pricing by some of its competition. The company's competitors include Brocade Communications Systems (NASDAQ:BRCD), Cisco Systems (NASDAQ:CSCO), Citrix Systems (NASDAQ:CTXS) and Radware Ltd (NASDAQ:RDWR).
Revenue for F5 Networks is still heavily dependent on the relatively narrow application delivery networking product range, despite continuing efforts to broaden the company's offerings. Recent focus on the larger enterprise market has lengthened the sales cycle, making revenue forecasting more difficult and putting pressure on cash flow, while the outsourcing of hardware manufacturing can introduce supply problems beyond F5's direct control.
Despite this, F5 Networks has more than doubled its revenue in the last five years, with its smooth upward trajectory slowing only during the difficult conditions of 2009. For the fiscal year ended September 30 2011, F5's revenue was $1.15 billion, of which $722 million was generated by product sales, $430 million by services. Operating income was $351 million, while net income of $241 million ($2.96 per diluted share) was 60% higher than in 2010. Operating margin has improved significantly in the last three years. (Form 10-K 2011)
The Q1 2012 earnings press release shows revenue of $322 million, up 20% on comparable 2011. Net income of $66.5 million ($0.83 per diluted share) was 19% higher than a year ago. President and CEO John McAdam said that strong sales in the Asia Pacific, Japan, and particularly North America, had offset the seasonal slowdown usually encountered in the first quarter, assisted by growing demand for a product recently introduced across all markets, the VIPRION 2400. The revenue goal for the second quarter is $332-337 million, with an earnings target of $0.84 to $0.86 per diluted share.
During the Q1 2012 earnings call, CFO Andrew Reinland indicated that the revenue split was $196 million for products (up 15% year-on-year) and $126 million for services (up 29%). Revenue grew in all geographic regions, with the Americas accounting for 59% of the total. Europe/Middle East/Africa came second with 21% of revenue. Application delivery networking was responsible for an overwhelming 98.3% of revenue, while the small file virtualization segment declined. Telcos were the biggest customer segment, contributing 23% of sales. On the downside, operating expenses exceeded the high end of the target range by $2 million. Mr Reinland stated that F5 expects to deliver sequential revenue growth throughout FY 2012, culminating in 20% growth for the year. John McAdam commented that a second technology center had been opened in London, to complement the existing facility in Seattle.
Continued growth will depend on how F5 responds to the challenges of maintaining a competitive edge in its existing product range while possibly taking a more aggressive approach to widening it.
F5's stock price has almost doubled over the last six months or so as shown below: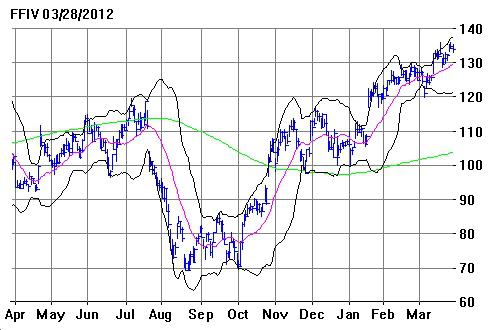 A reason or at least a partial reason for F5 Networks being located at the top of the protected covered call shown above was due to the company's upcoming earnings release scheduled for Wednesday, April 18, 2012. Option premiums typically increase for a company about to release earnings. With the recent run up in the company's stock price, any bad news associated with the company could cause the price of the company's stock to take a hit.
An investor in F5 Networks might consider entering the protected covered call as a way to generate income and also purchase protection or insurance against a drop in the stock's price. The specific call option to sell is the 2012 April 135 at $5.75 and the put option to purchase is the 2012 April 120 at $1.89. A profit/loss graph for one contract of the position is shown below: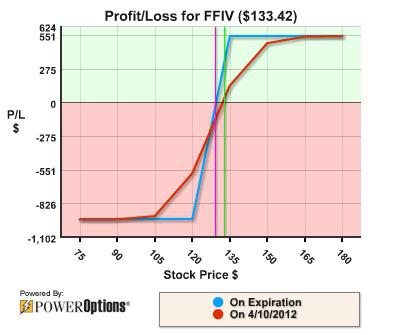 As a bonus, if the price of the stock is greater than or equal to the $135 strike price of the call option at option expiration, the position will return 4.2%. For a stock price less than the $120 put option strike price, the value of the protected covered call will not change. Additionally, if the price of the stock increases to around $145, the position can most likely be rolled in order to realize additional potential income.
Disclosure: I have no positions in any stocks mentioned, and no plans to initiate any positions within the next 72 hours.