Tobacco and cigarette companies are often touted as recession-resistant businesses. Cigarettes and other tobacco product sales often increase when consumers are forced to cut food budgets.
Despite the known realities as to the negative health consequences associated with tobacco, nicotine is also known to calm the nerves during stressful situations, curb one's hunger and act as a stimulant. Further, due to the addictive nature of the vice, smokers are often reluctant to cut tobacco from their budgets, even though the cost of tobacco has continued to increase.
Below are the present yields and recent equity performance rates for six publicly traded tobacco companies: British American Tobacco (NYSEMKT:BTI), Lorillard (NYSE:LO), Altria Group (NYSE:MO), Philip Morris International (NYSE:PM), Reynolds American (NYSE:RAI) and Vector Group (NYSE:VGR). I have provided their 1-week, 1-month, 2012-to-date and 6-month equity performance rates.
(Click charts to enlarge)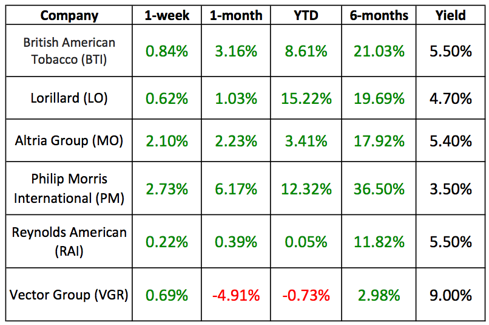 Click to enlarge
Due to their above-average dividends, recession-resistant businesses and strong name brands, tobacco companies performed exceedingly well during 2011, considerably outperforming the broader market, while also providing an average yield easily over double that of the broader market or a 10-year U.S. Treasury.
See a six-month performance comparison chart for the above-listed tobacco companies:


Click to enlarge
Five of the six above-listed companies are positive so far in 2012, and all are over the last six months; they appreciated on average by 18.32 percent, while providing an annualized average yield of 5.6 percent. The highest-yielding listed equity, Vector Group, is also the only listed equity that depreciated so far within 2012, and also over the last month.
Most of these companies performed well since the financial crisis hit the markets in 2008 and 2009, but the industry did depreciate considerably at that point, both due to broad market concerns and expectations that the then-new Obama Administration would enact harsh anti-tobacco regulations.
One of the greatest risks to the cigarette industry is continued taxation, followed by the further restricting of smoking from various public locations. Many investors have stayed away from domestic tobacco equities due to concerns over the industry's future growth projections, and a belief that the Obama Administration may still enact steeper cigarette taxes. Since the crisis, Federal excise taxes on cigarettes increased from 39 cents to $1 per pack. Many speculated that the tax rate was going well above $1 per pack, and may now speculate that another increase is forthcoming, or possibly a series of increases.
New regulations and/or taxes could be implemented at any point in the future, and the potential for eventual further taxation of tobacco appears probable. Nonetheless, these companies continue to easily pass price increases through to their often captive and brand-loyal customers.
Disclosure: I have no positions in any stocks mentioned, and no plans to initiate any positions within the next 72 hours.
Disclaimer: This article is intended to be informative and should not be construed as personalized advice as it does not take into account your specific situation or objectives.