Spain is the 13th largest economy in the world, just behind Russia, and its debt to GPD ratio is around 60%. The unemployment rate was 22.85% in the fourth quarter of 2011, but they are no strangers to the phenomenon, because unemployment is still below the high reached less than 20 years ago.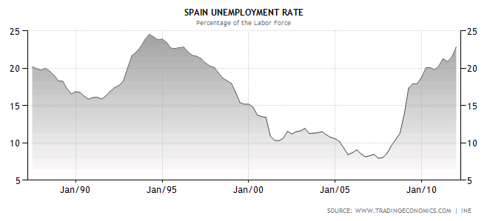 Click to enlarge
Unemployment has never been better than 8% since 1987, and that includes the period during which the Spanish housing bubble was at its peak. According to Bloomberg, "Spain built 675,000 homes a year from 1997 to 2006, more than France, Germany and the U.K. combined," and to expect this problem to be resolved in short order will become a waiting game without an end. To bring perspective to these numbers, the U.S., a country with a population of about 311 million, built slightly less than 1.5 million houses per year at the peak. Spain has a population of 46 million, and if the U.S. had built houses at the Spanish house/population ratio, the U.S. number would have been over 4.5 million houses per year - and we know what happened with the 1.5 million number.
The threat to the low debt to GDP ratio, as compared to other industrialized nations, does not hinge on the increase of debt alone, which continues to grow, but is also a function of GDP contraction, which still has to run its course. If housing was the Spanish engine that kept on giving, what will replace it?
Thus, it should not have been a surprise when the Bank of Spain communicated that "the most recent information for the start of 2012 confirms the prolongation of the contraction in output," as reported by Bloomberg. But European officials see the crisis near an end, and I understand that optimistic messages are far better than doom and gloom scenarios.
The euro area's woes are "almost over" after a slow initial response by policy makers, Italian Prime Minister Mario Monti said in Tokyo today. German Chancellor Angela Merkel said yesterday that the crisis is ebbing and her country's borrowing costs will probably rise as its status as a haven wanes.
However, European officials know that the game is up, and are frantically seeking solutions that do not exist, while trying to balance politically acceptable measures with their personal careers and positions of power. As The Telegraph reported, Spain's Prime Minister Mariano Rajoy "said at a meeting in Seoul that he would press ahead later this week with a 'very austere budget,' ordering 15pc cuts in spending across the ministries." But that is nothing more than a delay tactic, and the flip side of the process, or throwing more money at the debt problem, was best illustrated by the comments of Jens Weidmann, according to Dow Jones.
There is only so much money that can be spent to contain the current eurozone debt crisis before financial and political constraints are met, European Central Bank Governing Council Jens Weidmann said, warning that new problems could emerge as a result of policies being undertaken to counter the current situation.
But without losing sight of the Spanish housing debacle, loan defaults across the entire Spanish 1.8 trillion loan book reached the highest level in 18 years, as reported by Reuters.
Spanish banks, already hurting from a property crash, are facing a new wave of loan defaults as the economy sinks into recession and the government may have to find more money or ask Europe for help in filling the funding gap.
Despite well known public opposition to more bailouts, Angela Merkel, and Germany in general, is slowly caving in due to a lack of choices, as reported by Der Spiegel.
Merkel only recently signaled her willingness to combine the remaining funds of the EFSF with the permanent ESM. With this she had finally bowed to international pressure to strengthen the firewall against the expansion of the euro crisis. The upper limit of €500 billion in credit for the ESM will remain the same, according to these plans. But the ESM would also be topped up with some €190 billion from the EFSF that was already earmarked to aid Ireland, Portugal and Greece. Originally, that money was to have been included in calculations of the ESM's size, but this way the maximum firepower to rescue debt-stricken countries will be increased.
Furthermore, and according to Der Spiegel, politicians in Germany reached an agreement, which is designed to appease the public, but has no teeth.
Under a compromise reached between the ruling parties and the opposition on Tuesday, Germany's parliament will decide on future measures to release billions of euros to bail out troubled EU member states. The deal fulfills a requirement for greater parliamentary powers stipulated by the country's highest court.
Why no teeth? Because the transparency that is implied becomes quickly opaque when "secret steps need to be taken, such as the purchase of government bonds in the secondary market to aid troubled states, will approval be left to a small panel representing parliament." And secret it will be, because we're stuck with an unsolvable problem, short of widespread default or monetization of the debt, which remains illegal. The more one looks at Spain, the more Greece looks like paradise.
Lastly, according to Economico and as a fabulous "Really?" moment, Portugal's budget includes a contribution of 803 million euros to the European Stability Mechanism, the bailout fund with the acronym ESM, with the total to reach 2 billion euros by 2014.
Disclosure: I have no positions in any stocks mentioned, and no plans to initiate any positions within the next 72 hours.