Verizon (VZ) offers an array of wireless and wire-line voice and data services. This you already knew. But did you know that after its acquisition of Alltel in 2009, it became the largest wireless carrier in the United States? Of the two segments (wireless and wire-line), the wireless segment accounts for 60% of the company's revenue.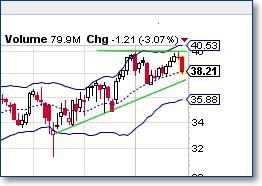 Currently trading at $38.28, Verizon has had difficulty pushing past the '40' resistance level. On a weekly chart we can see strength in its long-term move up. It has formed an ascending triangle and this shows a long-term pattern that should be set to continue to move up in the next six weeks if it completes its formation.
Is it going to have the steam to continue to move up?
Recently the stock was downgraded to "perform" by RBC Capital with an adjusted price target to 40 (wow where did that come from). The analysts said they saw "…few sustainable catalysts given a flatter postpaid growth trajectory." Slower growth is being attributed to a maturing industry penetration.
Not only do analysts believe Verizon is losing steam, but competition from smaller companies is also said to be contributing (and will in the future) to the slow down. There are smaller companies now offering alternative plans that could have greatly affect upon the current market.
There is a company called FreedomPop giving away 1GB of free data with the purchase of a WiMax shell. It is being tested on people in limited areas with iPhone 4. If it catches on, it could migrate nationwide and to other smartphones. The analyst for Macquarie Securities USA Inc had this to say about the potential changes, "FreedomPop could, over time, put pricing pressure on the incumbents. They have the potential to be disruptive."
(Click to enlarge)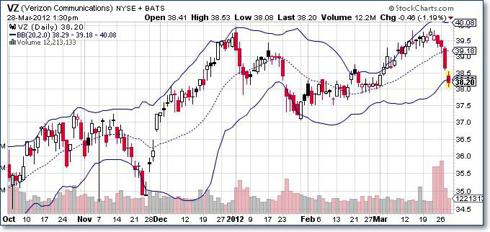 We believe the stock has reached its high fro the year. It may go back up to test 40 but we do not believe it can push through. It has touched the bottom of the Bollinger Band and it may try to push up again but we believe it will move farther down to the 37/36 level. For this reason we are looking at playing a bear put spread on the stock short term.
The Options Play
Buy an October 2012 '38' put option priced at $2.48
Sell an October 2012 '37' put option priced at $1.94
Net Debit to Start: $0.52
Maximum Profit: $0.48
Reasoning behind the Trade
Analyst have downgraded the stock.
It cannot push past the 40 mark and momentum is going down.
There is nothing out there right now working as a catalysts to make the stock rise.