The Global X Funds Social Media Index ETF (NASDAQ:SOCL) has been a strong performer this year, up over 15% YTD, on the back of a spate of new IPO's in the sector in Q4 of 2011 and this quarter, as well as the upcoming Facebook IPO (NASDAQ:FB). Intuitively we may be at the beginning of a new revolution based on social media, and some may even enthusiastically argue that social media stocks could drive the next bull market. But it is not clear if the current batch of social media stocks will be the ones that will most benefit from the surge, especially given the already lofty valuations. In this article, we look at the investing activities of the world's largest funds or mega funds (managing between $50 billion and over $700 billion in 13-F assets) in social media stocks, based on the latest available Q4 institutional 13-F filings.
Taken together, these mega fund managers control over 35% of the assets invested in the U.S. equity markets, but number just over 30 out of the tens of thousands of funds that invest in the U.S. equity markets. Also, taken together, they are bullish on the social media group, adding a net $4.32 billion in Q4 to their previous $73.16 billion prior quarter holdings in the group. And this is on top of the $1.01 billion they added to the group in Q3. Also, they are slightly under-weight in the group by a factor of 0.8 (for more general information on these guru funds, please look at the end of the article).
The following are the social media group companies that mega fund managers are bullish about, that are also trading at a discount to their peers in the group (see Table):
TripAdvisor Inc. (NASDAQ:TRIP): TRIP is an online travel research company, aggregating reviews and opinions of members about destinations and accommodations such as hotels, resorts, restaurants, vacation packages and travel guides. Mega funds together initiated a new $1.28 billion position in Q4. Taken together, mega funds hold 27.2% of the outstanding shares. The top mega fund holders were Capital World Investors ($285 million) and Vanguard Group ($183 million).
TRIP was spun-off from online travel services company Expedia in December of last year, when Expedia split into two companies. The baseline online travel services business remained under the Expedia name, and the TripAdvisor was spun-off as the only publicly traded, pure-play travel advertising services company. The baseline Expedia business was growing in the single-digits, while TripAdvisor growth rates have been above 30% and are expected to continue being high for the foreseeable future. Given that, the stock is currently attractively priced at 20-21 forward P/E, compared to the average of 26.1 for its peers in the internet content group (and the expected 20%-30% growth going forward). We wrote about TRIP last month, shortly after it reported a disappointing Q4 that took it down into the mid-$20s, opining that investors may want to look at the pullback as an opportunity to load up on this high growth name at discount prices before growth and prices ramp up again. We continue to believe in this thesis, and would look at any pullback into the $30 range as an opportunity to load up on this stock.
Yandex NV (NASDAQ:YNDX): YNDX is a Russian provider of internet search and web content, including news, mail and maps. Mega funds together added a net $111 million in Q4 to their $558 million prior quarter position in the company. Taken together, mega funds hold 8.3% of the outstanding shares. The top buyer was Oppenheimer Funds ($103 million), and the top holders were Morgan Stanley ($399 million) and Oppenheimer Funds ($185 million).
In its latest Q4 reported just over a month ago, YNDX beat analyst estimates (20c v/s 18c), while missing revenues ($200 million v/s $203 million), and it guided FY 2012 revenues to be up 40%-45% in rubles v/s analyst estimates of 35% revenue growth. The stock currently trades at a 21-22 forward P/E and 8.1 P/B compared to averages of 26.1 and 3.3 for its peers in the internet content group.
The following are some additional Social Media stocks that mega funds accumulated in Q4 (see Table):
The following are the social media group companies that mega fund managers are most bearish about (see Table):
Google Inc. (NASDAQ:GOOG), the Internet's premier search engine, and a social media play via its video-sharing site YouTube and the new Google+ social networking service that is basically GOOG's answer to the Facebook threat. Mega funds together cut a net $414 million in Q4 from their $69.4 billion prior quarter position in the company.

Netease Inc. (NASDAQ:NTES), a Chinese provider of an interactive online gaming community, internet portal and wireless value-added services. Mega funds together cut a net $78 million in Q4 from their $1.11 billion prior quarter position in the company.

Renren Inc. (NYSE:RENN), often called the Facebook of China, is a Chinese operator of a social networking platform that enables users to communicate and share information via Renren.com. Mega funds together cut a net $50 million in Q4 from their $95 million prior quarter position in the company.

Quepasa Corp. (QPSA), that owns and operates a leading bilingual social networking and gaming platform for the Latino community in North and South America. Mega funds together cut a net $1 million in Q4 from their $3 million prior quarter position in the company.
Table (Click to enlarge)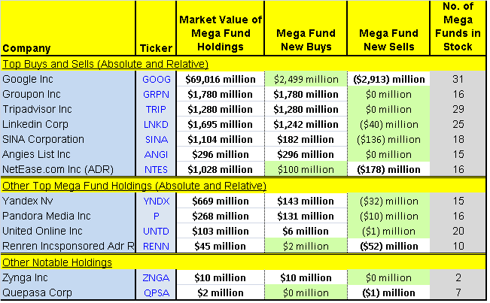 Click to enlarge
General Methodology and Background Information: The latest available institutional 13-F filings of over 30+ mega hedge fund and mutual fund managers were analyzed to determine their capital allocation among different industry groupings, and to determine their favorite picks and pans in each group. These mega fund managers number less than one percent of all funds and yet they control almost half of the U.S. equity discretionary fund assets. The argument is that mega institutional investors have the resources and the access to information, knowledge and expertise to conduct extensive due diligence in informing their investment decisions. When mega Institutional Investors invest and maybe even converge on a specific investment idea, the idea deserves consideration for further investigation. The savvy investor may then leverage this information either as a starting point to conduct his own due diligence.
Credit: Historical fundamentals including operating metrics and stock ownership information were derived using SEC filings data, I-Metrix® by Edgar Online®, Zacks Investment Research, Thomson Reuters and Briefing.com. The information and data is believed to be accurate, but no guarantees or representations are made.
Disclosure: I have no positions in any stocks mentioned, and no plans to initiate any positions within the next 72 hours.
Disclaimer: Material presented here is for informational purposes only. Nothing in this article should be taken as a solicitation to purchase or sell securities. Before buying or selling any stock you should do your own research and reach your own conclusion. Further, these are our 'opinions' and we may be wrong. We may have positions in securities mentioned in this article. You should take this into consideration before acting on any advice given in this article. If this makes you uncomfortable, then do not listen to our thoughts and opinions. The contents of this article do not take into consideration your individual investment objectives so consult with your own financial adviser before making an investment decision. Investing includes certain risks including loss of principal.