In recent weeks, market pundits (most notably Jim Cramer on his Mad Money show) have speculated about the sustainability of Telefonica's (NYSE:TEF) hefty dividend, which currently stands around 11% in euro terms. While TEF's depressed share price is largely attributable to the recessed European economy and especially, the company's exposure to austerity-stricken Spain, speculation about the yield undoubtedly plays a part in Telefonica ADRs trading near 52-week lows.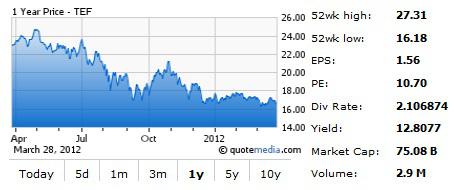 Telefonica paid out nearly €7B in 2011 dividends -- even if the company cut its cash payout by half, it would still yield a respectable 5-6%. But the upshot is that a pending dividend cut is most likely reflected in the current share price. If so, TEF could even bounce on news of a cut as investors welcome the removal of uncertainty and increased financial flexibility.
But talk of a post-cut bounce may be getting ahead of ourselves -- I hardly consider a dividend cut a foregone conclusion. While the market is usually proven correct when it suspects an unsustainable dividend, TEF does not fit the normal profile. For starters, it is one of the largest telecom companies in the world, with massive sales and profits. The company actually registered revenue growth in FY 2011, an impressive feat considering half its sales come from a crisis-stricken Europe. While reported OIBDA (operating income before depreciation & amortization) dropped 22%, the "underlying" decline was much less severe at -2% when adjusted one-time items and spectrum purchases. This suggest that while the company may be struggling with recession in several key markets and increased competition, its underlying business position is still solid, if not ideal.
Most impressive is Telefonica's free cash flow (NYSE:FCF). In 2011, it posted a record €9.3B FCF, equating to €2.06 per share. While Yahoo Finance shows a payout ratio of 109% (based on €1.20 EPS), this slide from the company's year-end presentation shows TEF's shareholder remuneration (including buybacks) fully covered by FCF: (Click to enlarge)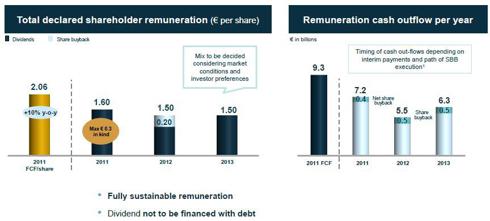 Click to enlarge
Note that this slide also includes projected dividends for 2012 and 2013. While there is no guarantee the company can maintain its 2011 FCF run rate, recent history suggests it can: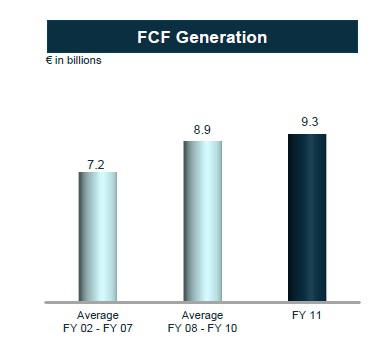 Telefonica managed to generate company-high FCF without sacrificing business investment as its CapEx equated to 14% of sales, in line with previous years and competitors. This figure does not include spectrum purchases, which should drive future growth as well. TEF has guided to similar CapEx ratio for 2012, which does not suggest a company in peril.
As management has a good history of meeting guidance, I would put the chances of a dividend cut at 30% or so. Paradoxically, this puts investors in a good position with two ways to win or break even perhaps: If TEF proves skeptics wrong and follows through on its guidance, the market will eventually buy the yield down to a respectable figure. For comparison, France Telecom (FTE) yields 8.9%, Vodafone (NASDAQ:VOD) 3.4%, AT&T (NYSE:T) 5.5% and Verizon (NYSE:VZ) 5.1% (note that payouts from the European telcos are subject to different tax treatments for U.S. investors). If the company does cut its payout, shares probably will not move much lower on the news or, as posited early, they may even bounce.
While the risk from a dividend cut looks priced in at this point, the company does have other significant risk exposures. Its debt position is a little worrisome, something which has caught the notice of management. They have pledged to reduce the company's net debt and protect its credit rating. Telefonica remains vulnerable to any prolonged and severe downturn in Europe, especially its native Spanish market, which still comprises a quarter of revenue and slight bigger percentage of profits. Regulatory risk is always a concern in Europe, though this threat seems rather muted at the present. Perhaps the biggest worry would be a global slowdown affecting South America and especially Brazil. While Europe's troubles are well-known, Telefonica relies on its Latin American segment to drive growth. At this point, Brazil is as important a market as Spain is to the company. If competition and/or recession should start to erode results there, TEF could find itself under severe pressure.
Disclosure: I am long TEF.