Let me kick off this article by issuing a friendly challenge to the Sirius XM (SIRI) bulls, who tend to comment on any and all Seeking Alpha pieces that pertain to the company.
Read this: The Why Behind The How: The Quality Of Comments On Seeking Alpha Articles
And, if at all possible, keep it clean in the comments. It's clear, based on the feedback we received after SA passed 1,000,000 registered users, that the readership considers the content - from contributors as well as users - high quality. Together, we've set a bar. We've set expectations as a community. Let's realize and meet that standard on every article. No exceptions.
With that said, much of the debate we have on Seeking Alpha regarding Sirius XM requires us to make forward-looking predictions, not just about Sirius XM but about broader spaces. In reviewing recent articles on the company, a central issue emerges.
Many SIRI bulls consider satellite delivery of content (and everything else, in some more "extreme" cases) the future. Others believe it happens via online streaming, with people dialing up smart phones and other gadgets at home, in the car and on the go, inside or outside. Eventually, we'll likely just have WiFi Everywhere or something of the sort, enabling us all to be connected no matter where we roam.
If you do not think we're headed in a direction that portends universal wireless access, I'm not sure you're paying attention. In a recent article, I argued that we have entered an era where the consumer has the power, particularly with respect to most forms of media delivery. I wrote this piece with everything from radio to television to eBooks in mind:
... In books, textbooks will soon to become exclusively eBooks because that's what consumers want and expect. They might even become less expensive in the process. In enterprise, Apple (AAPL) eats Research In Motion's (RIMM) lunch because employees want to use iPhones, not Blackberries. And, in television, you will soon be able to watch any program or event anytime you want on any device you choose. That's just three examples of many.

Going forward, the companies who (A) control the most valuable content and (B) control the means of production (very Marxist, I know) and delivery will not only survive, but they'll win big. And the consumer will not only benefit from a multi-platform world, they'll have more options - that they ultimately control - than ever before.
Of course, SIRI bulls will latch onto points A and B and argue that I make the case for SIRI. That misses the point. Sirius XM has very little exclusive content and it delivers what it does have over yesterday's technology.
Smart phones only tell part of the story, but they serve as a proper poster child for the larger trend toward (though, we're already smack dab in the heart of it) wireless streaming: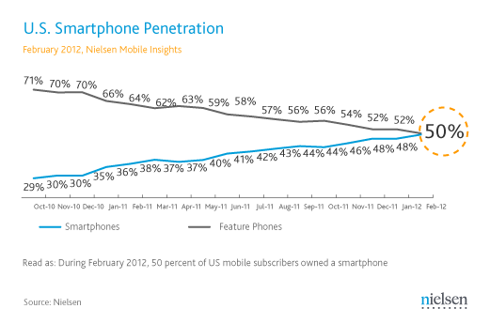 For folks (like me) who prefer words, Nielsen (NYSE:NLSN) puts it plainly:
Almost half (49.7%) of U.S. mobile subscribers now own smart phones, as of February 2012. According to Nielsen, this marks an increase of 38% over last year; in February 2011, only 36% of mobile subscribers owned smart phones. This growth is driven by increasing smart phone adoption, as more than two-thirds of those who acquired a new mobile device in the last three months chose a smart phone over a feature phone.
Between the government, the wireless carriers, spectrum owners and companies like Apple, who presently enjoy a free ride on the backs of AT&T (T), Verizon (VZ) and Sprint (S), we'll end up with more than enough capacity to become a wholly mobile society for the purposes of both business and pleasure. Not only do consumers want this, but it's really the way forward if the United States hopes to remain one of the world's top dogs. From the President's 2013 budget:
Bring Next-Generation, Wireless Broad-band to All Parts the Country. The advances in wireless technology and the adoption and reliance on wireless devices in daily commercial and personal life have been dramatic. High-speed, wireless broadband is fast becoming a critical component of business operations and economic growth. The United States needs to lead the world in providing broad access to the fastest networks possible.
As such, the investment theme in the broad media space over the next decade centers on the companies that own the most valuable content, particularly the last vestiges of appointment viewing and listening, and/or aggressively leverage the multiple platforms that consumers choose to access that content on.
I've written quite a bit on this subject and will write more, but feel free to search my article history on Bell Canada (BCE), Rogers Communications (RCI), Time Warner (TWX) and Pandora (P). I consider these four firms - three heritage dividend-payers and one risky speculative play - among the best-positioned as the world continues to get more connected and disconnected all at once.
Each of these companies has something - and in the first three instances - everything that companies like Sirius XM and Netflix (NFLX) do not have. BCE and RCI have a telecommunications, media and entertainment empire almost completely built out in Canada. TWX owns media franchises across its holdings and continues to embrace multi-platform delivery (see, e.g., HBO GO). And Pandora appears set to sit pretty at number two to Google (GOOG) as mobile ad revenue explodes this decade.
I am a long-term investor, as in I measure my time horizon in years and decades, not weeks and months. I am playing the space by aggressively dollar-cost averaging into BCE, RCI, TWX and P. By the end of the year, I intend to have achieved an allocation of 85% of this particular basket to the first three stocks with the remaining 15% to the much more speculative P.
Disclosure: I am long BCE, P, RCI, TWX, VZ.
Additional disclosure: I am long NFLX June $40 put options.