MACRO AND HOUSING
Four Fed Presidents: No Rate Cut Needed Now
Four regional Fed bank presidents, speaking separately on Thursday, said they do not believe a rate cut is required at this time -- though their assessments of the effects of the credit crunch on the broader economy appear to differ. Kansas City Fed President Thomas Hoenig and Atlanta Fed President Dennis Lockhart said they do not see signs of a spillover, while St. Louis Fed President William Poole said "the probability of recession is higher than it used to be" and Dallas Fed President Richard Fisher said it is not yet clear whether or not the financial turmoil is affecting the economy at large. Hoenig and Poole are voters on the FOMC this year; Fisher will vote on rates in 2008 and Lockhart in 2009. The FOMC will meet September 18, and the market has priced in an expectation that it will lower the benchmark fed-funds rate at least a quarter point from the current 5.25%. Fed Chair Ben Bernanke said August 30 that although the Fed will "act as needed to limit the adverse effects on the broader economy" of the credit crisis, "it is not the responsibility of the Federal Reserve...to protect lenders and investors from the consequences of their financial decisions." That view was explicitly endorsed Thursday by Fisher, who said, "The job of the Federal Reserve is not to bail out risk takers. You're a big boy, you take risks, you bear the consequences." On Friday morning, the non-farm payrolls report will be released, with economists forecasting an increase of about 100,000 jobs. "The employment data is going to be big this week," says Ben Lichtenstein, president of Tradersaudio.com. "It's a missing piece of the puzzle."
Sources: Bloomberg, Reuters, CNBC, MarketWatch I, II, III
Commentary: A Careful Look At The Recession Scare • Will Weak Employment Figures Lead to More Rate Cuts? • A Fed Cut Is Priced In; No Cut Will Trigger A Selloff • Housing, Credit Weakness to Further Test U.S. Economy -- OECD
Stocks/ETFs to watch: SPY, DIA, AGG, SHY
Greenspan: 2007 Mirrors Worst Recessions
"The behavior in what we are observing in the last seven weeks is identical in many respects to what we saw in 1998, what we saw in the stock-market crash of 1987, I suspect what we saw in the land-boom collapse of 1837 and certainly [the bank panic of] 1907," Former Federal Reserve Chairman Alan Greenspan told a group of economists Thursday night in Washington. Economic expansion, Greenspan said, is driven by euphoria, while contraction is driven by fear. The two polars, he said, don't act similarly: "The expansion phase of the economy is quite different, and fear as a driver, which is going on today, is far more potent than euphoria." Greenspan told the group that euphoria-lead economic bubbles can not be remedied by Fed interest rate hikes: "The human race has never found a way to confront bubbles," he said.
Sources: Wall Street Journal, Reuters
Commentary: A Careful Look At The Recession Scare • Strategists Hold Year-End S&P 500 Price Targets Steady
Hovnanian Posts Fourth Loss in a Row, Meets Expectations
Shares of luxury homebuilder Hovnanian Enterprises climbed 3.6% in AH trading after the company announced its fourth consecutive quarterly loss, but met analyst expectations. Hovnanian posted a Q3 loss after preferred dividend payments of $80.5 million (-$1.27/share) against a profit of $74.4 million ($1.15) a year ago (see earnings call transcript to be posted later). Revenue dropped 27% to $1.13 billion from $1.55 billion. Analysts polled by Reuters were expecting a loss of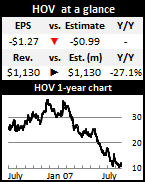 of $1.27 on revenue of $1.12 billion. The results reflect $108.6 million in land-impairment and write-off charges. The company's cancellation rate rose to 35% during the quarter, up from 32% in Q2. New contracts fell 24%, not including those from JVs. "Conditions in most of our markets remain challenging," said CEO Ara K. Hovnanian. "Credit tightening in the mortgage market has reduced the number of qualified home buyers, existing home inventory levels remain persistently high in many of our markets and buyer psychology has been negatively impacted by a steady stream of news related to falling housing prices, foreclosure rates, and mortgage availability. We expect the current challenging environment to persist through most of 2008."
Sources: MarketWatch, Wall Street Journal, AP, TheStreet.com
Commentary: B of A Homebuilder Downgrades: A Bit Late, Guys? • A Look At U.S. Homebuilder Declines • Deutsche Bank Report Hits Homebuilders, SEC Formalizes Beazer Probe
Stocks/ETFs to watch: HOV. Competitors: DHI, LEN, PHM. ETFs: XHB, ITB
Home Foreclosures Hit Yet Another Record
A record number of U.S. homes entered foreclosure proceedings in 2007's second quarter, according to data released Thursday by the Mortgage Bankers Association [MBA]. A seasonally 0.65% of homes entered foreclosure in Q2, shattering the first quarter's record of 0.58%, and marking the third straight quarter of record foreclosures. Q2 foreclosure starts were up 44% from Q2 2006. Loan delinquencies were also up: 18 states reported at least 19% of all subprime loans were delinquent, and 5.12% of all loans were past due. In total, almost 17% of all subprime adjustable-rate mortgages [ARMs] were delinquent, vs. 15.75% last quarter and 12.24% a year ago. Delinquent prime loans rose to 2.73% from 2.58% and 2.29% a quarter and a year ago. One bright spot: 2.85% of subprime fixed-rate loans were in foreclosure, down from 3.29% and 3.05% a quarter and a year ago. MBA chief economist Douglas Duncan said loan failures might not peak for another year or more, as many ARMs continue to rollover. The problems are worst in states that saw the largest price gains during the recent speculative housing bubble: "What continues to drive the national numbers ... is what is happening in the states of California, Florida, Nevada and Arizona," Duncan said. Excluding those states, the national foreclosure rate actually fell this quarter.
Sources: Press release, Wall Street Journal, Reuters
Commentary: Absurd Housing Bailout Proposals • Real Estate: How Far, How Fast?
Stocks/ETFs to watch: KBW, IAT, XHB, REZ
WCI Abandons Sale, Names Icahn Chairman
The board of luxury homebuilder WCI Communities said Thursday it is abandoning its attempts to sell the company after receiving no bids. It also unanimously elected activist investor Carl Icahn to the position of chairman. The company's shares shed 3.8% to close at $8.66 following the announcement. WCI will continue to pursue other strategic alternatives, including a possible rights offering. "Despite the rough road ahead, I believe in the long-term

value of the company and view the WCI platform as a unique vehicle to take advantage of the current market disarray," Icahn said. In February, Icahn, who is WCI's largest shareholder, tried to oust the board of directors; a month later, he made a $22 per share offer for the company. Both moves were resisted by management. Don Ackerman, the board chairman being replaced by Icahn, rejected the bid because he believed the company could fetch a better price. "Obviously selling the company at $22 would've been a better decision than holding an $8 stock," Ackerman said on August 30. "But a lot of events took place that really impacted the entire industry and this liquidity crunch in the real estate market is really in my experience unprecedented."
Sources: Press release, MarketWatch, Reuters, Forbes, Bloomberg
Commentary: Don't Blindly Follow Carl Icahn (Or Anyone Else For That Matter) • WCI Shares Plunge After No Bid Materializes
Stocks/ETFs to watch: WCI. Competitors: LEN, PHM, TOL. ETFs: NFO
TECHNOLOGY
iPhone Revenue Hit Worsens: Apple Gives Prior Purchasers $100 Credit
After announcing a $200 price cut to its iPhone, Apple announced that it will issue a $100 credit to customers who have already purchased iPhones, probably resulting in a further revenue hit. In a letter to customers, Apple CEO Steve Jobs stated that "we have decided to offer every iPhone customer who purchased an iPhone from either Apple or AT&T, and who is not receiving a rebate or any other consideration, a $100

store credit towards the purchase of any product at an Apple Retail Store or the Apple Online Store." In a note Thursday, Citigroup told clients it continues to like Apple stock at current levels, and that they should use pullbacks as an opportunity to add to positions: "While yesterday's stock price reaction to Apple's $200 iPhone price cut is not surprising, we view the cut as a medium to long-term positive because it will significantly expand the available market. Moreover, the near-term impact to estimates should be minimal because of the deferred revenue accounting on iPhone," it said.
Commentary: Apple Tumbles On iPhone Price Cut; Analysts Leaving Estimates In Place • New iPods, Selloff Create Buy Opportunity in Apple • Apple's New Offerings and Price Drop Induce Buyer's Remorse
Stocks/ETFs to watch: AAPL, T
EMC to Launch Data Deduplication for VMware; VMware Shares Surge
Data storage company EMC Corp. announced the upcoming release of data deduplication product, EMC Avamar Virtual Edition for VMware Infrastructure, which will work in conjunction with VMware virtualization software. VMware's shares jumped 8.7% in composite trading Thursday on the news.


Data deduplication involves the removal of repetative data, leaving behind only a single copy of the data to be stored, and thus lowering storage capacity needs, while reducing the time it takes to back up data. EMC Avamar Virtual Edition for VMware Infrastructure is the "the first fully virtualized deduplication solution for backup and recovery" in a fully virtual environment. The new software utilizes Avamar technology purchased by EMC in November 2006; it is due for general release in November 2007. EMC spun off part of its VMware stake on August 14, and saw shares gain 79% on their first day of trading and nearly 21% more since. EMC owns 87% of VMware's common shares and 98% of the combined voting power.
Sources: Press Release, InfoWorld, SearchStorage.com, Reuters
Commentary: Why Both EMC And VMware Are Still Cheap Right Now • Caris Upgrades EMC Corporation to Reflect 'Embedded Value' of VMware Stake • VMware Surges in Biggest Debut of 2007
Stocks/ETFs to watch: VMW, EMC. Competitors: MSFT, CTXS. ETFs: IAH, MTK
MEDIA
CBS Buys In-Store Advertiser SignStorey
CBS Corp. announced it would buy in-store programming and advertising company SignStorey for $71.5 million in cash on Thursday. SignStorey installs video displays in supermarkets which show ads and are controlled by satellite. The company has deals with supermarkets in six out of the top ten markets in the U.S. George Schweitzer, President of the CBS Marketing Group, noted "out-of-home digital media has become a crucial

means by which we and advertisers can gain invaluable impressions in this crowded media landscape." The deal is expected to close in the fourth quarter and SignStorey will be renamed "CBS Outernet." CBS traded up 1.1% to $31.16 in early afternoon trading on Thursday.
Sources: Press Release, Reuters, MarketWatch
Commentary: CBS on the Verge of Numerous Web Deals -- WSJ • CBS Corporation Boosts Dividend, Stock Repurchase
Stocks/ETFs to watch: CBS. Competitors: CCU, DIS. ETFs: PBS, PEJ
Earnings call transcript: CBS Q2 2007
RETAIL
August Same-Store Sales Roundup
Most retailers reported their August same-store sales Thursday. Collectively the month, during which retailers on average beat analyst estimates by 1.0%, was a welcome change from July, when retailers missed forecasts by an average of 1.5% and almost 75% of retailers posted below-estimate sales gains. On average, same-store sales were up 2.4% from the year ago period, while total sales climbed 6.2% year-over-year. Saks and Zumiez nearly doubled analyst estimates, the latter posting an impressive 39.7% total sales gain. Other upside notables included Pacific Sunwear (9.6% vs. 1.8%) and Wal-Mart's surprising 3.0% same-store sales jump; analysts expected a milder 1.5%. Decliners included Chico's FAS and Gottschalks. Much-watched Costco posted a 2.0% same-store sales gain, well below the 5.6% analysts forecasted. August's numbers were bolstered by a later-than-ususal back-to-school season that saw some July sales bumped into August, calling into question whether retailers can sustain August gains into the fall months. Most economists agree tighter credit and falling housing prices are likely to make a mark on consumer spending. "The middle-market consumer can still afford to shop, but there still are fears stemming from the mortgage market," said one analyst.
See full post including comprehensive table.
Sources: Reuters, Dow Jones I, II,
Commentary: July Same-Store Sales Roundup • June Same-Store Sales Roundup • May Same-Store Sales Roundup • April Same-Store Sales Roundup
Smith & Wesson Shoots Out Estimates
Shares of Smith & Wesson jumped 5.8% AH to $21.20 after the gun maker posted FQ1 earnings and revenue that beat analyst expectations and boosted its full-year guidance. First-quarter EPS rose to $0.11 ($9.8 million), from $0.08 ($5.9 million) last year. Revenue climbed 56% to $74.4 million. Excluding a recent acquisition, revenue was up almost 18%. Average analyst estimates were for EPS of $0.09 on revenue of $71.9 million. Smith & Wesson said it now expects F2008 earnings of $28.5 million ($0.63/share), up from a previous estimate of $0.62. Analysts were forecasting full-year EPS of $0.63. The company added a long guns division to its traditional handgun business late in 2006 after acquiring Thompson/Center; the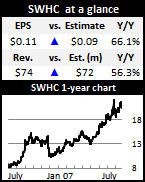 unit accounted for over 25% of the company's revenue in the quarter. "Our results for the first quarter of fiscal 2008 demonstrate progress across many initiatives and reflect growth in our core handgun business as well as our newly established long gun business," CEO Michael Golden said. In a press release, Golden said the company's Military & Police polymer pistols have a cumulative win rate of over 80% in all test and evaluation processes in which they have competed.
Sources: Press release, Reuters
Commentary: Take a Shot at These Gun Stocks
Stocks/ETFs to watch: SWHC. Competitors: RGR
TRANSPORT AND AEROSPACE
Chrysler Snatches Top Toyota Exec.
Chrysler LLC lured Toyota North America's President and COO Jim Press to hop on board as its newest vice chairman and president. Press, who was also a director at Toyota and spent 37 years with the Japanese automaker, will head up Chrysler's North American and international sales teams, while also working on global marketing, product strategy, and service & parts. Chrysler was recently taken private by Cerberus Capital Management; the new ownership has been aggressive in its search for new talent, recently bringing former Home Depot CEO Bob Nardelli on board as CEO as it tries to make the U.S. automaker profitable once again. Terms of the hiring were not immediately available. Toyota described Press's departure as "a shock"; he will be replaced by Shigeru Hayakawa, formerly Executive VP of Toyota North America.
Sources: Wall Street Journal, Bloomberg, Reuters
Commentary: Toyota U.S. Sales Drop an Unexpected 2.8% • Merrill Likes Toyota Even With Strong Yen
Stocks/ETFs to watch: TM, DAI. Competitors: F, GM
Earnings call transcript: Toyota Motor F1Q08
ENERGY AND MATERIALS
Rio Tinto Rises on Takeover Rumor
Shares of diversified miner Rio Tinto rose Thursday on rumors that Anglo-Australian miner BHP Billiton and Brazilian miner Companhia Vale do Rio Doce [CVRD] are discussing a joint bid for the company. BHP Billiton and CVRD have not commented on the speculation. Rio Tinto also received an upgrade Thursday from Sanford C. Bernstein analyst Andrew Keen, who raised his outlook to Outperform from Market Perform. Keen is forecasting a 25% increase in iron ore prices in the 2008 contract year, up from a prior estimate of 5%, on surging Chinese demand. "Bid speculation on Rio has been around for a while, and we believe this ties up with the story of demand for things like iron ore from China," said Richard Robinson, money manager at Ashburn Ltd. "I wouldn't be short of the iron-ore area, or mining stocks in the current environment." Societe Generale analysts Luc Pez and Alain William are not particularly sanguine about the bid for Rio Tinto, which they say "would raise antitrust issues and carries high risk

of value destruction." Rio Tinto recently inked a deal to buy Alcan for $38.1 billion, a move that will create the world's biggest aluminum producer. Rio Tinto's shares gained 5.5% to close at $301.52 Thursday, BHP Billiton's shares rose 5.4% to $66.19, and CVRD's shares rose 3.9% to $52.08.
Sources: Dow Jones, TheStreet.com, Forbes, Bloomberg
Commentary: Rio Tinto: Pricey 'Defensive' Move With Alcan Threatens Credit Profile • Rio Tinto Posts Disappointing Earnings on Higher Costs • Takeout Values For Miners Listed By Desjardins
Stocks/ETFs to watch: RIO, RTP, BHP. ETFs: SLX
FINANCIAL
Triple-A CPDOs No Safer Than Junk
In a research report ominously titled, "Distressed CPDOs: We're Doomed!" CreditSights told clients credit derivatives known as CPDOs, constant proportion debt obligations, may be as likely to default as high-risk bonds. CPDOs use credit-default swaps -- an insurance contract that pays a buyer face value if the borrower does not pay its debt -- to bet that a group of investment-grade companies will repay its debt. If those companies' credit ratings are downgraded, the CPDO will see losses. "If you assume defaults and downgrades come in bunches rather than being evenly spaced out, CPDOs' default rates are more what you would expect for low junk ratings than for AAA," CreditSights analyst David Watts said in an interview. Credit rating drops of companies has caused some CPDOs to lose to 70% of face value. "Even a relatively small number of downgrades" will create a scenario where "CPDOs will suffer and their ability to repay par at maturity will be far from certain," he said. Banks have set up at least $4 billion in the derivatives, which first appeared in 2006. If unable to pay buyers, the fallout could bring even more negative attention to credit-rating companies and their part in the crisis. A recent plunge in the mortgage and housing sectors has brought heat on investment grading companies like Moody's and S&P, because they are failing to downgrade companies until their stock price has dropped significantly. Senate Banking Committee Chairman Christopher Dodd put the spotlight on these agencies last month when he asked why they awarded "AAA ratings to securities that never deserved them."
Sources: Bloomberg
Commentary: Moody's Downgrading Subprime Mortgage-Backed Securities; S&P to Follow • Short Moody's • Credit Rating Companies: Subprime's Latest Casualties • CDOs and Rating Agency Risk
Stocks/ETFs to watch: MCO, MHP
Earnings call transcript: McGraw-Hill Companies Q2 2007
Credit Card Companies Target Subprime Borrowers
Direct mail credit card offers to subprime customers rose 41% year over year in the first half of 2007, at the same time as defaults on subprime mortgages were rising. (By June, nearly a fifth of subprime mortgages were over 60 days past due and about 5% were in default.) HSBC led the direct mail surge, with over 100% growth. As subprime customers were being solicited, direct mail offers to more credit worthy customers fell 13%. Mintel International Group, which published the credit card direct mail data, suggested that credit card companies stepped up their marketing to capitalize on the reduced availability of refinancing and home equity loans for subprime borrowers. The subprime market is profitable for credit card companies because customers are charged higher interest rates and typically make only the minimum monthly payment. Travis Plunkett, legislative director of the Consumer Federation of America, said "It's another sign that some credit card issuers are engaging in risky, irresponsible lending to vulnerable consumers."
Sources: IHT
Commentary: The Multiplier Effect of the Subprime Mess • Modeling Forward Defaults: Top Five US Banks • Credit-Card Defaults on the Rise
Stocks/ETFs to watch: AXP, COF, DFS, HBC, MA
Activist Fund Breeden Partners Wins 3 Seats on H&R Block's Board
H&R Block said in a press release Thursday that based on preliminary results from the company's shareholder meeting, three nominees from former SEC chairman Richard Breeden's investment fund have been elected to H&R Block's board of directors. The Breeden Fund, which has been accumulating shares of H&R Block since November and now holds a 1.8% stake, estimates its nominees won 82% of the vote.

Five proxy advisers supported the Breeden Fund nominees, including 6.6% owner (third-largest) Harris Associates LP and California Public Employees' Retirement System. Before the vote was announced Richard Breeden told shareholders, "The tidal wave proportions of the election results convey the strongest possible message that share owners want a change in the company's performance and direction. This, we believe, is the dawn of a new era for H&R Block." Breeden wants H&R Block to focus on its core tax business and exit the securities-brokerage and banking and lending businesses. Breeden is also advocating separating the position of chairman and CEO, which incumbent Mark Ernst has held since 2002. Shares of H&R Block fell 0.9% to $19.99 on Thursday.
Sources: Press release, Associated Press, MarketWatch
Commentary: H&R Block Is Speeding Towards a Brick Wall • H&R Block Q1 Loss Widens on Mortgage Woes • H&R Block Taps Credit Lines
Stocks/ETFs to watch: HRB. Competitors: INTU, JTX
Related: CNBC video discussion with activist investor Richard Breeden
Lehman, National City Cut Staff at Mortgage Units
The brokerage Lehman Brothers Holdings, which closed down its subprime mortgage unit in August, announced Thursday it is cutting 850 more jobs at a subsidiary that provides mortgages to borrowers with better credit profiles. Lehman is the country's largest underwriter of U.S. mortgage bonds. The new cuts will occur at Aurora Loan Services LLC, which offers Alt-A loans. Lehman also announced it will shut down its Korean home loan business. Lehman, whose shares have lost nearly a third of their value this year, has cut about 2,500 jobs in its residential-mortgage units since the summer began. "While these moves are extraordinarily difficult because of the impact they have on our people, we now have a business that is sized correctly for the current environment," said Ted Janulis, Lehman's global head of mortgages. In related news, Cleveland bank National

City Corp. said Thursday that it will eliminate 1,300 jobs and take up to $200 million in pretax charges in Q3 because of losses in its mortgage business. "As the outlook in these parts of the mortgage market remains negative, it makes sense to cut down capacity," said Sanford C. Bernstein analyst Brad Hintz. "This is good, solid management doing what it should be doing." Lehman shares closed down 1% at $53.83; National City shed 2.4% to close at $26.67.
Sources: Press release, Bloomberg, Wall Street Journal, Financial Times, TheStreet.com, Forbes, Dow Jones
Commentary: Lehman Slams Door on Mortgage Unit • U.S. Investment Banks: Brave Investors May Be Rewarded Handsomely • Lehman Denies Subprime Exposure
Stocks/ETFs to watch: LEH, NCC. ETFs: IAI, KCE, IAT, RKH
Earnings call transcripts: Lehman Brothers F2Q07, National City Q2 2007
Citigroup Says Its SIVs Are "Very Strong"
Citigroup issued a statement Thursday aimed at easing investor concerns over the health of its SIVs, after a Wednesday article in the Wall Street Journal said the bank held nearly $100 billion in the vehicles, a full 25% of the market (full story). In filings to the LSE, Citibank said seven of its structured investment vehicles, or SIVs, collectively raised almost $7.6 billion from commercial paper in August, despite "unprecedented dislocation" in the market. "We believe the SIV model remains sound," Citibank said. Similar vehicles held by other banks have had to sell some assets at a loss to repay maturing debt. SIVs issue short-term debt, such as commercial paper, and buy higher-yielding, longer-dated assets like consumer loans, asset-backed securities and bank debt, pocketing the spread. Due to a quirk in U.S.

GAAP, they don't appear on the holding company's balance sheet. Citibank said none of the seven SIVs' assets have been downgraded, and that the market would have to deteriorate by four times its present level before senior debt investors suffered losses. The SIVs sold $5.3B in assets August, it said, "in the interests of prudence." The vehicles would have 6 to 21.6 months to sell their assets and repay senior debt if terms were breached, it said, "as opposed to an immediate fire sale as some press speculation seems to suggest."
Sources: AP, Reuters
Commentary: WSJ's Fun With Numbers On Goldman and Citi • Stalled Giants: MSFT, C, MRK, PFE, HD, GM
Stocks/ETFs to watch: C
HEALTHCARE/BIOTECH
New Jersey Supreme Court Denies Class-Action Suit Against Merck
Pharmaceutical company Merck said Thursday the New Jersey Supreme Court had reversed a lower court ruling which allowed a nationwide class-action suit for insurers attempting to collect refunds for past spending its now withdrawn arthritis drug Vioxx. Vioxx was pulled off shelves in 2004 when it was found to double users' chances of heart attacks and strokes. The court said it reversed the ruling because it recognized that "each insurance company and HMO considered different types of information in deciding whether to reimburse patients for Vioxx, and they all went through

varied processes with different experts in making those decisions," according to a member of Merck's legal counsel. Class-action suits usually give more clout to plaintiffs because they are able to use prominent, pricy lawyers and pool their expenses. Merck's strategy since it began being sued was to fight each battle one at a time. The strategy has worked; in the personal injury trials decided thus far, Merck has won ten out of fifteen. Morgan Stanley analyst Jami Rubin saw the decision as an "enormous victory for Merck," adding that the class action suit represented a huge amount of risk in "Vioxx liability." Investors were encouraged by the news as well; Merck traded up 2% to $50.38 in midday trading on Thursday.
Sources: Press Release, Reuters, AP
Commentary: Merck Raises and Beats on Strong Vaccine, Medicine Sales • New Study Suggests Vioxx's Ill-Effects Were Immediate -- WSJ
Stocks/ETFs to watch: MRK. Competitors: BMY, PFE. ETFs: PPH, RXL, IXJ
Earnings call transcript: Merck & Co. Q2 2007
MUST-READS ON SEEKING ALPHA TODAY
Have Wall Street Breakfast emailed to you every morning before the market opens.