In mid December, I advised clients to start moving from gold miners like Barrick (NYSE:ABX) into the Fertilizer space, using the Global X F/P ETF (NYSEARCA:SOIL) and Ag stocks like Agrium (NYSE:AGU), Potash (NYSE:POT), Mosaic (NYSE:MOS), Terra Nitrogen (NYSE:TNH), Yara (OTCPK:YARIY), and especially CF Industries (NYSE:CF). It seems to have been the right move that the time, but it's now time to reevaluate that trade.
The Ag stocks are well up this year, but not in an over-extended way. The question for me is whether they will be the place where the smart money starts to move to -- especially now that the broader market (after a superlative quarter) appears to be settling in for a well-deserved consolidation. The Ag sector had an explosive run back in the late Spring of 2008, and hedge fund purchasing today has much of the same self-consciousness of that period.
CF in particular is well-positioned. Last week the Allendale report found that U.S. farmers plan to plant 3.5% more acres of corn this year --a big plus for nitrogen-based fertilizer and higher than the U.S. Department of Agriculture had just predicted a month prior. The agriculture advisors' survey also suggested that another year of higher wheat plantings is in store for 2012. The fact that farmers had a good year in 2011 and are buying more with cash than credit is also an added bump.
This Friday, keep an eye on the USDA's prospective planting report. Expect it to have an impact: Planting delays in South America due to weather will have been digested and if less acreage planted is reported, then we're likely see a spike in the price for corn especially.
This will be good for CF as nitrogen-hungry corn drives a brisk demand for its products. India's delay in fertilizer purchasing this year as well as Iran's aggressive wheat buys both suggest dry powder for the company's stock price later in the Spring. This might explain why last week Piper Jiffray's Michael Cox initiated coverage of CF with a $230 price.
Keep in mind: March is typically a weak month for CF as an equity, and it has clearly been stuck in a trading range. The following graph, created by Ned Davis Research, averages the 2005-2012 monthly performance of CF and statistically suggests that the best time periods to be in the stock are from December to February and from April to August: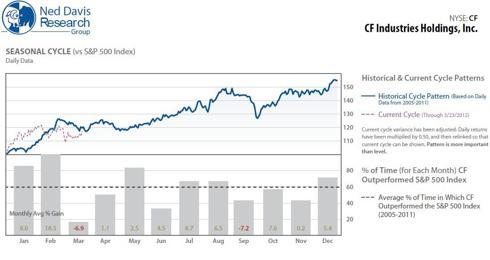 In tandem to this year's growth in demand, we also see the unabating trend of low natural gas prices in the US. A major expenditure for CF, this new development has placed the firm into an enviable position, despite the fact that some rather conservative hedging positions will keep them from capitalizing on this short-term. Last year the company saw its natural gas costs slip from $4.54 MMBtu to $4.36 per MMBtu within nine months.
I don't expect a drop that dramatic this year, but prices might continue to drift down and sideways longer than anticipated. Innovations in unconventional drilling mean that one of the main cost inputs for nitrogen fertilizer -natural gas-will remain cheap for the next three years. Storage is already a problem. And this gas is coming online in the American heartland -- i.e. Bakken, Marcellus, Eagle Ford -- and thus very close to many of CF Industries' Midwestern plants.
Those two factors of food demand and cheap gas put a company like CF in the proverbial sweet spot, as its product use remains secularly elevated just as its pricing starts to look very attractive vis a vis other fertilizers (i.e. potash, arguably the most effective substance for crop growth). And as I discuss below, new happenings in Beijing are also auspicious for the company.
The Coup in Beijing
Chinese Vice President Xi Jinping's feel-good visit to Iowa last month was for domestic Chinese PR consumption, but his background, ascendency, and the recent "coup" in Beijing are suggestive of a new paradigm shift that may be emerging within the CCP's leadership.
Xi is expected to replace Hu Jintao as CCP chief late this year and then become China's new president in early 2013. His ascendency is an important milestone.
Whereas both Jiang Zeman and Hu Jintou were both essentially chosen by Deng Xiaoping for highest leadership, this election will be the first true contest of unscripted participants. Bo Xilou's recent demotion means the "red left" and its Maoist nostalgia have been meaningfully purged for the upcoming election.
This strengthens the position of Xi and the "blue right"/reformist wing. It is a rebuke of "populism in politics" -- something directly tied to the anarchy of the Cultural Revolution in elite Chinese circles-as well as the so-called "Chongqing Model," which leaned more on state-owned enterprises and real estate development for growth.
What do this mean for US agriculture? Good things. Xi is well-traveled; he has been to more than 47 countries. He has governed two provinces --Fujian and Zhejiang-as well as the city of Shanghai. This alone should give him a good scope of the needs of the country. More importantly, Xi Jinping is uniquely positioned to understand the thorniness of China's food dilemma and to be open to more pragmatic solutions.
Xi's father was an important figure in the Chinese Revolution, one who fell from grace during the 60s turmoil only to later re-ascend during the Deng period. Though Xi is now generally considered a pampered "princeling" at home, he spent seven tough years during his father's imprisonment relegated to a remote village -- working on a farm collective and living in a cave home.
He has said this early experience has always given him an eye for the needs of the common man. As governor of Fujian, Xi focused on food and food quality. He has an extensive agricultural background and a unique connection to the US. He and now Iowa Governor Bradstad actually met in Hebei Province's crop-belt in 1984. He was the head of a local farming delegation when he first went to Iowa the following year.
For six decades, the Chinese Communist Party held fast to the autarkic notion of "no dependence on foreigners" for its food staples, but reality is complicating this view.
Will Beijing keep to its traditional food security regime, or will its modernization make that policy untenable? A desert the size of Rhode Island is being created in China every year, and its northern breadbasket is a textbook example of water misuse and depletion. Add in the vicissitudes of weather and things get very tough. Last year the wheat province of Shandong experienced three months without a drop of rain.
If the PRC abandons food independence, it will be to stave off a more dangerous threat -- water scarcity. And Beijing may have no choice in this regard. China's agricultural demands may be on the cusp of a structural transformation. Its animal protein industry has grown so quickly due to urban affluence that the vast pyramid of feed grain below it now staggers with a new order of magnitude.
As I have written about in the past, this kind of X-factor would seriously bulk up demand for the fertilizer industry in a long-term. In the 1870s, a sudden new supply of grain came online from the newly planted American Midwest. It would steadily deflate world prices for a generation. The process was part of the "Long Depression of 1873-1896" and it pushed many farmers in Europe off the land and into boats bound for New York.
Today, a reverse process -- a "Long Inflation" -- may be at work. The sudden new demand of Asia's urban classes may pinch at traditional grain supplies for a decade, at least until enough new acreage is created or a new threshold of water sustainability is achieved in mission-critical planting regions. I discussed this first in an article for the Carnegie Council on ASEAN. As Asia typically adds another 35 million mouths to feed each year, this will be a moving target.
On March 13, the U.S. Department of Agriculture reported private exporters sold 240,000 metric tons of U.S. corn for delivery to "unknown destinations" -which traders understood to be specifically China. More broadly, the USDA forecasts China will import a total of four million metric tons of corn in the current crop year, up from one million metric tons the prior year.
It there ever was a Chinese leader more receptive to US agriculture, it is Xi Jinping. By ascending to the top leadership position and relegating the "red left," he may have the political cover to act more sweepingly and expand food imports.
Last year David C. Nelson from Rabobank gave specific numbers to the new long-range demand: "We note that China could become a net yearly importer of 25m tonnes of corn as early as 2015." Xi's ascension makes that lofty projection far more likely.