Though momentum may keep energy stocks falling a bit further, the sector looks poised to eventually snap back hard.
After weeks of steady gains, stock markets finally saw some notable selling pressure over the past few sessions. The S&P 500 dropped from four-year highs near 1419 to 1391. Is this the start of the seasonal spring correction or just a speed bump before the rally resumes?
By all accounts, the macroeconomic backdrop still remains favorable. Data have been relatively strong and, as JPMorgan Chase CEO Jamie Dimon remarked on Wednesday, the threat of a double-dip recession is behind us.
It's interesting then that the cyclical energy sector has gotten hit especially hard. There are two reasons for this. The first is that traders are speculating that oil prices will fall significantly from here.
But as we wrote in this week's Crude Oil Report, calls for the end of oil's bull run may be premature. Brent remains firmly entrenched within its recent range of $121 to $127.
BRENT CRUDE OIL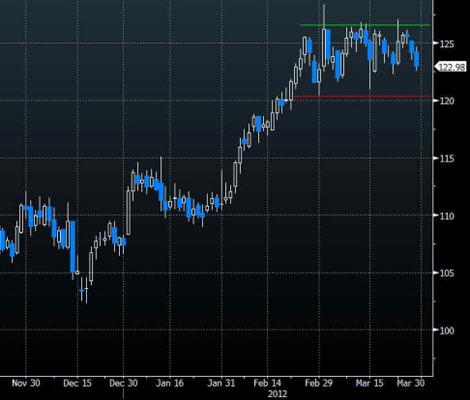 Supply disruptions in South Sudan, Yemen and Syria are supporting prices. And perhaps most importantly, Iranian exports have begun to fall in response to sanctions by the West. The EU's embargo on Iranian oil will go into full effect in July, potentially reducing exports by 1 million barrels per day, according to the IEA.
Until there is more clarity on global oil supply, prices will likely stay supported.
The second reason why energy stocks have fallen in recent weeks is the intense weakness in natural gas prices, which fell to a fresh 10-year low near $2.14/mmbtu today.
NATURAL GAS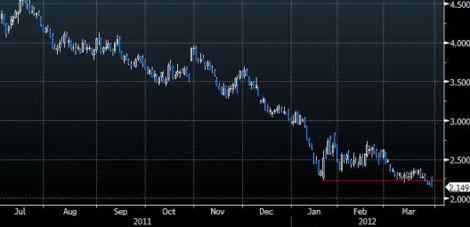 Most energy companies are involved in the production of both oil and natural gas, thus the weakness in the latter is a negative for most firms in the industry. However, the mix of oil and gas is drastically different for each firm.
For example, natural gas represents 84 percent of Chesapeake Energy's total energy output, while it only represents 28 percent of Occidental Petroleum's production.
Yet, the recent selling in energy stocks has been indiscriminate and that offers an opportunity to nimble investors.
As can be seen from the chart below, the Energy Selector Sector SPDR Fund (XLE), which is composed of the energy stocks in the S&P 500, has significantly underperformed Brent prices recently. The XLE/Brent ratio is at 0.575 - the lowest level since the 2008 financial meltdown, when it hit 0.547, indicating that energy stocks may be undervalued.
If oil prices do not correct, energy stocks can be expected to bounce back.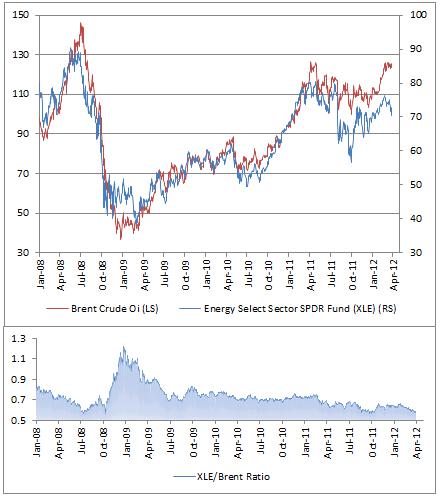 However, investors should still be selective by focusing on high-quality companies that are weighted heavily toward oil as opposed to gas. Those include the aforementioned Occidental Petroleum (OXY), Continental Resources (CLR), Pioneer Natural Resources (PXD) and EOG Resources (EOG).
In addition to offering a high oil weighting, those companies are growing output rapidly in the United States - an important benefit amid geopolitical concerns elsewhere.