Rail companies are generally regarded as conservative equity investments. In North America, rail is primarily used to transport materials, machinery and other heavy goods. Rail is an economical method of transporting things, requiring far less energy to move cargo than through trucking.
As an investment option, the rail transportation industry was out of fashion for a great many years. Within the last decade, as gasoline prices increased, rail once again became a preferred method for moving freight within the United States and Canada.
Beyond oil price increases improving rail efficiency by comparison, many railroads have also spent large sums of money to modernize fleets and systems. Additionally many rail lines have growing demand for transport to and from west coast ports, where ships take resources to China and return with consumer goods.
A potential negative that could affect certain rails more substantially than others is a new set of EPA standards regarding the coal industry, as several railroads derive significant portions of their business from coal transportation coal.
Just a few years ago, Warren Buffett purchased Burlington Northern Santa Fe Railroad and absorbed the large cap American railroad company into Berkshire Hathaway. At the time, Berkshire already owned a large portion of the Burlington, which itself should benefit from the above-mentioned trade to and from China. After acquiring it, only a handful of large cap rails remain publicly traded.
Below are the current yields, as well as the 1-month, 2012-to-date and 6-month equity performance rates for the three large-cap American railroads, CSX Corp. (CSX), Norfolk Southern Corp. (NSC) and Union Pacific Corporation (UNP), and two large-cap Canadian railroads that are traded in the United States, Canadian National Railway Company (CNI) and Canadian Pacific Railway Limited (CP).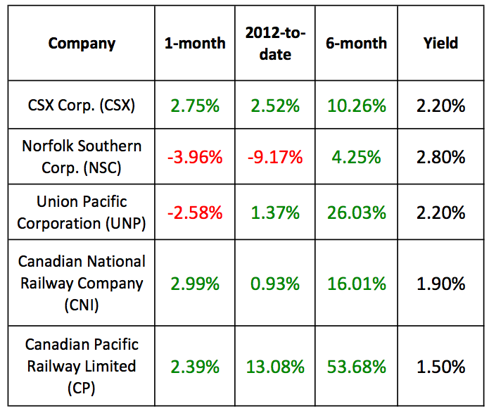 And below is a 2012-to-date equity performance comparison chart for these five railroads:



Most of these rails performed well during the first half of 2011, and fell along with the broader during the third quarter. In the fourth quarter of 2011, like many other equities, most rails rebounded quickly.
So far in 2012, the above group is essentially flat, though slightly positive, with some significant disparity among individual performance. While three of the five are within three percent of their 2012 starting price, NSC is down 9.17 percent and CP is up 13.08 percent. Additionally, it may be worth noting that the worst performer is the highest yielder, while the best performer is the lowest.
Disclosure: I have no positions in any stocks mentioned, and no plans to initiate any positions within the next 72 hours.
Disclaimer: This article is intended to be informative and should not be construed as personalized advice, as it does not take into account your specific situation or objectives.