One month since its initial public offering (IPO) was completed, social media darling Yelp (YELP) appears to have been declared a raging success by its current investors. Having raised $107 million from its initial public offering, the company that originally priced at $15/share opened significantly higher only to end the first day of trading at $24.58/share. Within a few short weeks, the stock incurred a volatile swing that dipped the company over 20% to the downside and subsequently rallied for more than a 50% gain bringing it to its latest closing price of $28.01 as of March 29, 2012.
Such swings have become typical for social media companies in particular, where similar results have been seen in the aftermath of IPOs for popular social companies such as Groupon (GRPN), LinkedIn (LNKD), and Pandora (P). The market pricing uncertainty has been propagated by the popularity captured by the very business model of the companies themselves. People want to invest in what they daily use. And with the proliferation of online access that increased trading capability and Internet familiarity, they now can.
Yet when reality comes to the investing world, companies will eventually align with their earnings potential. For social companies like Yelp, the business model has seemingly limited monetization pathways that could be effectively implemented without frustrating the company's user base or disrupting the convenient use of their product. After all, users don't want to feel as if they're being exploited for ad revenue. Yet to bring the company to accelerated profitability such methods are going to have to be implemented with care. Limited barriers to entry will also allow competitors to test the company's market share time and time again. According to its S-1 filing, Yelp back in September 2011 had a loss from operations of $7.4 million. This was but a slight improvement from the same time period a year prior where the company had loss $8.5 million. For a company that only had $42 million in total assets in September 2011, adding another $100 million serves as a useful lifeline. Yet with the current market capitalization of $1.68 billion, one must wonder what it is investors are truly expecting from this company.
In stark contrast, exploring the lesser known companies that have had their IPOs within the last year can lead to some interesting finds. Take Solazyme (SZYM) for instance, who's IPO raised $227 million in May 2011, and currently trades with a market capitalization of $866 million. As seen in this video of the CEO Jonathan Wolfson talking about the company's IPO process, the value proposition that Solazyme brought to the table was a disruptive technology to the world's largest market:
"There are two important things you need to understand about Solazyme that make a disruptive technology. The first is that we've developed the very first platform to convert carbohydrates to oils..."
- Jonathan Wolfson, CEO of Solazyme
Whether it be sugar from sugar cane, sugar beets, corn-based dextrose, or a variety of cellulosic materials, Solazyme's technology allows for a conversion process of the one of the world's most abundant resources found in carbohydrates into one of the world's most commonly used products: oils. Whether it be oils used for jet fuels, cooking oils, lubricants, cosmetics, or paint thickeners, Solazyme is able to create it.
"...And the second thing that is truly, truly disruptive about our technology is that we have the ability using biotechnology to tailor the composition of the oils. To tailor the composition of the oils literally in ways that Monsanto and Pioneer and other companies have been trying for decades, and have made limited progress. We're able to do those kind of things in a matter of months."
- Jonathan Wolfson, CEO of Solazyme
The company is able to create specialized oils that have yet to be found in this world and customize it to fit for specific purposes to industry. It's for this reason that Dow Chemical (DOW) for instance is willing to buy 20 million gallons of Solazyme's oils in 2013, and up to 60 million gallons in 2015. In the same sense, it's why Unilever (UL) has expanded into multiple research agreements with Solazyme varying from tailored soap products to tailored food products.
Most importantly, it appears that the company will be able to perform in a very cost effective manner. Prior to even building any of its own production facilities, the company was able to commercialize its technology and become profitable in its skin & personal care division that exploited "low to no capital expenditure requirements" (refer back to video, starting from 11:50). With an addressable market opportunity in excess of a hard-to-fathom $3.1 trillion, Solazyme's market size potential is far from small.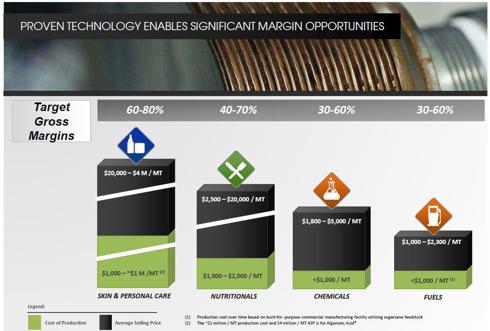 Click to enlarge
With such distinct differences between the IPOs of Yelp and Solazyme, it remains almost disheartening that the populist investment base seems overwhelmingly biased. Companies like Yelp have all the short-term attractiveness that revolves around hype and popularity rather than the fundamentals that stock prices eventually come to reflect. All the while, a company like Solazyme that is projected to make revenues north of $1 billion annually by 2015 (when contrasted to the $39 million it made for fiscal 2011) stands in the investing shadows with little to no media coverage.
Perhaps in a society where attention spans and short-term gains far outweigh the benefits of game-changing success, this contrast makes more sense than one might believe. Yet for readers of this article, I encourage you to do your due diligence and use your mind before seeking positions in either of these companies. Everyone has their own sense of value and risk-aversion, and it's important to understand what it is that you partake in rather than blindly following the words of one person to the next.
Disclosure: I am long SZYM.
Additional disclosure: I am also short YELP