We are increasingly confident that this will be the year that Netlist (NASDAQ:NLST) gets market traction and achieves its financial objectives. If this is the case, shares, which currently trade at $3.60, could be $10 or even $20 by year end. While we tend to avoid story stocks, and prefer stocks with significant margins of safety, we believe Netlist offers an asymmetric risk/reward profile, and have therefore accumulated a small position.
We have followed Netlist since its 2006 IPO. The company is a value-add memory module manufacturer that is attempting to transform itself to a more IP-centric company, providing differentiated memory subsystems to the compute intensive server and data center markets. Almost since inception, Netlist has succeeded in disappointing investors - we are hopeful this is the year they change that.
Netlist has been working on its "HyperCloud" technology for several years, and until recently appeared to be more vaporware than reality. However recent claims the HyperCloud appears to have superior performance in high-end applications to industry standard LR-DIMMs and is on the cusp of a substantial ramp, presumably with both Hewlett-Packard (NYSE:HPQ) and IBM (NYSE:IBM), appears to be far more credible. In its most recent 10-K, Netlist noted that it is engaged in "collaborative relationships." with both HP and IBM, which followed on the heels of press releases with each company in 2011.
Major news on March 27th, but no press release: Netlist management has claimed that the Intel (NASDAQ:INTC) Romley server platform would be a catalyst for market adoption of HyperCloud. The evidence from March 27th, certainly would appear to support that. On the 27th, Netlist added the following picture of Netlist/IBM HyperCloud server memory to its website.

Source: netlist.com
In addition, on the 27th, CEO Chuck Hong posted a letter to shareholders stating:
"Earlier this month with the launch of Romley, HyperCloud and VLP became officially listed on IBM's website for sale. We have now established a new, high-end category of server memory for the first time in the industry called HCDIMM. HyperCloud is displayed prominently on the IBM server document for x3650 M4, IBM's largest selling server model."
The letter adds that "We expect to provide information on an additional product launch shortly." We would expect this to be HP.
Netlist management has done a poor job of delivering over the past several years and based on the company's track record, there is reason for skepticism. Management seemed to admit as much in it's letter from the 27th stating:
"After years of investment and hard work in developing our next-generation technologies, we have now entered an exciting stage in our history and we look forward to updating you on our progress as the year unfolds."
Frankly, if we had stronger conviction, Netlist would be a large position for us, like ChipMOS (NASDAQ:IMOS) which we've written about on multiple occassions. However, we believe this negativity is very much reflected in the share price and despite our knowledge of management's track record, we own the stock.
In 2H 2011, Netlist management indicated that they expect 2012 revenues to grow 50%-100%. On its 4Q conference call, the company reiterated this target, although they said they expect the growth to come in the second half, resulting in shares to sell off. They also said that there should be several announcements in the near-term, regarding customer activities. Netlist did NOT issue a press release regarding IBM, but clearly, it's happening.
The street does not appear to believe Netlist's guidance. Using the 50%-100% growth estimate, with growth coming in the 2nd half, 4Q revenues would range from $35M-$55M and EPS from $0.13-$0.30 - implying a $0.52-$1.20 run rate in 2013, assuming no y/y growth in 2013.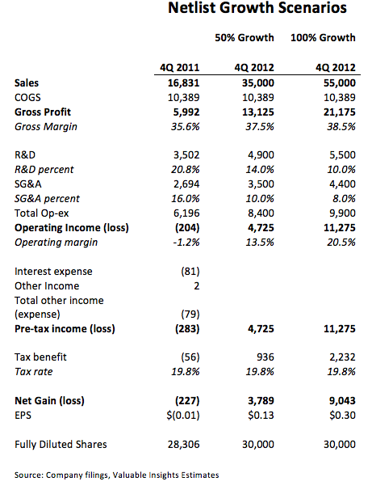 Admittedly, we too are skeptical, but the circumstantial evidence certainly is strong. With IBM on board, and HP probable, Netlist clearly has customers that could deliver the numbers (and then some) that they are promising. Moreover, additional evidence supports our thesis that this will be the year.
For example, on March 1st, H.K. Desai was named to Netlist's Board of Directors. He was formerly the CEO and is currently the Executive Chairman of QLogic (NASDAQ:QLGC), a $1.7 billion market cap company. We find it unlikely, that he would join the Board of a sub-$100 million market-cap company, just as it was going to disappoint investors. Of course it's possible, but its far more likely, that he saw the company's business plan, and is a believer.
In addition, on its 4Q call, management indicated that 1Q expenses would be higher, to support a production ramp. Again, we recognize that management could be lying, but that seems far too pessimistic. Why would a company ramp manufacturing expenses, if it didn't believe a ramp of business was coming soon?
Finally, while we are clearly relying on Netlist to execute, and its customers to ramp, we are encouraged that there is a favorable market backdrop. Specifically, ongoing growth of the Cloud and compute-intensive applications will drive high performance server demand. Companies like Intel, HP and IBM all stand to benefit, but clearly, if Netlist has a solution that gets traction, there are substantial tailwinds that can drive meaningful ongoing growth. Similarly, for bulls on DRAM fundamentals (as we are near-term), and positive on Micron (NASDAQ:MU), then Netlist may also prove a beneficiary of the DRAM backdrop - (while Netlist's tie to DRAM pricing is moderate, the company virtually always performs better in a strong DRAM market versus a weak one).
Should Netlist achieve its targeted 50%-100% revenue growth, then the company exits 2012 with $0.13-$0.30 EPS - or $0.52-$1.20 annualized in 2013, assuming no growth - highly improbable as their solution becomes more compelling with data/compute intensive needs. Based on a 20x multiple of EPS, the stock could be $10-$24. We recognize that if they fail to achieve their targets, the stock could fall, perhaps to $2. Given the risk/reward, we think Netlist is well worth owning.
Disclosure: I am long NLST, IMOS.
Additional disclosure: We conduct thorough research on our ideas, but our views are our own. Please do your own research.