Aerospace/Defense is traditionally defensive. And yet, performance has been explosive for several years now.
Three and 1/2 months ago, I began to sense that the sector might be tired. I surmised that, while the sub-segment of Aerospace/Defense certainly had room to run, enthusiasm seemed to be a bit too rabid in certain circles. (I maintained my positions, but held tight stop-losses for locking in profits.)
So here's my "Mea Culpa." While healthcare and consumer staples may be favorites for a recession-inspired defensive play, those segments haven't been leaders of growth. Aerospace/Defense has been the one place that has managed downside risk while still giving attractive performance rewards in upswings.
For instance, let's look at the recent turmoil caused by credit concerns, real estate woes and recessionary fears. Safe haven stand-outs like health care (S&P SPDR Healthcare (NYSEARCA:XLV)) and consumer staples (S&P SPDR Staples (NYSEARCA:XLP)) hold up in a downturn better than riskier sectors. At the same time, both iShares Aerospace and Defense (NYSEARCA:ITA) and the Powershares Aerospace and Defense (NYSEARCA:PPA) weathered the storm far more successfully.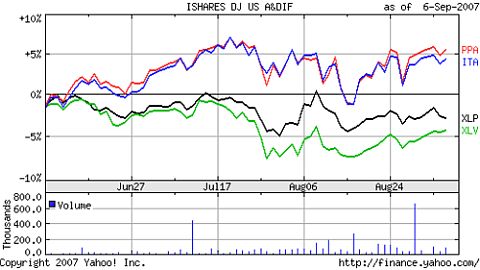 Now look at the bigger picture.Aerospace/Defense versus the competition over a one-year time period: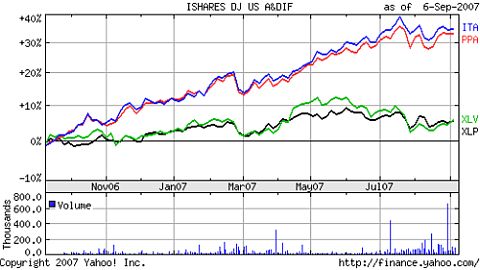 Valuation a la a P/E price tag looks relatively attractive for technology-based companies in the Aerospace/Defense indexes. Moreover, downside risk relative to the markets at large has been limited. What's not to like?
Yet sometimes, when it's too good to be true... well. I may be holding the Powershares Aerospace and Defense Fund (PPA), and even adding to the sector, but I have my guard up. Make sure that you understand the circumstances under which you would sell.
Disclosure Statement: As a Registered Investment Advisor, Pacific Park Financial, Inc. may hold positions in the ETFs, mutual funds and/or index funds mentioned above.