A few years ago, I predicted Apple (NASDAQ:AAPL) would be become the world's most valuable company.
I predicted that Apple would pass Microsoft in market cap in an article last June, so it's time to push the envelope with the following prediction: AAPL will surpasses Exxon Mobil to become the largest publicly traded company in the world.
Apple did just that, wresting the crown from Exxon Mobil (NYSE:XOM).
I'll make a new prediction: Apple will become this country's most profitable company. Right now, the title belongs to none other than Exxon. That's a giant hurdle - the oil company gushed $41 billion in profits last year. Yet, Apple will outearn Exxon this year.
The story: Big oil meet big tech and big tech wins.
Last year, Apple earned $26 billion while Exxon made $41 billion. Looking at the graph below, you'd think Apple had a long way to go.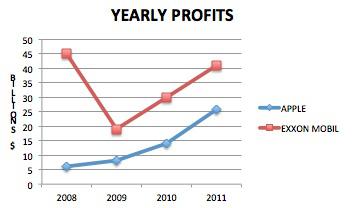 Yet, Apple will likely outearn Exxon this year.
Apple's 2012 analyst consensus is $44 a share, a number that translates into $41 billion of earnings.
That's probably conservative. Apple has beaten professional analyst estimates 24 out of the last 25 quarters. It's a good bet they're again too low. Either way, $41 billion looks more than doable.
Exxon is slated to earn $8.24 this year, or $39 billion. Analysts have been much more accurate in forecasting Exxon. The last 4 quarters have been within a few percent except for a 6% miss by Exxon last June.
This year, Apple will earn more than Exxon Mobil and become this country's most profitable company. Not bad for a company that didn't make Fortune's list of 50 most profitable companies in 2007.
Disclosure: I am long AAPL.