"The company expects continued pressure on revenue and earnings throughout fiscal 2013. Due to a desire to focus on long term value creation and the current business environment, RIM will no longer provide specific quantitative guidance. Some of the factors contributing to this include, ongoing weakness in the Company's U.S. smartphone business, an increased focus on selling BlackBerry 7 smartphones to grow the subscriber base in advance of the BlackBerry 10 launch, increasing competitive pressure in the Company's international markets and the introduction of certain new lower tier service pricing initiatives and a higher mix of sales coming from entry level products."
This is the change in "guidance practices" and outlook that beleaguered mobile company Research In Motion (RIMM) announced in its latest earnings report today. It has all the trappings of a company hunkering down in the midst of assaults on all sides of its business. On the surface, this is a strange position for a company that continues to throw off as much cash as RIMM does. In the latest quarter, RIMM generated $1.1B from operations, a 22% increase from the third quarter even as revenues plummeted 19%. As a result, cash, cash equivalents, short-term and long-term investments increased $610M to a whopping $2.1B.
I am fascinated by RIMM's large cash hoarde because once upon a time last June, RIMM announced its third share repurchase program in recent years. I expected that event to provide a major catalyst given how aggressively RIMM executed its previous programs. After seeing no share purchase activity noted in the December earnings call, I "raised the alarm" and predicted that RIMM would fall to single digits in due time without support from a buyback. Instead the stock soon stopped short of $12, rallied 50% in a month, and slowly lost most of those gains over the last two months. The stock retested those lows (a drop of about 10%) in after hours trading following the latest earnings call but recovered most of those losses before trading ended.
This latest earnings report also reported no stock repurchase activity. With the company officially in retrenchment, I fully expect the remaining months of the buyback authorization to fade away with cash staying in the bank. Although the last two buybacks have now resulted in massive paper losses, I still find it a bit ironic that the company buys no shares exactly when it should be insisting louder than ever that its shares are insanely cheap.
Regardless, with a large turnover in management, a GAAP net loss for the quarter, the suspension of faulty guesses at guidance, all capped off by a steep after-hours plunge and recovery, it is possible the inexorable trip to single digits is indefinitely postponed. Perhaps. Time should tell.
click to enlarge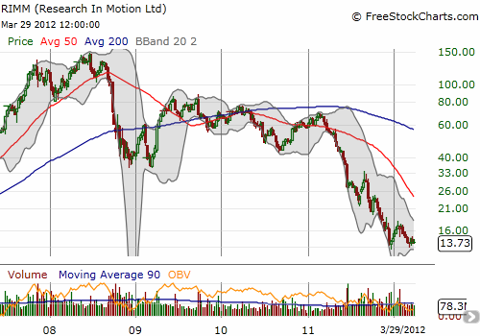 The recession continues to deepen for RIMM.
Source: FreeStockCharts.com
Be careful out there!
Disclosure: I am long RIMM.
Additional disclosure: I am also long calls and puts, and short covered calls