If Mitt Romney is sworn in as President this January, or only secures the Republican nomination, then there is no better ETF to consider than the Market Vectors Unconventional Oil and Gas ETF (NYSEARCA:FRAK). Mitt Romney's campaign is heavily focused on domestic energy production - including unconventional energy technologies like fracking - as a major distinction between his views and those of President Obama. Here is just a sampling of what Romney has said recently.
Romney On Oil and Gas
From a Romney written article in the Columbus Dispatch:
First, I will pursue dramatic regulatory reform to accelerate the exploration and development of oil and gas, to facilitate construction of vital infrastructure and to preserve and expand crucial electricity capacity. I will streamline permitting processes and create fixed timelines. (new quote, same piece) And I will respect states' proven ability to regulate fracking, rather than sending federal bureaucrats to take control.
From the AFP at a Romney stop in Youngstown on March 5th:
"We're going to have reliable American energy security and independence," he said, stressing that oil and gas will lead the way. "Solar and wind is fine except it's very expensive and you can't drive a car with a windmill on it," Romney quipped.
Clearly Romney believes in the oil and gas revolution taking place in the U.S. and sees it as a centerpiece of his campaign.
Romney's Connection To The Bakken Shale
In addition to his rhetoric, Romney has also closely aligned himself with a leader in unconventional oil and gas drilling. Indeed Romney's Energy Policy advisor is none other than billionaire Howard Hamm, CEO of Continental Resources (CLR), the oil and gas company with the "most acreage in the Bakken Shale in North Dakota," according to Forbes. Do you even need to ask about his outlook on U.S. energy policy?
Drill Baby Drill Translated Into A Policy Statement
Finally, here's a snapshot of the "Increasing Production" section from the Energy issue page of the official Romney campaign website. It has drill baby drill written all over it.
click to enlarge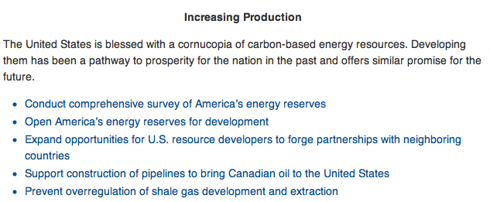 Click to enlarge
FRAK Reaps The Benefits
The FRAK ETF and the industry it tracks will experience a large tailwind even if Romney only secures the Republican nomination. Why? It will be a key campaign debate and talking point, raising national awareness and the pressure to advance the unconventional oil and gas segment. If Mitt actually wins the 2012 election, look out. And yes, before you send emails, I realize the Republican primary is still in motion and Romney has not secured the nomination yet.
The Index & Portfolio
If you haven't taken a closer look at the Market Vectors Unconventional Oil & Gas ETF, here's the premise. FRACK follows an index that seeks:
to track the overall performance of the largest and most liquid companies involved in the exploration, development, extraction, production, and/or refining of unconventional oil and natural gas.

Constituents must generate, or own properties that have the potential to generate, at least 50% of revenues from unconventional oil and gas.

The unconventional segment is defined as: coalbed methane, coal seam gas, shale oil, shale gas, tight natural gas, tight oil and tight sands. SOURCE: FRACK Fact Card
This index translates into an ETF with 70% of its holdings in the United States and about 28% in Canada. Large cap stocks, defined as over $5 billion in market cap by Market Vectors, dominate the portfolio with an 80% weighting.
FRAK, which launched on Valentine's Day this year, has gathered over $16 million in assets thus far. Here are its most recent top 10 holdings from the Market Vectors website, composing more than 50% of the portfolio. And by the way, CLR is about a 1% weighting of the portfolio.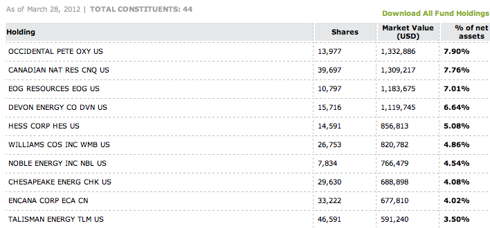 Click to enlarge
The index is designed to promote investment purity. Companies included in the index must receive 50% or more of their revenue from unconventional oil and gas drilling. Or, and read it close in the index description above, they must own properties that have the potential to generate 50% or more of the company's revenue from the aforementioned activities. This wrinkle allows the ETF to own companies that may not be recognized (valued) today as significant players at the table. Through a Romney administration however, these companies could have the most upside in an environment where their properties can be monetized more efficiently - and perhaps at higher levels - through drilling, leasing or liquidation.
FRAK: Right Place, Right Time
With prices at the pump already high and the summer travel season coming, it would not surprise me to see Romney's campaign elevate the oil and gas issue. The public is clearly fed up with gas prices and a good portion feel the federal government isn't fully supporting efforts to harvest and transport energy domestically. The campaign can sense this and seems to be capitalizing on it already.
I recently read that PIMCO is changing its Total Return ETF ticker from TRXT to BOND. I think it's a great move befitting an ETF that has the potential to be legendary. Romney seems to sense the same potential in the domestic oil and gas industry, both politically and economically. So although it is hard to beat FRACK as a ticker, perhaps a few years from now Market Vectors will announce a new ticker to honor the future champion of the unconventional oil and gas industry, MITT.
Disclosure: I have no positions in any stocks mentioned, and no plans to initiate any positions within the next 72 hours.
Additional disclosure: Christian Magoon has not yet decided on supporting any candidate for President.