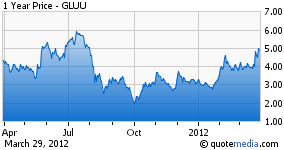 It is amazing how much the secular growth trend in freemium mobile gaming has penetrated the consciousness of investors and analysts alike over the past six months since I published my article while Glu Mobile (NASDAQ:GLUU) was trading at $3.01/share, which called on a potential GLUU valuation of $10 based on Zynga's (NASDAQ:ZNGA) failed acquisition price for Popcap for $1 billion.
With last week's news of Zynga's successful acquisition of OMGPOP for a reported $210 million, you finally have the analyst community that follows GLUU realizing the true organic growth and premium takeover potential of the only other U.S. publicly traded freemium social mobile gaming company other than ZNGA, Glu Mobile.
In the past few weeks the following analyst activity has transpired in GLUU:
Needham & Company initiated coverage on GLUU Thursday with a strong buy and $8.00 price target.
Needham analyst, Sean McGowan, said, "We believe GLUU's smartphone growth has been hidden in recent years by the decline of its feature phone revenue, but its new model is based on owned-IP, which is far more profitable. As the global installed base of smart phones and tablets grows and GLUU's low-margin feature phone revenues burn off, we expect significant gains in profitability. Our $8 price target assumes that at this time next year, the stock will sell at a P/E of about 20x non-GAAP EPS for 2014, which we estimate at $0.40."
Also Thursday, Northland Capital Markets reiterated their outperform rating and $7 price target with the following comments by ace Forbes tech reporter, Eric Savitz, on analyst Darren Aftahi's comments, "he notes [GLUU] is trading at a huge valuation discount to Zynga by most measures. He also notes that the company now has 9 of the top 100 games for the iPad market in China - and that China has now eclipsed the U.S. as the world's largest market for free apps for the iPad."
And after Canaccord Genuity met with GLUU management, they maintained their "Buy" on Glu Mobile on March 22, 2012 with a price target of $7.00.
Canaccord analyst, Michael Graham, said, "We are encouraged by the performance of recently released Stardom: The A-List, a Blammo studio product, and Samurai vs. Zombies Defense, a Griptonite production ... We believe Glu Mobile will soon enter a phase where its growing scale can help lower the cost of player acquisition for new games through cross promotion targeted at players of existing games ... We are increasingly confident that there is significant operating leverage in Glu's business model and note that our mid-term EBITDA margin forecast has room for upside based on management's target model."
But, the GLUU discussion reached a fever pitch today on massive trading volume of 11M shares with the publication of a noteworthy Bloomberg article which speculated the value of GLUU could be up to $10/share in a year, a 100% return on today's close of $4.99/share.
As someone who has watched this company mature and effectively execute the new business model instituted by CEO Niccolo de Masi in 2010, it comes as no surprise that GLUU is now half way toward my estimated value and its likely organic growth or acquisition value of $10/share over the next year.
Investors who are coming to this game late, just like this week's analyst commentaries, have time to establish their positions in what could be the Nasdaq outperformance darling of 2012, Glu Mobile.
Disclosure: I am long GLUU.