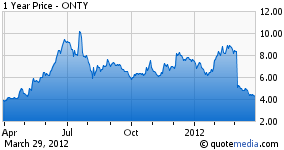 Oncothyreon (ONTY) has had a rough month this March. Shares tumbled from over $8 to around $5 when news came out that results from their Phase III trials of Stimuvax would not be expected to come out until 2013. There was some expectation that the trial would end early on spectacular results and this heavily shorted stock tumbled. The CEO said a massive sell off is crazy and the fact that the independent monitors recommended the study continue should be viewed as a good thing.
Trials measuring survivability are particularly difficult to predict when they will come to a conclusion. Interim looks are triggered by a certain number of "events" - deaths sadly in this case. In most cases, the longer the study goes, the less people are dying. In rare cases, a study is halted because the drug is working so well.
This most recent interim look was triggered when 529 of the anticipated deaths occurred. The study will conclude when 708 patients have passed away. Am I the only investor that wants these 708 deaths to be as far away from now as possible? Heck, I'd love to see results in 2014 and not 2013. This means the drug is working. This is also why you can only give your best guess based on the progression of deaths as to when the trial will be completed.
Since this announcement, the stock has steadily gone down even more. I think the 40% drop was unwarranted but it's not particularly shocking that it has continued to slide with all of its negative momentum. At the time of this writing it has a very high sort ratio of about 30% and short sellers are making their money with this company.
What I find particularly interesting is that on March 29th ONTY announced a $47 million dollar capital raise at $4.00 per share. I honestly expected shares to tank to below $4.00 with heavy short selling. Instead, it closed at $4.25. I find this a particularly interesting clue that ONTY's negative momentum might be finding close to a bottom and we might be finding more buyers at this level.
I see an interesting opportunity with ONTY. I honestly believe that speculation alone will drive up the price of this stock over the next 10 months as we come closer to Phase III results. Any moderately good news will send this stock on a massive short squeeze. I believe in the pipeline, but I don't even think I will need to wait for Stimuvax results to make a decent profit and cash out. In the absence of this speculation, the pipeline is a promising place to put my investment dollars and I don't mind riding it out.
Share below if you agree/disagree or have any information to add. I am long with a $4.45 average on ONTY.
Disclosure: I am long ONTY.