Canada has vast amounts of natural resources yet to be explored. The country is rich in oil and natural gas reserves, as well as precious and essential commodities. According to the country's official statistics, revenue from natural resources constitute more than 11% of Canada's GDP. Companies in this sector generated revenue of $133 billion in 2009 alone. A significant portion of the productivity in the natural resource field is exported to the U.S. and other trading partners. In 2009, the natural resource sector contributed almost $70 billion to Canada's trade balance.
There are more than 100 Canadian natural resource stocks that trade within the U.S. markets. These stocks offer U.S. investors an opportunity to profit from Canada's vast amount of natural resources. However, some of these stocks are priced with hefty premiums, whereas others are trading at a discount. Over the next few articles, I am planning to examine these stocks from a fundamental perspective, adding my O-Metrix grading system (out of 10) and FED+ Valuations where possible. This is the sixth article on this series. Here is a list of 5 Canadian basic material companies. Based on my analysis, I rate 3 of them as sell, 1 as buy, and 1 as hold:
| | | | | | | |
| --- | --- | --- | --- | --- | --- | --- |
| Stock Name | Yield | EPS Growth Estimate | O-Metrix Score | FED+ Valuation | YTD Return | My Take |
| Agnico - Eagle Mines (AEM) | 2.4% | 15.6% | N/A | N/A | -8.44% | Sell |
| Central Fund of Canada (CEF) | 0.10% | N/A | N/A | N/A | 11.6% | Sell |
| Franco-Nevada (FNV) | 1.14% | N/A | N/A | N/A | 11% | Sell |
| IAM Gold (IAG) | 1.7% | 5% | 3.2 | $16 - $25 | -17% | Buy |
| New Gold (NGD) | 0% | 5% | 1.3 | $7-$12 | -4% | Hold |
Data from Finviz/Morningstar, and is current as of March 29. You can download O-Metrix calculator here.
Agnico Eagle - Sell
Since reaching its peak of $70 in early September, Agnico-Eagle keeps going down. The stock lost 8% in this year alone. The annual return of -48% has significantly lagged broad market indices.
Click charts to enlarge.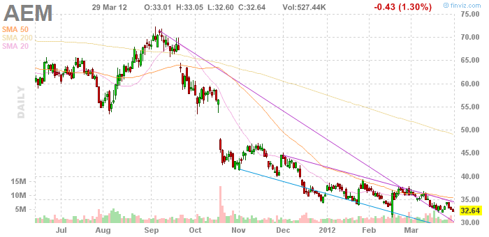 Agnico - Eagle is among the prominent mineral developers in the world. Established in 1953, the Toronto-headquartered company operates several mines in Canada, Finland, and Mexico. Its most significant property is the LaRonde mine, located in the southern portion of the Abitibi volcanic belt in Canada.
The company reported a loss of $568 million from revenues of $1.8 billion. While the forward P/E ratio of 13.44 looks cheap, the stock feels like a falling knife. Therefore, I would not recommend touching it for the moment.
Central Fund of Canada - Sell
Central Fund of Canada is a closed-ended commodity mutual fund. Its managers are known as Central Group Alberta. Formed in 1961, the fund primarily invests in precious metals such as gold and silver.
The stock follows a similar pattern to its holdings. It is highly volatile. As of the time of writing it was trading somewhere at the middle of its 52-week trading range. Even after returning 11.63% in this year alone, the annual return is still in the negative territory.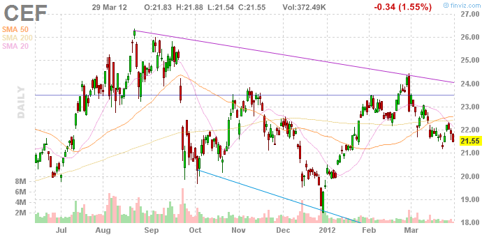 Morningstar suggests a bronze rating for this closed-end fund. The fund is currently trading at a slight discount to its net asset value. The 3-year average discount rate is 6.54%. While CEF has a relatively low ratio of expenses, the bubble in precious commodities is destined to burst in soon future. Thanks to this bubble, CEF was able to provide an annual return of 19% in the last 10 years. Nevertheless, once the power of mean reversion is realized, CEF unit holders might experience significant losses. Therefore, I rate this fund as a sell.
Franco Nevada - Sell
Franco-Nevada operates as a gold-focused royalty and stream company. It is also involved in other commodity businesses such as platinum, oil, and gas fields. Incorporated in 2007, the Toronto-headquartered Franco-Nevada returned 11% in this year.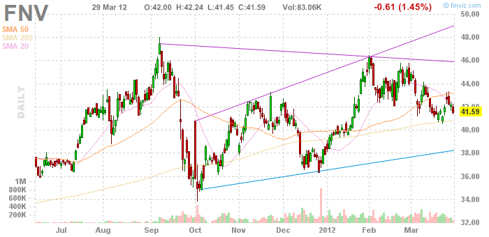 I think precious commodities are in a huge bubble, and most of the related stocks are significantly overpriced. Franco Nevada is no exception. The stock is trading at a trailing P/E ratio of 40.5, and forward P/E ratio of 31.5. Its price to sales ratio of 18 suggests that it will take a significant amount of time to recover the initial investment on the investor capital. Unless gold prices reach new highs in this year, Franco-Nevada is likely to underperform the market.
IAM Gold - Buy
IAM Gold is a mid-tier gold miner that is primarily involved in the exploration and production of gold. The company also develops gold-related minerals such as silver, zinc, diamond and niobium. Established in 1990, the Toronto-headquartered IAM Gold has operations in Africa and the Americas. The company was able to boost its earnings by 80% in this year, but its stock lost almost 40% in the last 12 months.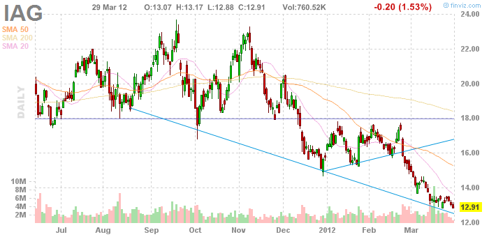 I am not a fan of precious metals, but IAM Gold looks like a good deal. The stock is trading at an attractive P/E ratio of 12.6, and forward P/E ratio of 8. It has a clean balance sheet with no debt, and offers a yield of 1.91%. Even with a conservative growth estimate of 5%, my FED+ fair valuation range is $16 - $25. Analysts mean target price of $23.8 also agree with my model. With a low Beta of 0.44, IAM Gold could be a good diversifier for an equity-oriented portfolio. Therefore, I rate it as a buy.
New Gold Inc. - Hold
Formerly known as DRC Resources, the New Gold Corporation was established in 1980. The Vancouver headquartered New Gold is a relatively diversified mineral producer. It explores for gold, silver, and copper resources. The company is expected to boost its earnings by 30% in the next year, but its stock lost 14% in the last 12 months.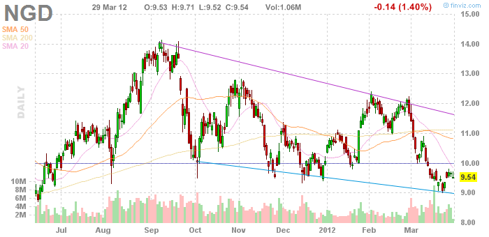 Looking at the stock from a purely accounting perspective, it looks like a fairly valued company. The forward P/E ratio of 13.25 is in line with the broad market indices. Based on the debt/equity ratio of 0.11, it can be considered almost debt-free. My FED+ Valuation model suggests a fair-value range of $7 - $12, and the stock is trading right at the middle of this range. Therefore, I rate it as a hold.
Disclosure: I have no positions in any stocks mentioned, and no plans to initiate any positions within the next 72 hours.