Thursday afternoon, Research in Motion (RIMM) announced its much anticipated fourth quarter and full year results. As I had previewed this report the other day, we knew it wasn't going to be pretty. But I didn't think it would be this bad. Research in Motion continues to surprise, on the bad side. Time to get into the numbers.
Fourth Quarter Results:
When you get a report that is this bad, you almost don't know where to start. Revenues fell just short of $4.2 billion, widely missing the $4.54 billion analysts had expected. Analyst estimates were even below the $4.6 to $4.9 billion RIMM had provided when it reported its third quarter results. BlackBerry shipments were approximately 11.1 million units, at the lower end of the 11 to 12 million range provided by the company with that 3rd quarter report. The company also shipped about 500,000 Playbook tablets. Yes, 500,000 in the entire quarter, and Apple (AAPL) is shipping twice that number, in terms of iPads, per week. Apple is also selling about two to three times as many iPhones as RIMM is selling BlackBerries, as it sold 37 million in its fiscal first quarter (ending in December), and is likely to be over 30 million or so in the quarter that is just ending. In fact, we've heard reports lately that Apple is selling more iPhones in Canada than Research in Motion is selling BlackBerries. When you are losing in your home country, it is not a good sign.
So revenues were down 25% over the $5.56 billion in the prior year period. That's not even the worst news. On the earnings per share number, Research in Motion posted an $0.80 profit, which only missed by a penny. However, they had $543 million in goodwill impairment and inventory provision charges. Including those charges, the company actually lost $125 million in the quarter, or $0.24 per share. Ouch. So how do these numbers stack up against prior periods? The following table shows some key income statements from the fiscal fourth quarter, over the last 4 years, as reported by the company. For more info on the company's financial reports, click here.
| | | | | |
| --- | --- | --- | --- | --- |
| 4th Quarter | 2009 | 2010 | 2011 | 2012 |
| Net Sales | $3,463 | $4,080 | $5,556 | $4,190 |
| Cost of Sales | $2,080 | $2,217 | $3,103 | $2,789 |
| Gross Margin | $1,384 | $1,863 | $2,453 | $1,401 |
| Operating Income | $733 | $1,012 | $1,240 | ($142) |
| Net Income | $518 | $710 | $934 | ($125) |
| EPS | $0.90 | $1.27 | $1.78 | ($0.24) |
You know it is a bad sign when cost of sales only drops by about 10%, and sales are down by roughly 25%. Research in Motion actually had an operating loss, which of course included those above mentioned charges. Still, the numbers are not good, and leads to the following key margin numbers.
| | | | | |
| --- | --- | --- | --- | --- |
| Margins | 2009 | 2010 | 2011 | 2012 |
| Gross | 39.95% | 45.66% | 44.15% | 33.44% |
| Operating | 21.16% | 24.80% | 22.32% | -3.39% |
| Profit | 14.96% | 17.40% | 16.81% | -2.98% |
After a rise in the fiscal 2010 period, the margins have gone down significantly. Why? Well, first, you have to remember some facts about the
BlackBerry. While Apple gets $650 or so per iPhone, Research in Motion gets about half of that for the BlackBerry. That doesn't leave a lot of room for profits, and RIMM has a ton of costs (like marketing and technology expenses), so they can't make that much off the phone, comparatively speaking.

Full Year Results:

The full year numbers are better than the quarterly numbers, but still, they are not pretty. Here are the full year numbers over the past four fiscal years. After a rise into 2011, 2012 was a down year, and the forecasts going forward are even worse (more on that later). As a side note, the adjusted EPS for the year was $4.20.
| | | | | |
| --- | --- | --- | --- | --- |
| Full Year | 2009 | 2010 | 2011 | 2012 |
| Net Sales | $11,065 | $14,953 | $19,907 | $18,435 |
| Cost of Sales | $5,968 | $8,369 | $11,082 | $11,856 |
| Gross Margin | $5,097 | $6,584 | $8,825 | $6,579 |
| Operating Income | $2,722 | $3,238 | $4,636 | $1,490 |
| Net Income | $1,893 | $2,457 | $3,411 | $1,164 |
| EPS | $3.30 | $4.31 | $6.34 | $2.22 |

Okay, so, cost of sales has increased, but revenues has decreased. You know that will impact gross margins, as seen below.
| | | | | |
| --- | --- | --- | --- | --- |
| Margins | 2009 | 2010 | 2011 | 2012 |
| Gross | 46.07% | 44.03% | 44.33% | 35.69% |
| Operating | 24.60% | 21.65% | 23.29% | 8.08% |
| Profit | 17.10% | 16.43% | 17.13% | 6.31% |

Gross margins took a hit, as we know, but the hit was worse as you went down the income statement. This was a terrible year. As a comparison, Apple's profit margin is about 4 times that of Research in Motion's currently. People wonder why this stock is struggling, but they should just look at the numbers.

CEO Commentary:

Remember, the company has a new CEO, Thorsten Heins, and he had some interesting remarks after his first 10 months on the job. Let's look at the positive comment first.
"I have assessed many aspects of RIM's business during my first 10 weeks as CEO. I have confirmed that the Company has substantial strengths that can be further leveraged to improve our financial performance, including RIM's global network infrastructure, a strong enterprise offering and a large and growing base of more than 77 million subscribers. I'm very excited about the prospects for the BlackBerry 10 platform, which is on track for the latter part of calendar 2012."
The company keeps rallying around that subscriber base, but it is not really helping its financial results. Apple will probably have a new iPhone out before RIMM launches the BB10 platform, and it will be interesting to see how that goes. Some analysts are already saying that RIMM's technology is outdated and that it will be a failure (it already has been delayed). However, Research in Motion bulls will tell you that the BB10 is the savior of the company. It better be, because if it isn't, this company is doomed (more so than it is now).
Now, two other quotes from the CEO to focus on:
"Notwithstanding these strengths and opportunities, the business challenges we face over the next several quarters are significant and I am taking the necessary steps to address them."

"In parallel, we are undertaking a comprehensive review of strategic opportunities including partnerships and joint ventures, licensing, and other ways to leverage RIM's assets and maximize value for our stakeholders."
Significant challenges is a very fair and accurate statement. Now, the last quote is what many shareholders have been waiting to hear. Many have been saying this company should try to sell itself, and the potential seems to be there at this point. I'm just not sure who would be interested at this point.
Microsoft (MSFT) has long been mentioned, but I don't see them in the hunt currently. Why not? Well, first, the company just acquired Skype, a huge, multi-billion-dollar acquisition, and they probably want to digest that fully. Second, even if Microsoft could eliminate some costs and make 17% profit margins off of what they buy, that is still only about half of the 32% or so profit margins Microsoft already makes. As of Thursday's close, Research in Motion had an enterprise value of $5.74 billion. That means a purchase price of say $7 to $8 billion. That's a large acquisition. Why would someone like Microsoft spend that much, just to decrease their margins?
Organizational Changes:
The company surprised a few people when it announced changes involving three key executives. Former Co-CEO Jim Balsillie has resigned as a Director on the Company's Board. I guess this isn't a total shock, as I think we found out prior to the report that he wouldn't be on the conference call. This explains why. In addition, the company announced the departure of David Yach, CTO of Software, after 13 years with the Company. Also, Jim Rowan, the COO of Global Operations, has decided to pursue other interests. The company is currently looking to hire a single COO to cover all of its operations.
Guidance:
None.
I was seriously considering leaving "None" as the only word in this section, but I have to discuss the matter. The company did not provide financial guidance, but issued the following statement.
"The company expects continued pressure on revenue and earnings throughout fiscal 2013. Due to a desire to focus on long term value creation and the current business environment, RIM will no longer provide specific quantitative guidance. Some of the factors contributing to this include, ongoing weakness in the Company's U.S. smartphone business, an increased focus on selling BlackBerry 7 smartphones to grow the subscriber base in advance of the BlackBerry 10 launch, increasing competitive pressure in the Company's international markets and the introduction of certain new lower tier service pricing initiatives and a higher mix of sales coming from entry level products."
So the company will no longer be issuing guidance. That's a shame. Well, actually it isn't. As I stated earlier this afternoon, Research in Motion should continue to provide guidance. Why? Because we know they'll just miss it. Give us a bar to estimate with, so we can set our sights lower. We knew that sales and earnings were going to decline even further in fiscal 2013, so this statement just affirms our suspicions. The question is, how much will they fall. Current estimates call for revenues to drop 7.7% and earnings to fall to $2.74 from the $4.20 in fiscal 2012 (the $4.20 is an adjusted figure).
Increased Competition:
We already know that Apple is killing Research in Motion. But they aren't the only one. Amazon (AMZN) just entered the tablet market towards the end of 2011. While Amazon hasn't provided specific numbers on how many Kindle Fires it has sold, any that they sell will impact Research in Motion. I believe though that they have sold at least a few million so far, which is better than the 1.35 million Playbooks that RIMM sold in fiscal 2012. There also is an expectation for a new version of the Fire to come out this year, providing further competition for a company already struggling.
But there's more news. It was reported Thursday afternoon that Google (GOOG) is going to enter the tablet business as well. Now, Google may co-brand some, so would that be included in the joint partnerships RIMM was talking about before? Perhaps. But, it may not be. If Google launches its own tablet, Research in Motion should just abandon the segment. There is no point in trying to compete with Apple, Amazon, and Google. In sports terms, it would be like the Kansas City Royals trying to compete with the New York Yankees, Boston Red Sox, and Philadelphia Phillies. It just won't work.
Conclusion / Stock Information:
As I write this article, the stock is only down about 2% in after hours to $13.40. Now, that is well off the lows, as the stock fell to around $12.50 just after the report was released, and the stock began traded (it was halted for a while). The after hour lows were very near the $12.45 price, which is the 52-week low. However, the stock quickly rebounded. There are two possibilities here. One, short sellers are covering, taking some nice gains, since the stock is down about $4 since late January. The second possibility is that people are believing a sale could be possible. If the company is exploring strategic alternatives, a buyout is possible, but it probably won't be like next week or anything. It will take months to occur, if it does at all.
At this point, a buyout is the only way that this stock goes higher. The company is seeing decreasing revenues and earnings and increased competition. Research in Motion cannot compete with Apple right now, and it also has to take on Amazon and perhaps Google in the tablet market. That's not a winning proposition. The stock has been dead money for some time now, and I think we go lower from here. As I have written lately, it is time for this company to make a final stand. I will leave you with my final point, a chart of the stock over the past year. It is not pretty, unless you are short.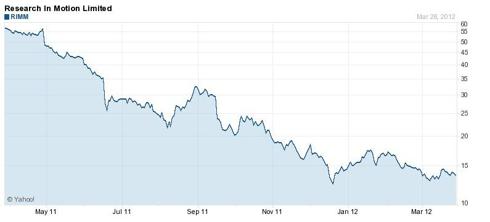 Click to enlarge
(Source: Yahoo Finance)
Disclosure: I have no positions in any stocks mentioned, and no plans to initiate any positions within the next 72 hours.