MKM Partners just initiated coverage of MBIA (NYSE:MBI) with a "buy" rating and a 12-month price target of $18.
The increase is due to a "favorable" outcome of the company's current court case. MBIA is in the mortgage-bond insurance business, and has been suing Countrywide, now a subsidiary company of Bank of America (BAC), for fraud. MBIA has a major advantage in the case because a New York state court ruled that MBIA doesn't have to directly link fraudulent statements to defaults. Earlier in the case, MBIA won the right to use a statistical sampling to help prove its case. About the recent ruling, MBIA Chief Executive Jay Brown stated, "The ruling provides us with a straightforward path to recover of our losses."
MBIA also has implications for the value investor. MKM estimates that MBIA's book value is $24.78 per share and anticipates "billions of cash inflows when the rep and warranty cases are settled or tried."
If you have a value approach to investing, or if you have an event-driven approach, MBIA's stock may be a candidate for you. Be warned, MBIA still has to prove that the fraudulent statements made by Countrywide insurance were influential enough to get MBIA to buy the bonds.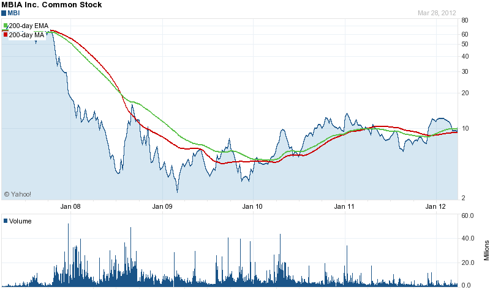 Trade: MKM suggests Bull Call Spread, May 12 @ 10 / 13
Disclosure: I am long MBI.