Who doesn't want to live a long, full life enjoying vibrant good health? No one!
Double negatives aside, good health is probably at the top of almost everyone's wish list. That's why there is such tough competition among pharmaceutical companies. Everyone is in a race to find the next great cure, and those R & D departments keep shoving innovative products into the pipeline, hoping to get consumer and investor support. With companies spending $4 billion dollars on the development of each new drug, they are pretty serious about what they do.
The problem for pharmaceutical companies is that it's pretty hard to turn a profit. Besides the R&D outlays, they have to deal with the Health Care Reform Act regulations that require them to give discounts and rebates to some Medicare and Medicaid recipients. These mandates can suck upwards of $170 million in revenue out of the company. There are also health care reform fees that have to be paid annually, which can add somewhere in the neighborhood of $162 million to the expense column. Add to that the loss of patent protection or those pesky FDA advisory panels that can shoot down a proposed drug release, and it's easy to see that these companies have to work pretty hard just to make a profit.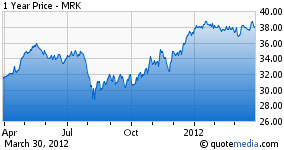 But they do work hard, and that's what we need to remember. One of the major manufacturers in this challenging field is Merck (NYSE:MRK), a global, research-driven company with a market cap of $117.53 billion. It bears the distinction of being the oldest pharmaceutical and chemical company in the world.
This company doesn't rest on its laurels, though. Over time, Merck has consistently been ranked in the top ten of America's pharmaceutical companies, with current total assets of around $105 billion, and an average volume of more than 15 million. The price to earnings ratio is 10, and the market capitalization is $114.76 billion.
For the long term, the company leads the field for new drug approval-56 new drugs approved over the past 60 years. In the short term, Merck is always right at the top of the list, currently ranking 4th for the past 10 years. There's a word for that kind of record-stability. With this type of dependability, Merck has proven itself to be secure for the long term, and I know many expert investors who maintain a Merck presence in their portfolios.
While Merck currently expects some loss of revenue as the Singulair patent expires in the 4th quarter of 2012, and it has recently suffered a setback with the FDA's advisory panel vote against its oncology candidate, Ridaforolimus , I don't believe investors should lose heart. Although cash flow can be expected to a be a bit sluggish in the short term because of these obstacles, Merck is one of those companies that always has something in the pipeline. In fact, there are five filings expected from the company in 2012 and 2013.
These drugs are designed to provide relief or treatment for ailments that trouble a wide range of the population. They are: Suvorexant for insomnia, Tredaptive for atherosclerosis, Odanacatib, a weekly oraltreatment for osteoporosis, v503, to help protect against certain cancers associated with HPV, and Bridion, a neuromuscular reversal agent. So, although the FDA may frustrate one or two endeavors, Merck's continuing development of promising treatments to serve the health needs of the population suggests a bright future for Merck's bottom line.
Of course, Merck isn't the only pharmaceutical company out there. GlaxoSmithKline (NYSE:GSK), is a primary competitor with total assets around $67 billion, a price to earnings ratio of 27.86, and 1.64% earnings per share. In this company's case, it was a little luckier when it presented its formulation for treating the same rare form of cancer that Merck was concerned with. The FDA panel deemed Votrient, GlaxoSmithKline's candidate for sarcoma treatment, to have a greater ability to block tumor growth than Merck's ridaforolimus. That being said, one company's failure or success is not a sign of a trend. While it had success with this particular drug, and may enjoy some improved margins in the short run, any other venture of GlaxoSmithKline can just as easily be stalled in the same way as Merck's offering. Or it could discover the next great breakthrough. That just indicates the highly competitive nature of the pharma industry.
There was also some promising news for the largest pharmaceutical company, Pfizer (NYSE:PFE). This company has a price to earnings ratio of 17.69, and an earnings per share of 1.27%. While the company's Lipitor is off-patent, it turns out that Pfizer may still be able to profit with this drug because of a formulation developed by two competing companies, Regeneron Pharmaceuticals (NASDAQ:REGN) and Sanofi (SNY), working in tandem. This discovery, when added to Lipitor, takes the cholesterol lowering effects up several notches by reducing LDL (bad cholesterol levels) up to 72%. This promises a new life for Lipitor, which should keep the company's cash flow from suffering due to the competition of generic substitutes.
Eli Lilly (LLY) also has high hopes following the release of its newly approved diabetes medicine, JENTADUETO. The company developed this innovative diabetes medication in conjunction with Boehringer Ingelheim Pharmaceuticals, and both companies have made it a priority to expedite the availability of this oral medication, which supplies two effective drugs in a single tablet. The companies are also offering a Savings Card program for qualified patients. Eli Lilly has a price to earnings ratio of 10.32 and earnings per share of 3.90%. Now that millions of people have been given access to a new solution on controlling their blood sugar, I believe that Eli Lilly can look forward to a higher gross margin in the near future.
Astrazeneca (AZN), another big name in pharma, has a price to earnings ratio of 6.20 and earnings per share of 7.30%. Unfortunately, this company has some decisions to make after receiving an unfavorable ruling from a U.S. court in its lawsuit against the FDA. The action is an attempt to extend the patent on Seroquel XR, which is used in the treatment of mental illnesses such as major depressive disorder, bipolar disorder, and schizophrenia. While the ruling is a setback, Astrazeneca hasn't thrown in the towel; the company is committed to its cause and will continue to explore different legal avenues to try to protect itself from competition from the generic drug manufacturers. At this point, it's difficult to predict what the outcome will be.
In the US, the regulation of the FDA manages to keep all pharmaceutical companies on a pretty even footing. Looking back over the past five years, Merck and its competitors GlaxoSmithKline, Pfizer, Astrazeneca, and Eli Lilly, have followed the same basic performance pattern. Each company has a strong R & D department supported by capable administrative personnel. In the field of pharmaceuticals, investing involves approximately the same amount of risk for any company. But when it comes to a history of success, Merck is the standard-bearer.
Disclosure: I have no positions in any stocks mentioned, and no plans to initiate any positions within the next 72 hours.