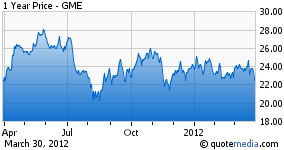 GameStop (GME) saw significant movement after releasing fourth quarter results last Thursday; the stock rose sharply, then retreated as investors digested the earnings release. After the dust settled, the stock wound up barely higher for the week. The stock weakened slightly in tune with the broad market, before falling over 5% as of this writing Thursday. Thursday's drop was due to news that Sony (SNE) is developing a new console that will restrict the use of pre-owned games, a profitable line of business for GameStop.
The short-term volatility makes sense for a stock that can generate such a diverse range of opinions. At its current price of $22.18, GME trades at just seven times the midpoint of its 2012 earnings guidance. Back out the company's $3.42 in net cash per share, and the multiple below 6. In conjunction with the full-year earnings report, the company increased its share repurchase program for 2012 to $500 million -- representing over 15% of outstanding shares. Combined with a recently initiated quarterly dividend, yielding 2.54%, GME is clearly intent on returning its cash to its shareholders.
And yet this seeming value play has over 40% of the company's outstanding shares sold short, making it one of the most heavily shorted stocks in the market. The problems facing GameStop are obvious: video game sales continue to move online, diminishing the need for -- and the profitability of -- GameStop's retail locations. In the meantime, industry sales continue to struggle; according to the NPD Group, video game sales fell 20 percent in February, a third consecutive monthly decline. These difficulties led to the apparent demise of the United Kingdom's Game Group (OTC:GGOPF), a European video game retailer who announced its insolvency on Monday.
Even GME bears would be hard-pressed to forecast a near-term bankruptcy for GameStop, however. The company recently retired the last of its debt and now sits on $3.42 per share in net cash. Despite a planned reduction of 50 US locations in 2012, and flat square footage internationally, the company is still predicting overall earnings growth (disregarding the lower share count caused by repurchases), thanks in large part to a decrease in capital expenditures. Even if completed in 2012, the $500 million repo authorization should not completely deplete the company's current cash balance; free cash flow was $459 million in 2011, according to the 10-K, and has averaged a bit over $400 million annually over the last five years.
The conflicting data -- low valuation combined with clear future headwinds -- make assessing GME's valuation difficult. As such, it's a good idea to get back to the basics. In theory, a stock should sell for the discounted sum of its future cash flows. Trying to answer this question brings the key question for GME investors: how long with GameStop stay in business?
It seems likely that, at some point, GameStop will cease to be a functioning entity -- or, to be more clear, that its retail business will eventually come to an end. Unlike other products, there is no real "showroom value" for video games; trailers can be easily downloaded online, the industry is covered by a host of magazines and websites (including several run by GameStop itself), and big titles such as Activision Blizzard's (ATVI) Call of Duty series or Electronic Arts's (EA) Star Wars: The Old Republic are released with massive, multi-outlet marketing campaigns. Just as music sales have moved online, through downloads from Apple (AAPL) or streaming through Pandora (P), so too are video game sales moving to the direct download model. (In fact, some have questioned whether the supposed decline in US video game sales is simply a function of a failure to properly track digital downloads.) Just as Tower Records and Sam Goody went bankrupt, so too will GameStop -- at least that's the conventional wisdom.
At $22.18, GameStop's enterprise value -- backing out its cash net of long-term liabilities -- sits at $2.54 billion. In the fourth quarter conference call, the company guided for 2014 free cash flow to be "over $600 million." In its presentation with the call, 2012 FCF is guided to $500 million, with 2014 FCF at $600-$650 million. As such, a conservative estimate of the company's guided cash flow for 2012-2014 likely looks something like this: $500MM in 2012, $550MM in 2013, $600MM in 2014. That's a total of $1.65 billion, with a discounted value in the range of $1.5 billion.
If the company meets its 2012-2014 targets, GME needs to create an additional $1 billion of value. Tangible assets are essentially negligible -- non-cash tangible book value is about $350 million, which would be wiped out by inventory and PP&E discounting. Again, should the company meet its targets for the next three years, GME still needs post-2014 future cash flows totaling $1 billion in present value to make it a buy at current levels. Granted, those targets are likely in dispute by many GME bears -- but the company met its earnings guidance each of the last two years (on an adjusted basis in 2011, due to restructuring and impairment charges).
Will GameStop get there? Looking at the current convergence in consumer electronics -- television can be viewed on tablets, while new televisions are Internet-enabled with a variety of apps -- there's an argument to be made that video game consoles themselves will be nearing redundancy by then. Of what value would a reseller be if the delivery process from Activision or EA to a consumer changes from disk and console to simple, direct delivery through high-speed Internet?
Still, it seems worth the gamble that GameStop can create at least that much value in the future. For one, the movement toward convergence is often overestimated by industry observers, whose technological savvy dwarfs that of consumers. As I noted last year, a key driver in the Internet bubble was the belief that online retail sales would rise far faster, far quicker than they did. The consumer always moves slower than the tech industry believes they should, or will. This is doubly true for a business still heavily influenced by children and teenagers, who do not have the access to credit required for an industry driven solely by online sales.
Secondly, GameStop is branching out beyond the bricks and mortar business. It bought Kongregate, an online gaming site, in August 2010. In May 2011, GameStop added Impulse, which allows for direct download of PC gaming software. While the company has not broken out revenue for either site -- and sales are most likely still small -- it appears that Impulse is profitable, at the least. Gross margin in the "Other" category -- which includes in-store PC sales, the e-commerce businesses, and DLC content -- rose 5.5% year-over-year in 2011. According to the 10-K, the margin improvement arose "primarily due to a shift in sales to higher margin digital products," noting that many digital downloads are recorded at 100% margin; on the conference call, CFO Robert Lloyd credited over 70% of the margin improvement to the digital business.
Might Impulse -- now folded into the company's main website -- be the future face of GameStop? In 2011, the company purchased products from 75 vendors, according to the 10-K, with 10 of the vendors accounting for 86% of sales. Might GameStop become, as Apple's iTunes has become for music, the digital storefront for a fragmented industry? Certainly, video game developers are not as diverse or as numerous as their counterparts in the music industry -- a key driver of iTunes success -- but a market-leading digital platform for downloads might have some value even as it destroys the worth of GameStop's legacy business.
All said, the gamble for an investment in GameStop is simple: that post-2014 retail sales combined with the future value of the company's online and offline properties (like Game Informer magazine, the fourth largest consumer magazine in the U.S., with 8 million subscriptions) are worth, presently, more than $1 billion. It's worth noting that the "Other" category in 2011 -- which includes those properties, plus in-store accessory and PC software sales that are projected to move online -- accounted for $1.27 billion in sales, and $505 million in gross profit in 2011. With reasonable growth, that segment alone could have a billion-dollar valuation come 2015. If near-term cash flow falters, there is the possibility that the post-2014 businesses can pick up the slack. The short case for GME requires that the brick-and-mortar business fail quicker and faster than most anticipate, but that the higher-margin online business not benefit as a result.
Of course, there are the risks of weakened near-term profitability, accelerated convergence, or poor management. But these risks occur with nearly every publicly traded company. For GameStop to be profitable at current levels, the company simply needs to execute its current plan reasonably well. That's better than can be said for many stocks, and makes GME worth the risk for long-term investors.
Disclosure: I have no positions in any stocks mentioned, and no plans to initiate any positions within the next 72 hours.