Chipotle Mexican Grill (CMG) has been a rising star in the stock market over the past a few years. The stock took a hit during the 2008 financial crisis but promptly recovered. By now, it has gone up almost ten fold over the past three years. As of this writing, the market value of Chipotle Mexican Grill stands at $13.10 billion. I believe this company is outrageously overvalued. It is one of the best short opportunities in the market--possibly better than Netflix (NFLX) in 2011. In this article, I shall assess Chipotle's value using two methods, both of which reach the same conclusion: strong sell.
(Click to enlarge)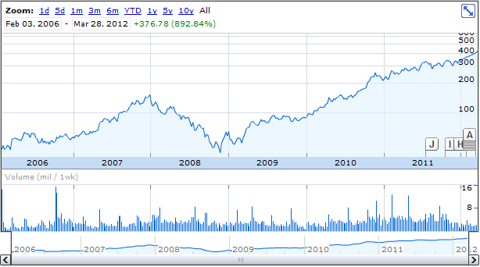 Method 1: Value per restaurant
Let's do a simple math. With 1,230 restaurants by the end of 2011, the market values Chipotle's restaurants at over $10 million each! This method may appear a little crude, but it becomes obvious when we examine some other restaurant companies. McDonald's (MCD) restaurants are about $3 million each. Darden Restaurants' (DRI) Olive Garden and Red Lobster are about $2.5 million each. If we use a fairly standard 10x price/earnings (P/E) ratio in the restaurant business, it means in order to justify a $10 million restaurant value, each Chipotle restaurant must bring in $1 million annual profits! Unless Chipotle is run by the United States Mint, this is simply impossible. In reality, Chipotle's current number is less than one-third of that.
One might argue that Chipotle is a growing company, and it should be richly valued. However, even at its current growing speed (Chipotle plans to open 160 restaurants in 2012), it will take almost eight years for Chipotle to double its restaurant count. At the current market value, each Chipotle's restaurant would still be worth $5 million with twice as many restaurants--40% more valuable than a McDonald's restaurant. The comparison may not even be fair for McDonald's, which operates very fast and serves many customers per unit time. With Chipotle's customized food, its operation is fairly slow (like Subway Restaurants). The operating process at Chipotle is not expected to become much more efficient.
Method 2: Cash flow
Chipotle's cash flow may have fooled many investors focusing on operating cash flow (OCF) growth for the company. Chipotle's OCF growth was 42% from 2010 to 2011, but its P/E ratio is more than 60. Using the rule of thumb P/E ratio for growth companies where percentage growth = P/E ratio, this is a bit of an outrageous valuation. But there is more. In 2011 Chipotle had a large amount of changes in liabilities ($96,047,000) in its cash flow, which artificially exaggerated Chipotle's OCF in that year. The table below presents the adjusted OCF by deducting changes in liabilities from Chipotle's OCF (all numbers in thousands).
| | | | | | | | |
| --- | --- | --- | --- | --- | --- | --- | --- |
| | OCF | Chg | Changes in liabilities | Adjusted OCF | Chg | Operating Income | Chg |
| 2009 | 260,673 | | 38,160 | 222,513 | | 203,705 | |
| 2010 | 289,191 | 11% | 13,361 | 275,830 | 24% | 287,831 | 41% |
| 2011 | 411,096 | 42% | 96,047 | 315,049 | 14% | 350,562 | 22% |
It turns out, in 2011, Chipotle was growing somewhere between 14% and 22% in operating income/cash flow. This is really not that impressive for a growth company. Again using the rule of thumb P/E ratio for growth companies, Chipotle should receive a P/E ratio of 20--maybe 25 to be generous--and Chipotle's stock price by this measure should be $162.
To summarize, I expect Chipotle's stock price to drop at least 50% from here. If the margin of its operations goes down--there's a good chance for this to happen since the current margin seems too good to be true for the restaurant business in general and will attract competitors--it can easily drop to the $100 level.
Disclosure: I have no positions in any stocks mentioned, and no plans to initiate any positions within the next 72 hours.